The Best Rosemary Cheese Scones Recipe
Our articles may contain affiliate links. For more information, view our policies.
Savory cheese scones for tea time or any time
If you aren't a baker, you may shy away from the idea of homemade scones. You shouldn't. And this recipe is exactly what you need to show you that making scones from scratch is the best way to enjoy these better-than-biscuits snacks. Try them once and I think you will agree that these are the best cheese scones.
Sweet vs savory scones
You may be accustomed to eating scones as a sweet, either at breakfast, or, if you're a fan of British tradition, at tea time for an afternoon tea with fruit preserves and perhaps some Devonshire cream.
And although I, too, love a scone slathered with clotted cream, this cheese scones recipe is a savory bread. And unlike tea scones, it can be served as an accompaniment to a meal. Or you can use it to give a gourmet upgrade to your afternoon snacking. A fresh, warm cheese scone makes a great afternoon pick-me-up.
About the cheese used in this easy cheese scone recipe
Not familiar with Colby Jack cheese? Colby Jack, sometimes called Cojack, is a blend of Colby and Monterey Jack cheeses. It offers a mild tang and gives a fairly smooth, cheesy note to the scones. I used it for this recipe for a mellow cheese effect.
How to make rosemary cheddar scones
If you like your cheese bread with a bit of a "bite," you can try using a sharp Cheddar cheese in place of the Colby Jack to make rosemary Cheddar scones. (I almost like this Cheddar version of cheesy scones better than the original!)
Keep in mind that a sharp Cheddar will be slightly drier than the Colby Jack. This might change the consistency of your dough slightly. But don't worry! If the dough feels too dry, just add more of the buttermilk. Just be careful to add it a tiny splash at a time. Do not allow the dough to get too wet and do not over mix as this will make the scone dough tough, not flaky.
Savory scone serving suggestions
Serve them warm as a snack, slathered with butter, or as a side dish to salads, soups or any time you'd enjoy the tangy flavor of a cheese scone. If you like egg sandwiches, try giving your next breakfast sandwich an upgrade with this cheese bread. Slice one of the scones in half and using it as a base for soft scrambled or a fried egg with your favorite fixings.
Why this is a scone recipe to serve your lover
This cheese and rosemary scones recipe layers the flaky goodness of a traditional scone with the aphrodisiacs of fragrant, chopped fresh rosemary and the tang of shredded Colby Jack cheese.
Did you know that both cheese and rosemary are historically considered aphrodisiac foods?
Rosemary offers both aromatherapy and the potential to increase metabolism. Seriously! And cheese is not only one of the tastiest foods on the planet but it also contains a fatty acid called PEA which is linked with sexual orgasm.
RELATED: Eat Cake Naked, the aphrodisiac baking cookbook
But don't worry, you can serve these rosemary scones to your friends without worrying about turning them on! The recipe is really intended just to combine great flavors with the flaky, soft texture of a great scone. And they're made so that the cheese melts and bubbles as the scones bake(And if the recipe does work as an aphrodisiac, that's a bonus.)
Rosemary Cheese Scones
Print Recipe
These savory scones take "tea time" to a whole new level. Loaded with cheese and fragrant rosemary, they are perfect on their own or as a substitute for biscuits. 
Ingredients
2

cups

all-purpose flour

1/2

tsp

baking soda

1

tsp

baking powder

lg

pinch

sea salt

3

Tbsp

brown sugar

3/4

cup

buttermilk

1/2

cup

Colby Jack cheese

1-2

sprigs

fresh rosemary, (1-1 1/2 tsp finely chopped)
Instructions
Preheat oven to 325 degrees.

Combine dry ingredients with the exception of the sea salt. Sift.

Dissolve sea salt into buttermilk.

Remove stem of the rosemary and finely chop. Toss rosemary into the sifted, dry ingredients.

Slowly add buttermilk to dry ingredients. (You may not need all of the buttermilk.) When there is enough liquid, pack all the ingredients into a thick disc, without an excess of moisture. Stir in cheese.

Shape into disks using a cookie cutter or the mouth of a glass and transfer to a parchment-covered baking tray. 

Bake for 12-15 minutes depending on size of scones, until golden brown. Transfer to a cooling rack until cool enough to eat. 
Pin this Cheese Scones recipe: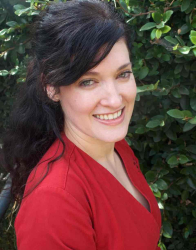 Latest posts by Delahna Flagg
(see all)
Get on our mailing list
Subscribe and get our exclusive list of Six Great Sex-Boosting Snack Foods for FREE! Unsubscribe at any time.