Coconut and Chicken Stew Recipe
Our articles may contain affiliate links. For more information, view our policies.
An easy stew recipe with a taste of the tropics
Coconut is a hot topic in the health food realm. And while nutritionists clash on whether or not the oil of coconut is beneficial for health, I think everyone would agree that coconut itself brings some nutritional benefits to the table. Certainly, there is evidence of its powers as an aphrodisiac. Therefore, it's my belief that using it as the main flavoring agent for a chicken stew recipe turns an everyday soup into something exotic, perhaps even sexy. After all, coconut even makes our list of the best foods for men's sexual health!
What is coconut milk?
This chicken and coconut stew recipe calls for coconut milk
. But what is this coconut product? Coconut milk is made from a brew of coconut meat with water. It is a thick, creamy mixture with an aroma and flavor that transports me straight to some sun-kissed tropical island. It's sexy comfort food as far as I'm concerned.
RELATED: Shellfish in Coconut Curry
Of course, that ambrosial goodness comes with a caloric price. Coconut milk is incredibly calorie dense, not to mention high in saturated fat. That's why I use it in combination with chicken stock and a pot full of vegetables.
Incidentally, if you're thinking of using this recipe for date night, you should know that it includes the aphrodisiacs of garlic and tomato. And it is finished with a generous squeeze of lime, which makes our list of the 10 Best Foods for Women.
Using lite coconut milk
You can substitute with "lite" coconut milk. Lite coconut milk is basically a reduced fat (not fat free) version of coconut milk. Because it has less fat, it is thinner than regular coconut milk and, in my opinion, makes the stew a little watery. If you're on a strict, reduced fat diet, it makes a good choice but I prefer the creamy texture the full fat version brings to the final stew. Do not use canned coconut products labeled coconut cream or cream of coconut, (made with added sugar) for this winter stew recipe.
Make this coconut chicken stew recipe with seasonal produce
My version of chicken stew is a forgiving recipe. In other words, if corn isn't in season or you only have the orange carrots without the green tops, you can just substitute with your favorite seasonal vegetable, like some spinach or kale. I also suggest adding rice, if you like. I generally use a fragrant, jasmine rice but if you're looking for added health benefits, brown rice works. Or, if you want to save yourself a few carbs, you can skip the rice altogether.
RELATED: Why you should try to eat a rainbow of vegetables every day
I also love serving it as a stew of just chicken and veggies. But the one place you cannot skimp is with the lime. You must make sure you use a generous squeeze of fresh lime just before serving.
Slow cooker chicken stew
I'm often asked if you can make this chicken stew in a slow cooker. Although I originally created this easy stew recipe for a dutch oven, you absolutely can make this chicken stew in a slow cooker. You're going to need to reduce the chicken stock. Try 1 1/2 cups of the chicken broth to begin and add more if the amount of liquid seems too low. Cook on high for about 4 hours. (Depending on your slow cooker, you might need up to 5 hours.) Finish with the coconut and lime as directed in the original recipe for a healthy slow cooker stew.
TO TRY: Love making soups and stews? Check out all of our soup recipes.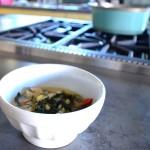 Coconut and Chicken Stew
Print Recipe
This simple chicken stew recipe is hearty yet healthy. If the vegetables aren't in season, substitute with the same amount of your favorite veggies. Just be sure not to skimp on the fresh lime. 
Ingredients
2

large boneless skinless chicken breasts

cubed, approx. 1 lb

salt and black pepper

2

tsp

grapeseed or other neutral oil

1

bunch carrots

tops included*

1

ear white corn

1

lg tomato

seeded and roughly chopped

1

clove

garlic

finely chopped

1

sm yellow onion

chopped

2

cup

chicken stock

1

13.5-oz

can coconut milk

juice of 1 lime

2

cup

cooked rice

optional
Instructions
Season chicken with salt and pepper. In a large, non-stick saute pan, heat the oil over medium-high heat and sear the chicken cubes until golden on both sides. Remove from pan and set aside.

Remove tops from carrots. Peel and cut carrots into 1/2" thick rounds. Remove the thick stems from the carrot tops and roughly chop the leaves.

In the pan in which you cooked the chicken, cook the carrots through onion over medium-high heat until onions are soft, about 3 minutes.

Return the chicken to the pan, add the stock and bring it to a boil. Turn heat down, cover and simmer for 40 minutes.

Remove from heat and stir in coconut milk and lime juice before serving. Season with additional salt to taste. Serve as a stew or over rice.
Notes
* Carrot tops are rarely used in recipes but are as edible as the orange root. They offer a distinctive herbal flavor. 
Pin this Coconut and Chicken Stew recipe: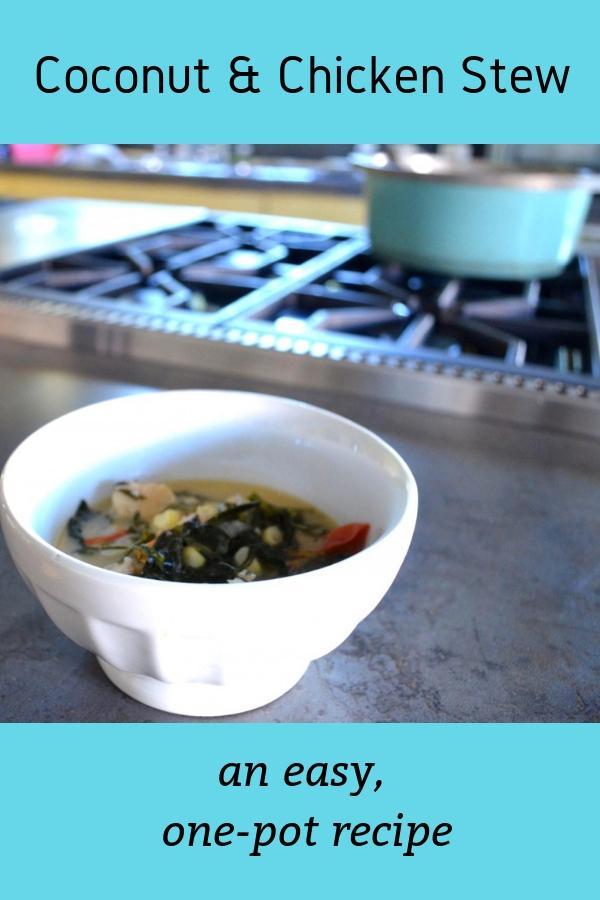 Latest posts by Amy Reiley
(see all)
Get on our mailing list
Subscribe and get our exclusive list of Six Great Sex-Boosting Snack Foods for FREE! Unsubscribe at any time.