Warm Quinoa Salad with Dates, Melted Chevre and Baby Kale
A warm quinoa salad with a complex medley of flavors
Both quinoa and kale are wildly popular in the health community for their powerful blend of nutrients. But sometimes the health world gets more wrapped up in nutrition than taste. (Face it, left on their own, neither kale nor quinoa is particular seductive.) But combine them in a warm quinoa salad with the creaminess of melting goat cheese, the complexity of ginger and cardamom and add the sweetness of chopped dates to balance the kale's bitterness and you have a meatless dish to make your lips turn upward, your tongue tingle with excitement and your whole body hum with the boost of vitamins and minerals.
Why quinoa?
Yes, a dish like this could easily be made with slippery noodles or creamy risotto. So why did I choose quinoa? Because the health benefits of quinoa simply can't be beat. First of all, quinoa isn't actually a cereal grain like barley. It's actually a seed. This not only helps explain its almost grainy texture but also helps you better understand why it's a source of protein. It's also higher in fiber than most grains. (And as I've said many times, the anti-bloating effects of fiber is definitely aphrodisiac!) Lastly, according to Healthline, quinoa is one of the best sources of a couple of key antioxidants. Those antioxidants are going to help keep you looking and feeling your most sexy.
And no, quinoa doesn't offer the silky or seductive texture of many alternate carbohydrate choices. But that's where the other ingredients come in, in this quinoa salad. Both the cheese and the sweet, little morsels of dates add creaminess to the dish's texture. Blended with the slippery texture of the kale and the aromatics of the spices, this is a winning combination.
Want more inspiration on how to use quinoa? Check out this recipe for Lamb Skewers with a Blackberry Quinoa Salad.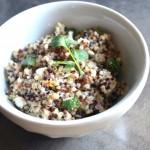 Warm Quinoa Salad with Dates, Melted Chevre and Baby Kale
This warm quinoa salad recipe offers a complex array of flavors including creamy, melting goat cheese, the sweetness of dates and the bite of baby kale.
Cooking Style:
Easy, fast, Vegetarian
Ingredients
1

cup

quinoa

3

tbsp

grape seed oil

1/4

cup

red onion

finely chopped

pinch

dried ginger

1/4

tsp

ground cardamom

salt

8

small dates

pitted and roughly chopped

2

tbsp

lemon juice

1/4

cup

chevre

crumbled

1

cup

baby kale leaves

washed

1

sprig fresh cilantro

chopped (optional)

additional cilantro for garnish

optional
Instructions
Bring the quinoa and water to a boil in a small saucepan. Cover, turn temperature to low and simmer for 15 minutes or until water is absorbed and quinoa is fully cooked.

While quinoa is cooking, heat the grape seed oil is a sauté pan. Add the onions, ginger, cardamom and salt to taste and sauté until onions are soft, about 2 minutes.

Remove from heat and stir in the dates, lemon juice, crumbled chevre and the cooked quinoa.

To serve: divide the kale among four plates, top with the quinoa mixture (so that the heat from the quinoa will wilt the greens) and garnish with cilantro, if desired.
FREE APHRODISIAC NEWSLETTER
Subscribe to our free aphrodisiac newsletter