Warm Quinoa Salad with Dates, Melted Chevre and Baby Kale
Our articles may contain affiliate links. For more information, view our policies.
Quinoa and kale are both wildly popular ingredients. And in both cases, their popularity stems from the ingredient's health benefits, not its flavor. In fact, on its own, neither ingredient stands as an emblem of seduction. That's why my quinoa salad focuses on layers of aphrodisiac flavors from ingredients that can take the potential benefits kale and quinoa offer to your sexual health and give them a sexy spin.
So as you read this recipe, don't think about the crunch of bitter kale or the blandness of quinoa. Concentrate instead on what the creaminess of melting goat cheese can bring to a plain whole grain. And how the sweetness of dates will offer a balance to the overt bitterness of the greens. Then add the body-warming sensation of aphrodisiac spices like ginger and cardamom. Suddenly plain quinoa and kale are transformed into a meatless main course to make your lips turn upward, your tongue tingle with excitement and your whole body hum with the boost of vitamins and minerals.
Why should you use quinoa?
Yes, a dish like this quinoa salad could easily be made with slippery noodles or creamy risotto. So why should you cook with quinoa? The answer is simple. Because the health benefits of quinoa can't be beat.
What is quinoa?
To truly understand quinoa's benefits, it's important to understand what it is. Although it's referred to as an ancient grain, quinoa isn't actually a cereal grain like barley. It's a seed. This not only helps explain its almost grainy texture but also helps you better understand why it's a source of protein.
Quinoa is also higher in fiber than most grains. (And as I've said many times, the anti-bloating effects of fiber is definitely aphrodisiac!) Lastly, according to Forbes, quinoa is a good source of the antioxidant manganese. Learn more about why manganese is essential to a healthy sex life.
And no, quinoa doesn't offer the silky or seductive texture of many alternate carbohydrate choices. But that's where the other ingredients come in, in this quinoa salad. Both the cheese and the sweet, little morsels of dates add creaminess to the dish's texture. Blended with the slippery texture of the kale and the aromatics of the spices, this is a winning combination.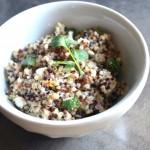 Warm Quinoa Salad with Dates, Melted Chevre and Baby Kale
Print Recipe
This warm quinoa salad recipe offers a complex array of flavors including creamy, melting goat cheese, the sweetness of dates and the bite of baby kale. 
Ingredients
1

cup

quinoa

3

tbsp

grape seed oil

1/4

cup

red onion

finely chopped

pinch

dried ginger

1/4

tsp

ground cardamom

salt

8

small dates

pitted and roughly chopped

2

tbsp

lemon juice

1/4

cup

chevre

crumbled

1

cup

baby kale leaves

washed

1

sprig fresh cilantro

chopped (optional)

additional cilantro for garnish

optional
Instructions
Bring the quinoa and water to a boil in a small saucepan. Cover, turn temperature to low and simmer for 15 minutes or until water is absorbed and quinoa is fully cooked.

While quinoa is cooking, heat the grape seed oil is a sauté pan. Add the onions, ginger, cardamom and salt to taste and sauté until onions are soft, about 2 minutes.

Remove from heat and stir in the dates, lemon juice, crumbled chevre and the cooked quinoa.

To serve: divide the kale among four plates, top with the quinoa mixture (so that the heat from the quinoa will wilt the greens) and garnish with cilantro, if desired.
Pin this Quinoa Salad recipe: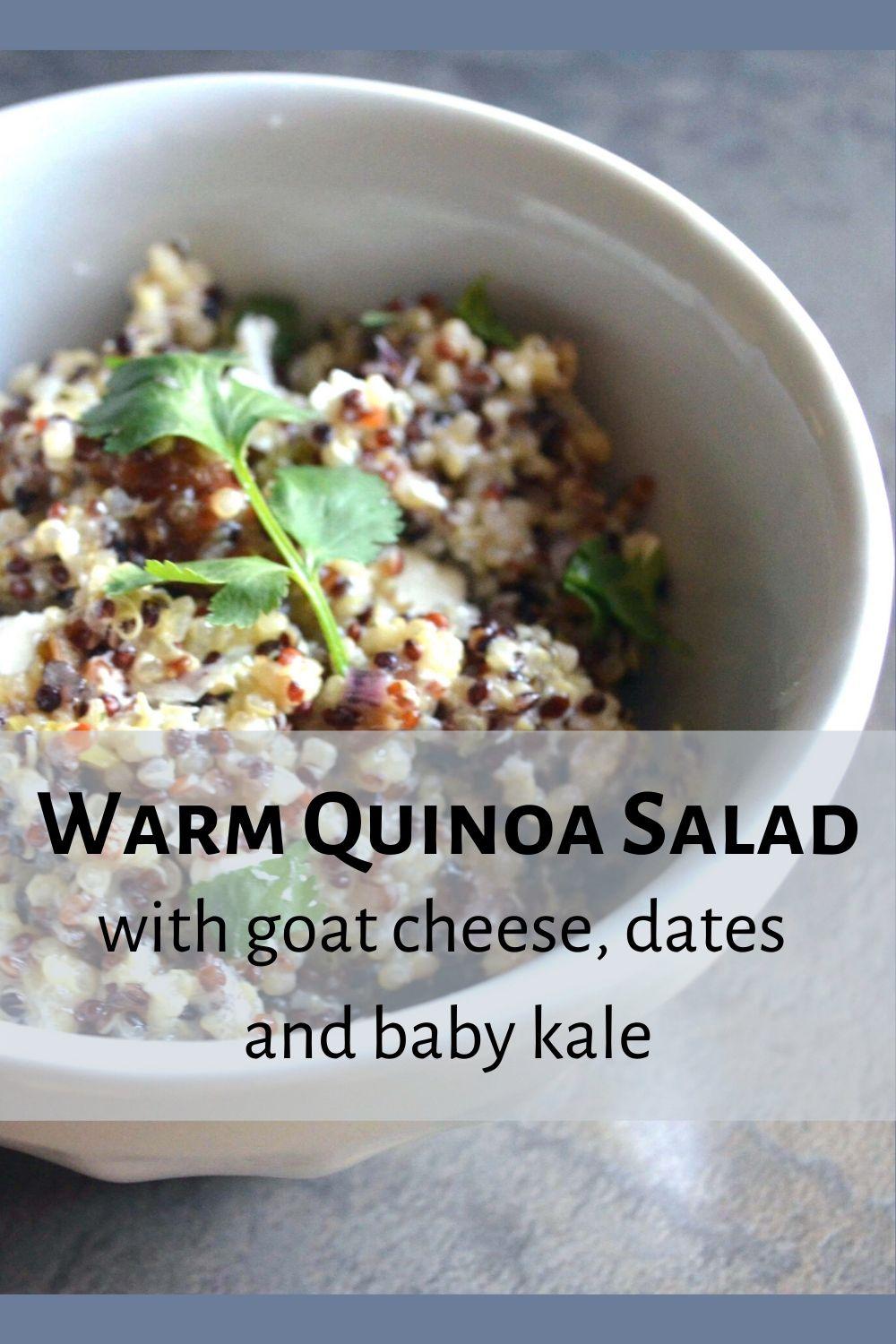 Latest posts by Amy Reiley
(see all)
Get on our mailing list
Subscribe and get our exclusive list of Six Great Sex-Boosting Snack Foods for FREE! Unsubscribe at any time.