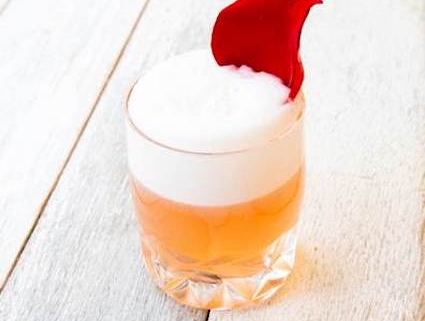 CBD cocktails open a new realm of aphrodisiacs
With this cocktail recipe, we're daring to go somewhere we've never gone before…into a realm that promotes the aphrodisiac potential of cannabis. This CBD cocktail recipe harnesses the sensual powers of Cannabis Satvia plant. However, it does so without the psychoactive component of the plant, (known as THC). Meaning the goal of this drink is not to get your romantic interest high. Instead, it offers CBD's healing affects, like stress and anxiety reduction, along with a refreshing mix of Aperol, lemon juice and the aphrodisiac of gin. 
Discover the benefits of CBD
This CBD cocktail was created by a leader in the cannabis marketplace, Curaleaf. And they make it using a very specific product that they've created, their Lemon Bergamot CBD Tincture Drops. Because this is among Curaleaf's hemp products–not the cannabis products–I believe it can be shipped nationwide.
And yes, one vial of this tincture, also called their Revive Tincture, is a pricy investment. But you'll quickly discover that it's good for more than cocktails. And that a few precious drops will go a long way. The tincture is made from a balanced combination of CBD oil and the rinds of lemons and Bergamot oranges. Don't forget that citrus is among our 10 Best Foods for Women. And since it's not psychoactive, the Revive Tincture can be used at any time of the day, as drops or in tea.
Additional ingredients that add to this cbd cocktail experience
But let's return to the drink. I wanted to feature this CBD cocktail as our first foray into the world of hemp because it is layered with aphrodisiac potential, not to mention sophistication. It combines famously aphrodisiac gin with one of our team's favorite spirits, Aperol. Added to the drink is the zing of citrus and the addition of egg white–also aphrodisiac–which gives a cocktail brilliant texture. Lastly, this blush-pink combination of fresh and inviting flavors and textures is topped with a rose petal, which is both a romantic gesture and a surprisingly aphrodisiac, edible treat.
This is without question a drink of love. How could you possibly you pass this up?
Love creative cocktail recipes? Check out our entire index of cocktails you can make at home.
Cupid's CBD Fizz
Course:
aperitif, Cocktalis
Seasonal:
Valentine's Day
Ingredients
2

oz

gin

.5

oz

fresh lemon juice

.5

oz

Aperol

1

egg white

15

drops

Curaleaf Hemp Lemon Bergamot CBD Tincture Drops

1

organic rose petal (red recommended) for garnish
Instructions
Place all ingredients in a shaker with no ice for a dry shake for no less than 10 seconds

Add ice to the shaker and give a final shake

Pour the liquid into a lowball glass

Garnish with a rose petal
Pin this CBD cocktail recipe:
FREE APHRODISIAC NEWSLETTER
Subscribe to our free aphrodisiac newsletter