Irish Potato Leek Soup Recipe
Our articles may contain affiliate links. For more information, view our policies.
What could be more Irish than a stew of potatoes, leeks and Guinness Extra Stout? This Irish potato leek soup recipe is my spin on a date night appetizer based on traditional Irish fare. It is fun, maybe even a little silly and best of all, this date night recipe with an Irish flare is easy!
An Irish potato soup made for romance
How do you take Irish foods and make them sexy? Well, it turns out, many traditional Irish ingredients, like leeks and even potatoes, have an aphrodisiac history. So you take those ingredients, combine them with some sensual Irish tunes and a splash of Irish whiskey and you have yourself a meal made for romance.
Don't believe me? Check out my Irish Date Night Menu to get all the recipes and this menu's inspiration.
All of the recipes are designed for two, including this potato leek soup recipe, but if you're thinking St. Pat's with your pals is more your speed, you can easily double or triple any of these recipes. In fact, you may love the Black Velvet cocktail so much you'll need to double or triple it even if it's just the two of you.
TO TRY: Homemade Irish Soda Bread
How to make a leek and potato soup with no cream
Part of what makes this unique, Irish soup suitable for a date night is that it contains no cream or other heavy ingredients that could slow a night of passion to a grinding halt. (The first rule of creating a romantic dinner is sticking to light foods that won't make you feel too full or tired.)
The trick to this soup's creamy texture is peeling and cubing then cooking down the potatoes. It doesn't take too long to simmer the potato soup to an almost velvety texture but don't try to rush it.
How to make a vegan potato soup with stout
This recipe is not a vegan leek and potato soup recipe but you could easily tailor it to a plant-based diet.
Since Guinness is vegan, there is very little in this recipe that needs altering to make a vegan potato leek soup. (Guinness was not always vegan. But a few years ago this iconic, Irish brand made some small alterations to allow those who follow a strict vegan diet to enjoy their thick, dark stout.)
All you need to do to enjoy a vegan Irish potato and leek soup is replace the butter with a vegan substitute. That and trading the chicken stock for a vegetable stock are the only steps required to make this potato soup vegan.
TO TRY: Veggie White Bean Chili with Chocolate
This easy potato soup recipe can be made in advance
The best thing about this soup, besides the fact that it contains leeks, considered by the ancient Romans to be one of the finest love "enhancements," is that it can be made in advance.
Potato soup or potato stew?
If you're wondering whether it's fair to call this recipe a soup, you may have a good point. Technically, this Irish potato recipe would probably be classified as a potato stew. A potato soup recipe is generally primarily liquid. A potato stew recipe on the other hand, is something hearty, not so smooth – like this soup. But either way you look at it, this recipe is delicious, satisfying and easy to make in advance.
The soup only simmers for about 25 minutes, so you can either whip it up just before dinner, or make it hours ahead and reheat when you're ready to make some romantic memories.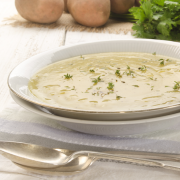 Irish Potato Leek Soup with Stout
Print Recipe
Chef and cookbook author Diane Brown's version of an Irish stew includes the aphrodisiacs of leeks and celery and a heady dose of stout. For a vegetarian version, substitute veggie stock for the chicken stock.
Ingredients
1

Tbsp

butter

1

clove

garlic

minced

1

medium leek

well cleaned and chopped

1

stalk celery

chopped

1

Tbsp

flour

1

bottle Guinness Extra Stout

4

cups

chicken stock

4

medium-sized potatoes

peeled and cut into 1/2 inch cubes

1

tsp

sugar

Salt and pepper to taste

Parsley for garnish, optional

(finely chopped)
Instructions
In a stockpot, melt butter and sauté garlic until tender. Add celery and leek and sauté for 3-5 minutes or until tender.

Sprinkle flour over vegetables, and cook for about a minute.

Put beer, chicken stock, potatoes and sugar in pot with vegetables and bring to a boil.

Reduce to a simmer and cook until potatoes are soft and broth is creamy, about 25 minutes. Season with salt and pepper and serve. Garnish with parsley if desired.
Diane Brown is the author of The Seduction Cookbook. If you love this recipe, order the whole book!


Pin this recipe for Irish Leek and Potato Soup with Stout:
Latest posts by Amy Reiley
(see all)
Get on our mailing list
Subscribe and get our exclusive list of Six Great Sex-Boosting Snack Foods for FREE! Unsubscribe at any time - privacy policy