Growing Edible Flowers – A Guide for Food Lovers
Our articles may contain affiliate links. For more information, view our policies.
With America's passion for farm-to-table cuisine, backyard "farming" has become the food lover's hobby. But growing what you eat can be time-consuming. That's why we recommend you start small and try your hand at growing edible flowers. In this article, we'll examine some of the easiest and best edible flowers to grow in your yard or even on your windowsill.
Even if you're already a green thumb with a thriving garden, growing flowers that are edible to the mix will add beauty to your yard and to your plate.
And did I mention that most edible flowers have a history as aphrodisiac? So an edible garden will not only improve the presentation of your meals, it can improve your chances of getting lucky on your next date night. Not bad for a hobby that gets you outdoors and adds color to your visual landscape.
RELATED: Plants with Benefits: an introduction to aphrodisiac plants
How to plan your edible flower garden
Even if your only growing space is a windowsill, you can have your own edible flower garden. There are a surprising number of edible blooms that will enjoy living indoors. For example, the flower petals of orchids, most of which prefer indirect light, are edible.
By trying your hand at this style of aphrodisiac gardening, you will be rewarded not only with a new ingredient for your culinary repertoire, but a living bouquet to brighten each and every day.
But what flowers are edible? The list is long and many names on it might surprise you. Let's take a look at some of the most popular and most versatile flowers to eat.
Edible plants and flowers that are easy to grow
Even if you lack a green thumb, you can still make edible flowers bloom. Here are a few of my favorites to grow because their care is easy and their blossoms have a wide variety of uses.
Just be sure to check that your climate is suitable before adding a new plant to your garden.
Growing nasturtium for color and attracting pollinators
A great starter flower is nasturtium.
It really is one of the best edible flowers to grow for a variety of reasons. Nasturtiums are hearty plants with vibrant red, orange or yellow flowers. They make great companion plants to a vegetable garden because nasturtiums attract pollinators. This bodes well for the health of your entire garden. Nasturtium is also among the fastest-growing edible flowers.
RELATED: Respect for the Honey Bees
Nasturtiums grow well in pots, too. Nasturtiums in pots should be treated to full sunlight. They are drought tolerant so be sure not to overwater but if you forget about the for a couple of days, they're likely to survive. (Make sure not to start them until after the last frost of the year. Or you can start your nasturtium plants indoors and transfer them later.)
You can use both the leaves and the edible petals in cooking. And they don't just have to be added raw as a garnish. You can add them to stir-fries or even make nasturtium fritters as you would with zucchini blossoms.
RELATED: Stuffed Zucchini Flowers Recipe
Roses are among the best edible flower plants for romance
In the world of aphrodisiacs, rose is a symbol of love and desire. According to Temptations: Igniting the Pleasure and Power of Aphrodisiacs by Ellen and Michael Albertson, Cleopatra carpeted an entire room in rose petals to seduce Mark Antony with their scent.
And ancient Romans were said to use rose oil as a beauty treatment. Even in China, lovers enjoy a drink flavored with rose petals to stimulate romance.
Roses are a bit more finicky than nasturtiums but a happy rose bush will reward you with fragrant, edible roses for many years. You can eat rosebuds, petals and rose hips, (the fruit produced by the rose flower).
Small rose buds and candied rose petals both make beautiful decorations. Roses truly are my favorite edible flowers for cakes.
But there are other uses.
You can infuse a syrup or oil with the delicate taste of rose, chop the petals and use in a fruit sorbet or ice cream, steep in hot water to make herbal tea, flavor vinegar for a salad dressing.
RELATED: An Easy Champagne Cocktail with Rosewater
Edible vegetable flowers
One of the most popular edible flowers is the squash blossom. The blossoms of both summer and winter squashes are edible but it's summer squashes that are most popular. Although they can be eaten raw, zucchini blossoms stuffed with cheese and pan or deep-fried are among the most delicious floral delicacies you can find.
If you plan to grow zucchini, be sure to check out our stuffed zucchini blossom recipe.
Additional easy-to-grow plants with edible flowers
chive blossoms
lavender (note that lavender is hard to grow from seed but can be grown from cuttings)
chamomile
mint (be careful not to let the mint plant take over your garden)
An edible flowers list by climate
Not all edible blooms thrive in all climates. So we've prepared lists of flowers that grow well in the more humid East Coast of the United States and some that prefer the drier West. If you live in a different country, base your choice on the similarity of your climate to one of these or consult a guide to growing zones in your country.
Growing edible flowers on the East Coast of the U.S.
Lilac
Offers slightly bitter, lemony flavor. Blooms in late spring, early summer.
Dandelion
This common weed has dozens of uses. The root can be steeped as a drink, the flowers into wine and the bitter greens sautéed or in salads.
Tulip
These beautiful flowers have an intriguing, onion-like flavor.
Wild violet
These delicate flowers with a slightly sour flavor are generally found in late spring and summer.
Borage
One of the more interesting flowers you can choose, it is used as a natural sweetener like honey and is known to relieve stress and promote hormone balance.
Marigold
A member of the tarragon family with a peppery flavor, it is a welcome addition to any organic garden as it acts as a natural bug repellant.
Types of edible flowers to grow if you live in the Western U.S.
Many of the East Coast choices also thrive in the West, but here are some additional choices to try in a long, hot growing season. (Keep in mind that many of the East Coast blooms, such as marigold and violet will also grow well in the cooler months on the West Coast. They just might not thrive in summer.)
Tuberous Begonias
Both the fleshy edible stems and the flowers offer a tangy flavor.
Daylily
These bell-shaped flowers can be stuffed like squash blossoms and are insect-resistant.
Pansy
These pretty, easy-to-grow flowers have a faintly minty flavor.
Calendula
Also called poor man's saffron, it can be used to color food with a brilliant, golden glow.
Eating edible flowers – a list of uses
The flowers we eat have an endless number of uses in both savory and sweet dishes. (Or you can eat flowers straight out of the garden!) Here are a few ideas of what to do with edible garden flowers to inspire you:
Try them in salads – In addition to the uses mentioned above, edible flower petals or flower buds or even whole flowers add a splash of color to a green salad. Savory chive flowers are particularly tasty in salads.
Decorate seafood dishes – Raw, edible blossoms can also be used to flavor delicate seafood dishes.
Many edible blooms are delicious steeped as teas. Hibiscus, one of our favorite floral aphrodisiacs, makes a deliciously fruity herbal brew. Or, if you like your drinks a little stronger, try this hibiscus cocktail idea.
Garnish soups – I also use edible flowers to garnish soups and other dishes both savory and sweet.
Make a floral ice cream – Rose petals and lavender are both particularly nice additions to a basic ice cream base.
Make memorable ice cubes – One of the most fun uses is to insert a petal or, if the flower is smaller, an entire bud into an ice cube tray to dress up ice for water or summer drinks.
Tips for gardening organically
The most important factor in growing an edible garden is knowing how your seedlings were started. If you aren't growing from seed, make sure you know how your flowers were grown. You want to find plants that have been organically grown. Flowers sprouted with a blanket of pesticides are not considered safe to eat.
Natural pest control
If your trouble is flying insects, mix two teaspoons of dish soap with one cup of warm water in a clean spray bottle. Be sure to spray both the tops and bottoms of leaves. Spray once/week or more frequently if it rains.
If the soapy spray isn't doing the job, try planting marigolds among the problem plants. If the problem persists, you may consider identifying the troublemaker and nixing it from next year's planting. (For us, the problem child was dill, a lovely herb we will, in future, happily purchase at the grocery store.)
Additional edible gardening resources
When you are ready to move on to more challenging and time-consuming plants, there are many great gardening resources online. If you plan to grow enough to share, explore produce exchanges in your area before you select the plants to grow.
Exchanges allow home gardeners to enjoy a wider variety of homegrown produce than they can plant on their own – or free! If everyone in the local produce exchange is planting tomatoes and cucumbers this summer, you might want to plant a garden full of herbs and endear yourself to every exchange member's palate.
For more on organic, edible gardening, check out
http://www.motherearthnews.com/Organic-Gardening.aspx
https://rodaleinstitute.org/
http://hyperlocavore.wordpress.com/2009/07/01/how-to-start-a-produce-exchange-in-your-neighborhood/
The Bee Friendly Garden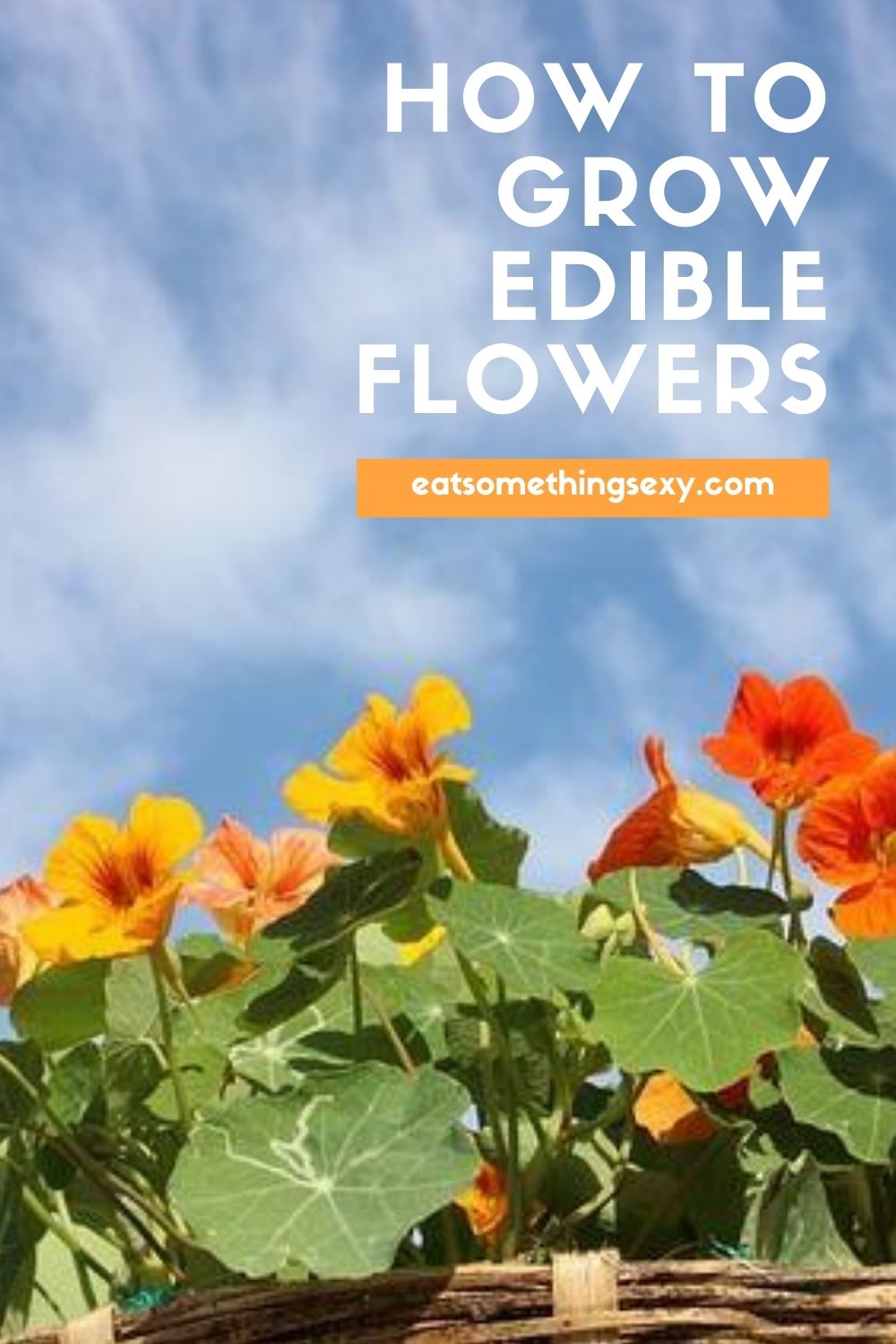 research by Lashanda Chadwick
Latest posts by Amy Reiley
(see all)
Get on our mailing list
Subscribe and get our exclusive list of Six Great Sex-Boosting Snack Foods for FREE! Unsubscribe at any time - privacy policy