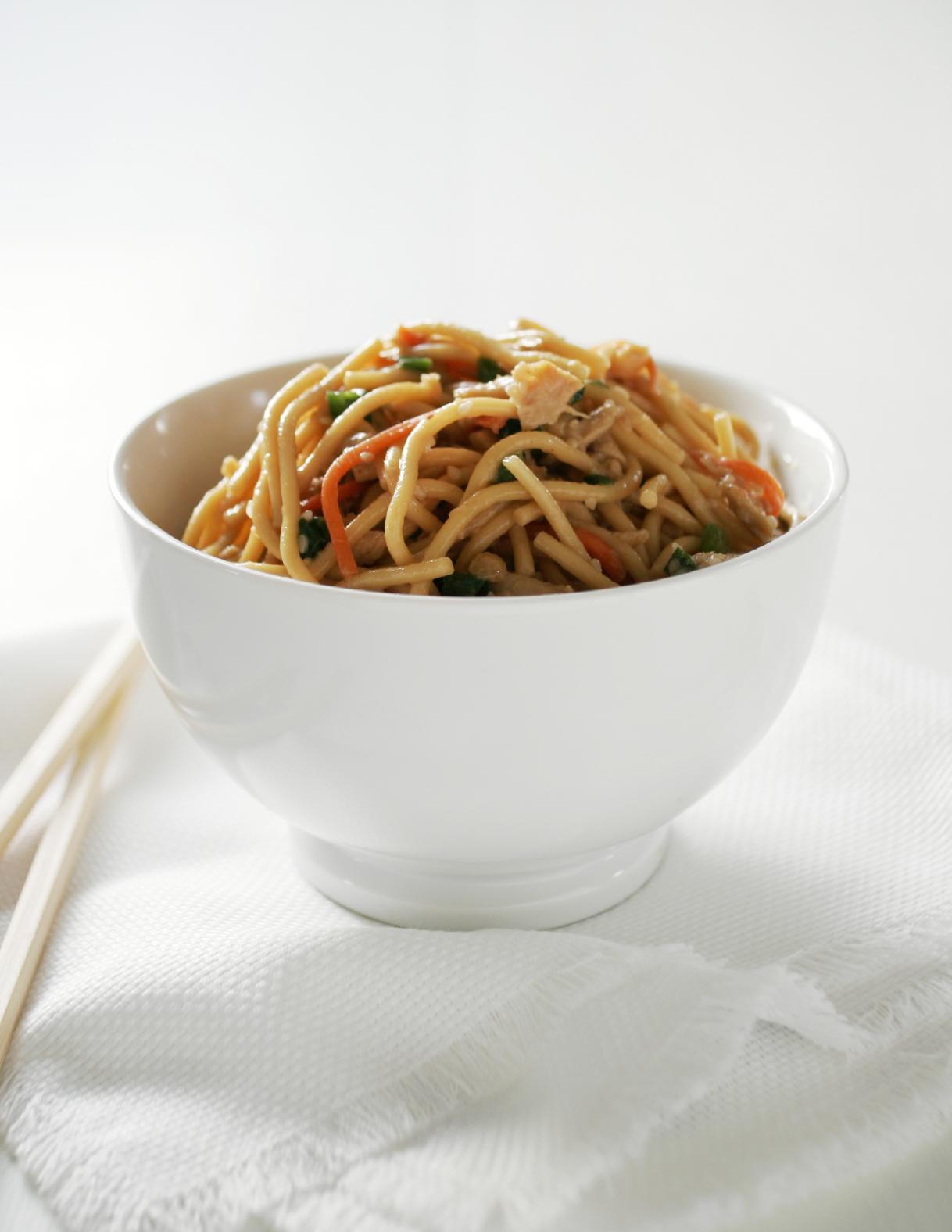 Easy Peanut Butter Pasta Recipe with Chicken
Our articles may contain affiliate links. For more information, view our policies.
Inspired by the salty, sensual flavors of Thai noodles, this peanut butter pasta is one of our most crowd-pleasing recipes. A simple blend of fresh vegetables, chicken and whole wheat pasta topped with a craving-worthy, spicy peanut butter sauce, these Asian noodles with peanut sauce may just become your weeknight go-to.
TO TRY: Turkey Congee with Cranberries & Peanuts
Is this recipe for noodles with peanut butter sauce healthy?
Pasta recipes are often not just high carb but filled with unhealthy ingredients. The great news about this peanut butter spaghetti recipe is that it's packed with healthy ingredients, starting with the noodles.
This Asian-inspired noodle recipe calls for a base of whole wheat spaghetti. (If you want a gluten-free version, you can use brown rice noodles or quinoa spaghetti as a substitution.)
Whole grain pasta is lower in calories and higher in fiber than pasta made from refined flour. It also contains more nutrients than you get from traditional spaghetti noodles.
But this Asian peanut noodles recipe doesn't limit the healthy ingredients to just the pasta.
To make healthy Asian spaghetti
The inspiration for this pasta with peanut sauce is the Thai rice noodle dish Pad Thai. But although this recipe shares some similarities with Pad Thai, it really just takes the basic flavor profile and transforms it into a healthy, creamy peanut noodles dish.
By using whole-wheat spaghetti instead of rice noodles and tossing them with white meat chicken, the dish becomes rich with fiber and protein yet low in fat.
Then the noodles are treated to a medley of crunchy, fresh vegetables and bathed in an incredibly flavorful peanut butter noodle sauce before it is topped with the added protein and salty crunch of chopped peanuts as well as sliced green onions.
An easy pasta dish doesn't get much more healthy than this! And as far as chicken recipes go, this one offers flavor everyone will love.
How to make peanut butter pasta sauce
The secret to the great flavor of this peanut pasta is all in the peanut noodle sauce. The peanut noodles sauce is a blend of salty, sweet and spicy ingredients whisked together until they make a creamy sauce.
Because the key to this recipe is the peanut sauce for pasta, I've taken a little time to break down a few of the key ingredients and how to select the best quality peanut sauce ingredients for great flavor.
Pasta peanut sauce ingredients
All-natural peanut butter – To make this peanut chicken pasta I recommend using only natural, creamy peanut butter. The only ingredients should be peanuts and salt. (Or you can use an unsalted variety if you're watching your sodium.)
Soy sauce – Not all soy sauce is the same. Chemical soy sauces are made to replicate the flavors of traditionally fermented soy sauce, but their flavors can be harsh and they often required added coloring.
Stick to natural soy sauces made from a base of fermented soybeans. (If you are on a gluten-free diet, be sure to check your sauce's ingredients because many soy sauces are made with wheat.)
Here is some additional information on styles of soy sauce and what to look for in a good sauce.
Again, if you're watching your sodium, look for low sodium soy sauce.
Dark sesame oil – This sesame oil is made from toasted sesame seeds. It has a dark amber color and a richer flavor than the kind of sesame oil you might be used to.
Keep in mind that like all cooking oils, toasted sesame oil needs to be stored in a cool, dark place and will degrade about as quickly as olive oil. So be sure to check any older bottles of oil before you add them to the sauce recipe.
To make vegetarian spicy peanut butter noodles
To make a vegetarian version of peanut noodles with vegetables, simply omit the chicken. However, keep in mind that the dish will not be vegan.
Strict vegans do not consume honey. So if you plan to serve the recipe to vegan guests, double-check whether or not they eat honey before making this easy peanut butter noodle recipe.
What to do with leftovers
Leftover pasta with peanut butter should be stored in a sealed container in the refrigerator for up to five days. The noodles can be served cold as a peanut pasta salad and make a delicious addition to a picnic basket. (Here's a guide to picking a great wine for a picnic.)
You'll probably have leftover fresh ginger after making this pasta in peanut sauce. Leftover fresh ginger root can be stored in the refrigerator for about two weeks. Or you can freeze it in an airtight container. (No need to peel or chop before freezing.)
Why these peanutty noodles are right for date night
Healthy noodles with peanut butter sauce may not be among the first foods that jump to mind when you're planning a romantic evening. However, the ingredients in these Asian peanut butter noodles can help you and your lover improve your sexual health.
That's because these spicy peanut noodles feature several of the finest aphrodisiac ingredients. (Did you know that peanuts make my list of the 10 Best Foods for Women's Sexual Health?)
A hint of honey adds sweetness. Honey contains boron, a nutrient thought to regulate hormones. But the dish also involves the body-warming effects of fresh ginger and chile flakes, both of which are known to not only raise body temperature but make your lips tingle with sweet anticipation of a kiss.
And then the garlic that helps to flavor the peanut noodle sauce ranks among the 10 Best Foods for Men's Sexual Health. (It also has some benefits for women.)
And, of course, there are the peanuts, which as I mentioned earlier are great for supporting women's sexual health. So who knows what your evening will bring if you and your lover share a bowl of these spicy peanut noodles!
RELATED: 5 Best Aphrodisiac Foods for Date Night
More of my favorite pasta recipes
Vegetarian Linguini with Green Garlic and Asparagus
Vegetarian Zucchini Noodle Lasagna
Smoked Salmon Pasta with Light Cream
Whole Wheat Spaghetti with Raw Tomato Sauce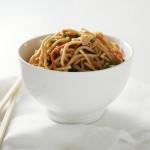 Peanut Butter Pasta with Chicken
Print Recipe
This is an easy recipe for getting a flavorful, homemade pasta dish on the table fast. A spicy peanut sauce inspired by Thai sate sauce gives spaghetti an Asian spin. Be sure to see the notes for vegetarian and gluten-free versions.
Ingredients
1/2

lb

whole wheat pasta or spaghetti*

reserve ¼ cup of pasta cooking water

1

tsp

kosher salt

optional

1/4

cup

creamy, natural peanut butter

2

tbsp

honey**

1 1/2

tbsp

white vinegar

2 1/2

tbsp

reduced-sodium soy sauce

1

tsp

dark sesame oil

also called toasted sesame oil

1

tsp

finely minced ginger

2

garlic cloves

finely minced

3/4

tsp

red-pepper flakes

12

oz

cooked

boneless, skinless chicken breasts, cut into thin 1/2-inch-wide strips

1

medium cucumber

peeled and seeded and julienned

1

red bell pepper

halved and julienned

1

medium carrot

peeled and julienned

1

tbsp

and 1 teaspoon chopped peanuts

unsalted (optional)

2

scallions

chopped (optional)
Instructions
Bring a large pot of water to a boil, add salt.

Add the whole wheat pasta and cook until al dente, 8 to 10 minutes.

Drain pasta and reserve ¼ cup cooking water.

Briefly rinse pasta under warm running water. Set aside.

In medium bowl whisk peanut butter, reserved pasta cooking water, vinegar, honey, soy sauce, sesame seed oil, ginger, garlic and red pepper flakes until smooth and creamy.

Pour over warm pasta and toss the pasta with chicken, cucumber, red bell pepper.

Sprinkle each serving with scallions and 1 tsp. chopped peanuts.

Serve warm or cold.
Notes
*If you want to make a gluten-free pasta, use brown rice or quinoa spaghetti. Be sure to check that your soy sauce is gluten-free.
**If you want to make a vegan pasta, omit the chicken and use brown rice syrup in place of honey. 
Pin this craving-worthy peanut noodles recipe with chicken:
Latest posts by Amy Reiley
(see all)
Get on our mailing list
Subscribe and get our exclusive list of Six Great Sex-Boosting Snack Foods for FREE! Unsubscribe at any time - privacy policy