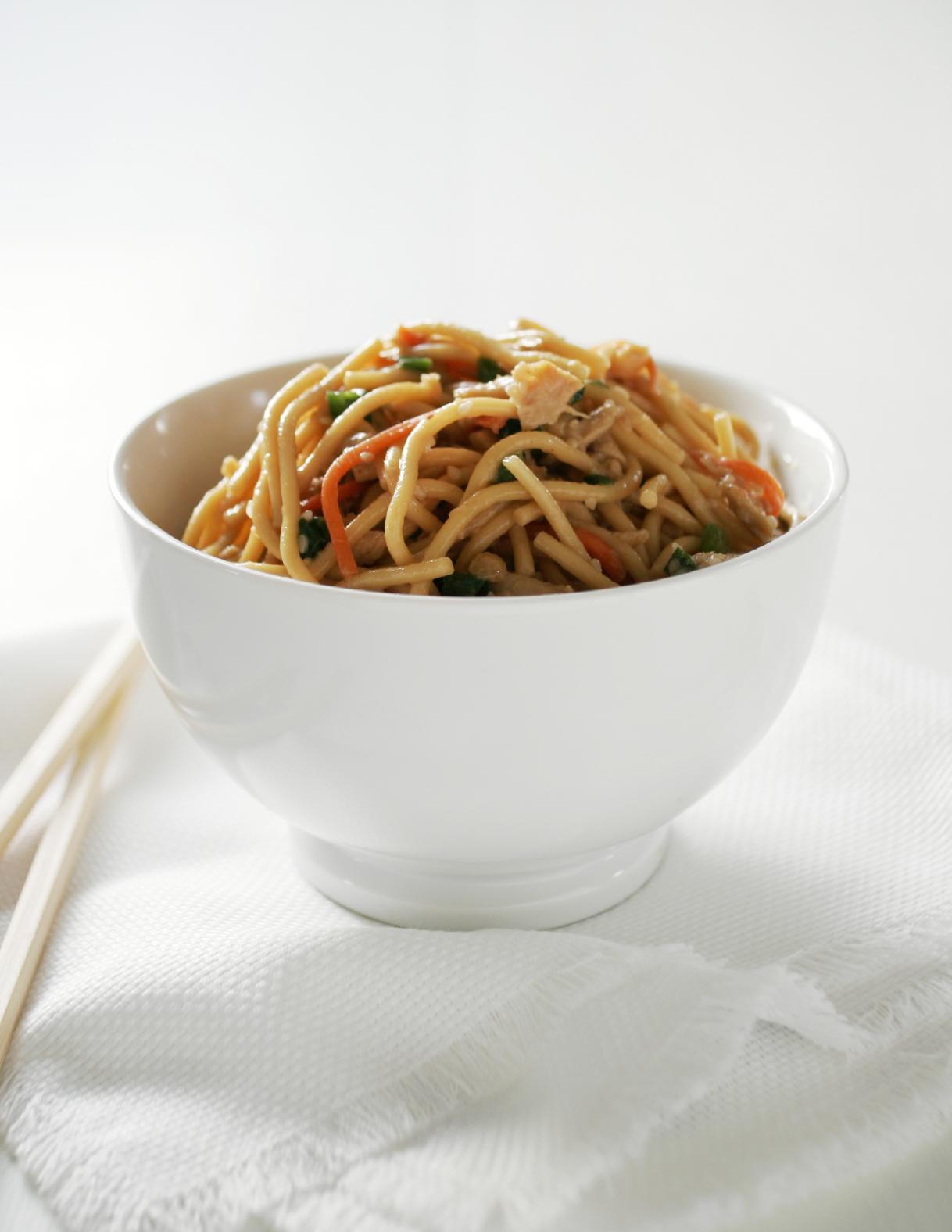 Want the Perfect Peanut Pasta Recipe?
Our articles may contain affiliate links. For more information, view our policies.
Comfort food is always in fashion. (Especially with a recipe that's as fast and easy as this Peanut Pasta.) But I'm featuring this dish not just because it's fast and easy. I love this pasta because it offers a unique way to use one of our 10 Best Aphrodisiac Foods for Women. I'm talking about peanuts!
TO TRY: Turkey Congee with Cranberries & Peanuts
A healthy recipe for noodles with peanut sauce
This pasta recipe calls for whole wheat spaghetti but you can easily substitute with rice or buckwheat noodles, depending on your dietary preferences. Although with a name like Peanut Pasta, the recipe sounds decadent, the dish comes to us from PastaFits.org and features a heavy dose of protein as well as a good balance of fats and carbs.
Does peanut butter pasta have roots in Thai cuisine?
This recipe shares some similarities with the Thai export Pad Thai. Although I think it would be fair to say that it's a variation on Pad Thai, it's actually very different than what's considered a traditional Pad Thai. For starters, this easy peanut noodles dish is made with spaghetti noodles. Pad Thai, on the other hand, is made with rice noodles. In fact, it's believed that the dish was invented, in part, to encourage greater rice noodle consumption.
In addition, Perfect Peanut Pasta is tossed in a rich and creamy, peanut butter-based sauce. However in a Thai peanut noodle dish, the rice noodles are tossed in a salty, fish sauce-based dressing. The peanut flavor in Pad Thai comes from a generous topping of chopped peanuts, not from peanut butter.
This peanut chicken pasta recipe is packed with aphrodisiac ingredients
Is this sexy pasta? Well, it might not be your first choice of a recipe for a romantic evening. However, the ingredients in this recipe for pasta with peanut sauce can help you and your lover improve your sexual health.
That's because this easy chicken pasta recipe not only mixes the pure comfort of peanuts and noodles but it features several of my favorite aphrodisiac ingredients. A hint of honey adds sweetness. Honey contains boron, a nutrient thought to regulate hormones. But the dish also involves the body warming effects of fresh ginger and chile flakes. So who knows! A dish of this peanut sauce pasta may have you tearing off your clothes!
RELATED: 5 Best Aphrodisiac Foods for Date Night
A peanut butter noodles recipe with plenty of veggies
Although a healthy bowl of vegetables may not strike you as sexy food, my favorite part of this spaghetti with peanut sauce is the veggies. No having to worry about adding  a side dish to get your serving of vegetables with this recipe. Fresh bell pepper, carrots and the aphrodisiac of cucumber add texture, flavor and freshness. And it's that bit of complexity the veggies add that, for me, makes this so much more than an ordinary plate of pasta.
RELATED: Check out all of our pasta recipes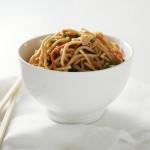 Perfect Peanut Pasta
Print Recipe
This is an easy recipe for getting a filling and flavorful vegetarian meal on the table fast. Substitute rice or buckwheat pasta if you want to avoid the wheat. 
Ingredients
1/2

lb

whole wheat pasta or spaghetti

reserve ¼ cup of pasta cooking water

1

tsp

kosher salt

optional

1/4

cup

creamy peanut butter

2

tbsp

honey

1 1/2

tbsp

white vinegar

2 1/2

tbsp

reduced-sodium soy sauce

1

tsp

dark sesame oil

1

tsp

finely minced ginger

2

garlic cloves

finely minced

3/4

tsp

red-pepper flakes

12

oz

cooked

boneless, skinless chicken breasts, cut into thin 1/2-inch-wide strips

1

medium cucumber

peeled and seeded and julienned

1

red bell pepper

halved and julienned

1

medium carrot

peeled and julienned

1

tbsp

and 1 teaspoon chopped peanuts

unsalted (optional)

2

scallions

chopped (optional)
Instructions
Bring a large pot of water to a boil, add salt.

Add the whole wheat pasta and cook until al dente, 8 to 10 minutes.

Drain pasta and reserve ¼ cup cooking water.

Briefly rinse pasta under warm running water. Set aside.

In medium bowl whisk peanut butter, reserved pasta cooking water, vinegar, honey, soy sauce, sesame seed oil, ginger, garlic and red pepper flakes until smooth and creamy.

Pour over warm pasta and toss the pasta with chicken, cucumber, red bell pepper.

Sprinkle each serving with scallions and 1 tsp. chopped peanuts.

Serve warm or cold.
Pin this peanut butter noodle recipe:
FREE APHRODISIAC NEWSLETTER
Subscribe to our free aphrodisiac newsletter