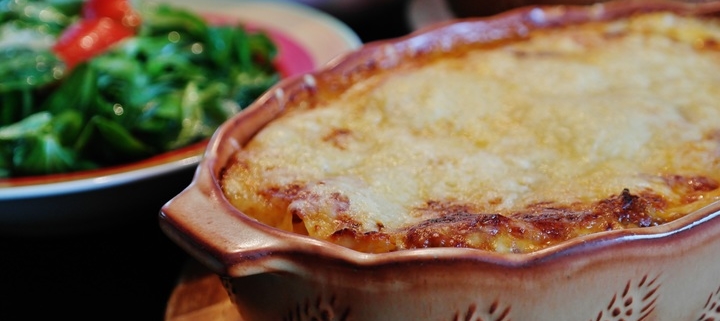 Vegetarian Zucchini Lasagna Recipe
Our articles may contain affiliate links. For more information, view our policies.
How to curb that lasagna craving a healthier way
My inner Garfield has a strong monthly craving for lasagna that I can rarely deny. Instead of trying to fight my desire for that beautifully layered carb-fest, I decided to make some slight changes to the traditional veggie lasagna that would satisfy Garfield and my waistline and also be kind to my arteries. And that's how I came up with this tasty and satisfying vegetarian zucchini lasagna recipe.
Recipe for lasagna with zucchini instead of pasta
To make a zucchini noodle lasagna, I started by ditching the pasta. Instead, of using high-carb, white flour lasagna noodles, I made zucchini noodles. Standard lasagna noodles are made with refined wheat flour, which has been stripped of all fiber, vitamins, minerals and phytonutrients.
Best of all, replacing the noodles with zucchini makes this pasta dish much lower-carb and naturally gluten-free.
TO TRY: Stuffed Zucchini Flowers
The nutrition in zucchini noodles
Zucchini, however, is high in fiber, water, vitamin A, vitamin C and potassium. As you can see, zucchini offers an abundance of nutrients to support your health. The water and fiber in this versatile summer squash help you manage your weight by providing low-calorie volume.
All the vitamins and minerals in zucchini also boost your immune system. And they are great for your heart, lungs, skin, and eyes. Plus it's really fun making the zucchini noodles for lasagna (aka zoodles) with a vegetable peeler. And the resulting dish is a low carb veggie lasagna.
TO TRY: Low-Carb Zucchini Roll Ups
Make your no noodle lasagna with the best cheese
To make this zucchini vegetarian lasagna feel more decadent, I used whole fat ricotta and mozzarella instead of skim.
Surprised?
Here's the reason. Low fat and non fat dairy items often have a lot of sugar added to them and most of their nutrients and vitamins taken out. You actually need the fat from dairy in order to absorb the calcium from it.
Some saturated fats have gotten an unfairly bad rap for too long. Studies show that incorporating whole fat dairy into your diet can reduce the risk of diabetes, some cancer, and actually help you lose weight! And, of course, let's not forget to consider that cheese is an aphrodisiac.
A vegetarian lasagna with tofu
In addition to nutritious, high quality cheese, I add tofu to this easy zucchini lasagna recipe. Don't run for the hills yet! Studies show that regularly eating tofu provides an excellent amount of energy, calcium, protein, total fat, carbohydrates, and fiber to your diet.
In its natural state tofu fairly bland. But this is not a bad thing! It's a great addition to meals because it will take on the flavor of the other ingredients in a dish. And don't forget, tofu is on our list of the 10 Best Foods for Women.
Another reason you'll love this zucchini vegetable lasagna
Of course, my lasagna with zucchini noodles wouldn't be complete without nutrient and flavor-rich garlic.
RELATED: Garlic Aphrodisiac & Health Benefits
This little bulb is also a powerhouse of immune-boosting nutrients including manganese, vitamin B6 and vitamin C, and is a good source of thiamin or vitamin B1, phosphorus, selenium, calcium, potassium, iron and copper.
Garlic also contains high levels of allicin, which increases blood flow which is excellent for your libido.
TO TRY: Check out more of our vegetarian recipes
Vegetarian Zucchini Lasagna
Print Recipe
This recipe shows you how to make a craving-worthy lasagna without the noodles. This virtual carb-free version replaces pasta with zucchini.
Ingredients
1

can whole peeled plum tomatoes

with juice, 28-ounce

2

tbsp

chopped fresh oregano leaves

2

tbsp

chopped fresh basil leaves

2

tbsp

plus 1/4 teaspoon olive oil

1

small onion

finely chopped

3

large zucchini

ends trimmed

1/4

tsp

crushed red pepper flakes

12

oz

firm tofu

drained and pressed

2

garlic cloves

minced

1 1/2

cup

whole ricotta cheese

1/2

cup

whole shredded mozzarella

coarse salt and pepper
Instructions
To make the sauce, pulse tomatoes with their juice in a food processor until finely chopped. Heat 2 tablespoons olive oil in a large straight-sided skillet over medium. Cook onion and red pepper flakes, stirring occasionally, until onion is softened, about 8 minutes. Add minced garlic and tomatoes; bring to a boil. Reduce heat and simmer until thickened, about 20 minutes. Coarsely crumble tofu and stir into sauce with chopped oregano and basil; season with salt. Let cool.

To make the lasagna: Preheat oven to 375°F. Slice zucchini lengthwise into thin strips using vegetable peeler. Place 5 or 6 zucchini slices, overlapping slightly, in the bottom of an 8-inch square baking dish. Top with 1 cup sauce. Dot evenly with 1/4 cup ricotta and sprinkle with mozzarella. Repeat twice with zucchini, remaining sauce, and 1/2 cup cheese. Top with remaining zucchini; brush with 1/4 teaspoon olive oil. Dot with remaining ricotta and evenly sprinkle with the rest of the mozzarella and season with pepper. Bake, uncovered, until lasagna bubbles and top browns, 50 to 60 minutes. Let stand 10 minutes before serving.
Pin my favorite healthy lasagna recipe with zucchini noodles: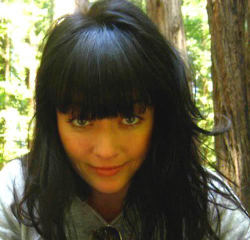 Latest posts by Vanessa Vanya
(see all)
Get on our mailing list
Subscribe and get our exclusive list of Six Great Sex-Boosting Snack Foods for FREE! Unsubscribe at any time - privacy policy