Soba Noodle Salad Recipe with Mango, Cucumber & Peanuts
Our articles may contain affiliate links. For more information, view our policies.
We love a simple, vegetarian recipe. And this cold soba noodle salad is one of our favorites for summer and autumn because of its bold flavor and its layers and layers of aphrodisiac ingredients. Crunchy, salty, sweet and sexy, how can you not love a one-bowl recipe with so many luscious flavor sensations?
What are soba noodles?
You've probably heard of soba. You may have even cooked with these Japanese noodles before. But you may not know exactly what distinguishes soba from other noodles. Especially since they look an awful lot like Italian noodles. But soba noodles are a little different from your average noodles.
These noodles from Japan are made from buckwheat flour. They can be made with 100% buckwheat flour but more often than not, the buckwheat flour is blended with a small percentage of whole wheat flour.
You can easily recognize noodles as having a high percentage of buckwheat flour by their color. Buckwheat noodles will have a dark grey color.
True artisan soba noodles are typically sold fresh. However, you can find dried soba sold with the other noodles in Asian markets and most grocery stores.
For this recipe, you'll cook the soba noodles according to the package instructions. Keep in mind that soba cooks very quickly and overcooked buckwheat noodles get mushy. Be sure to drain the noodles well and rinse under cold water to stop the cooking. Then drain off the rinsing water and either let them cool to room temperature or chill the noodles in the refrigerator before preparing the salad.
If you find the noodles get sticky while they are resting, you can try tossing them with a tiny bit of oil to keep the strands from sticking together.
Are buckwheat noodles healthy?
One of the advantages of buckwheat noodles over white flour noodles is that they have more nutrition. (Keep in mind that if your noodles are made from a blend of buckwheat and whole wheat flours, they will not be gluten-free.) However, the nutrition in your noodles will vary depending on the percentages of buckwheat flour and whole wheat flour. (Some noodles are even made with refined white flour. If you're seeking nutrition, you'll want to check the label before buying.) But soba noodles made entirely or mostly from buckwheat are a source of fiber, manganese, iron, thiamine and magnesium. (Did you know that pineapple is also a good source of thiamine?)
If you want to use whole wheat noodles as a substitute for the buckwheat noodles in this recipe, you'll actually get slightly more nutrition but a slightly less interesting flavor. However, whole wheat noodles make a perfectly reasonable substitution.
And this is not the only substitution you might want to consider when making this vegetarian noodle salad recipe. See below for additional substitutions and variations to help you make an allergin-free or even a vegan cold noodle salad.
TRY NEXT: Easy Peanut Butter Pasta with Chicken
Ingredients and substitutions
Some of the ingredients Megan calls for in her soba salad are ones you might not regularly stock in your kitchen. Additionally, we recognize that a few of the ingredients are known allergins or not part of certain diets. We've addressed our suggested substations below as well.
Sesame oil
For starters, sesame oil features in Asian and Middle Eastern cuisines but it isn't as common in a Western kitchen. This vegetable oil, extracted from sesame seeds, offers a much more full-bodied aroma and flavor than most cooking oils.
Mirin
Mirin is another ingredient foreign to many Western kitchens. Mirin is a Japanese alcohol, similar to sake only lower in alcohol and a bit sweeter. It is often (incorrectly) called rice wine. However, the definition of wine is a beverage made from fermented fruit. But because mirin is fermented from grain, it is technically more like a beer than a wine.
According to Bon Appetit, if you don't have mirin on hand, you can substitute with dry white wine mixed with 1/2 tsp sugar for every tablespoon of mirin. (Please note that we've never tried this substitution ourselves, although it sounds like a completely reasonable solution if you're in a bind.)
Substitutions for peanuts
For those who cannot eat peanuts, such as those with groundnut allergies, you can substitute with tree nuts. Cashews have the texture and flavor closest to that of peanuts but the salad is also delicious with roasted, salted macadamia nuts.
To make these soba noodles vegan
The soba noodle dressing calls for honey, which is an ingredient strict vegans don't consume. You can substitute with brown rice syrup. Although my preference is honey, the brown rice syrup will provide sweetness and a similar viscosity to honey.
Why this is a soba noodles recipe for a romantic occasion
Megan used to run a website called Aphro Cuisine. The site specialized in creative recipes that walked the line between health and hedonism. For this soba noodles recipe, she partnered up slippery, Japanese noodles with aphrodisiacs including honey, mint, garlic, mango, avocado and peanuts. As you can see, practically every ingredient in this recipe is an aphrodisiac.
But not only is Megan a natural at inventing aphrodisiac recipes, she knows how to combine textures to make a vegetarian dish that involves all the senses. There's the inviting, nutty aroma of sesame oil combined with the faint, clean note of cilantro. There's the sharp contrast of colors from the mango, soba noodles and vibrant mint and cucumber. And then, there are the textures. We love this cold soba noodle recipe's combination of slippery, soft, crunchy and slurp-able. These soba noodles for two really showcase the sensuality of eating.
RELATED: Vegetarian recipes for weeknights or date night
Comments Megan, "Silky, delicate, satisfyingly wholesome, this cold soba noodle salad recipe is sweet in all the right places, crunchy, fresh, zesty and herbaceous; scandalously blending Thai and Japanese flavors. Unorthodox, you say?–All the better."
Cold Soba Noodle Salad for Two
Print Recipe
A sensual combination of Asian flavors and aphrodisiac ingredients, this bowl of noodles makes an easy vegetarian dinner tor two. 
Ingredients
For the soba:
2/3

cup

soba noodles, packed

cooked according to the package instructions then chilled

roughly 1

tbsp

toasted sesame seeds

black or white

1

tbsp

peanuts (substitute with cashew or

macadamias) – roasted and salted and roughly chopped

1

medium avocado – diced or sliced

1

medium mango – finely sliced

1

Persian cucumber

small handful

mint

shredded

small handful

cilantro leaves
For the sauce
2

cloves

garlic

finely diced

1

tbsp

ginger – finely gated

4

tbsp

soy sauce

4

tsp

sesame oil

4

tbsp

Mirin

1

tbsp

honey

see notes for vegan substitution
Instructions
Submerge soba in a pot of boiling water.

Boil for about 4 minutes or until slightly al dente. (Keep a close watch as they are easy to overcook.)

Drain and rinse thoroughly in cold water.

Set aside to completely drain for a minute then spread the cooled noodles out on paper towels to dry. Top with a second towel and pat dry. (If you skip this step, the sauce will not take to the soba and you will find yourself facing a super sloppy and less flavorful bowl of soba.)

While the soba is drying, make the sauce by whisking together the garlic through Mirin. Add the honey and, if too thick, add 1/2 tsp hot water to thin the honey.

In a mixing bowl, toss the soba with the sauce and sesame seeds.

Divide the soba between two plates and garnish with the cashew (or other nuts), avocado, mango, cucumber, mint and cilantro.
Notes
To make a vegan soba salad, use brown rice syrup in place of the honey. 
Pin this vegetarian soba salad recipe: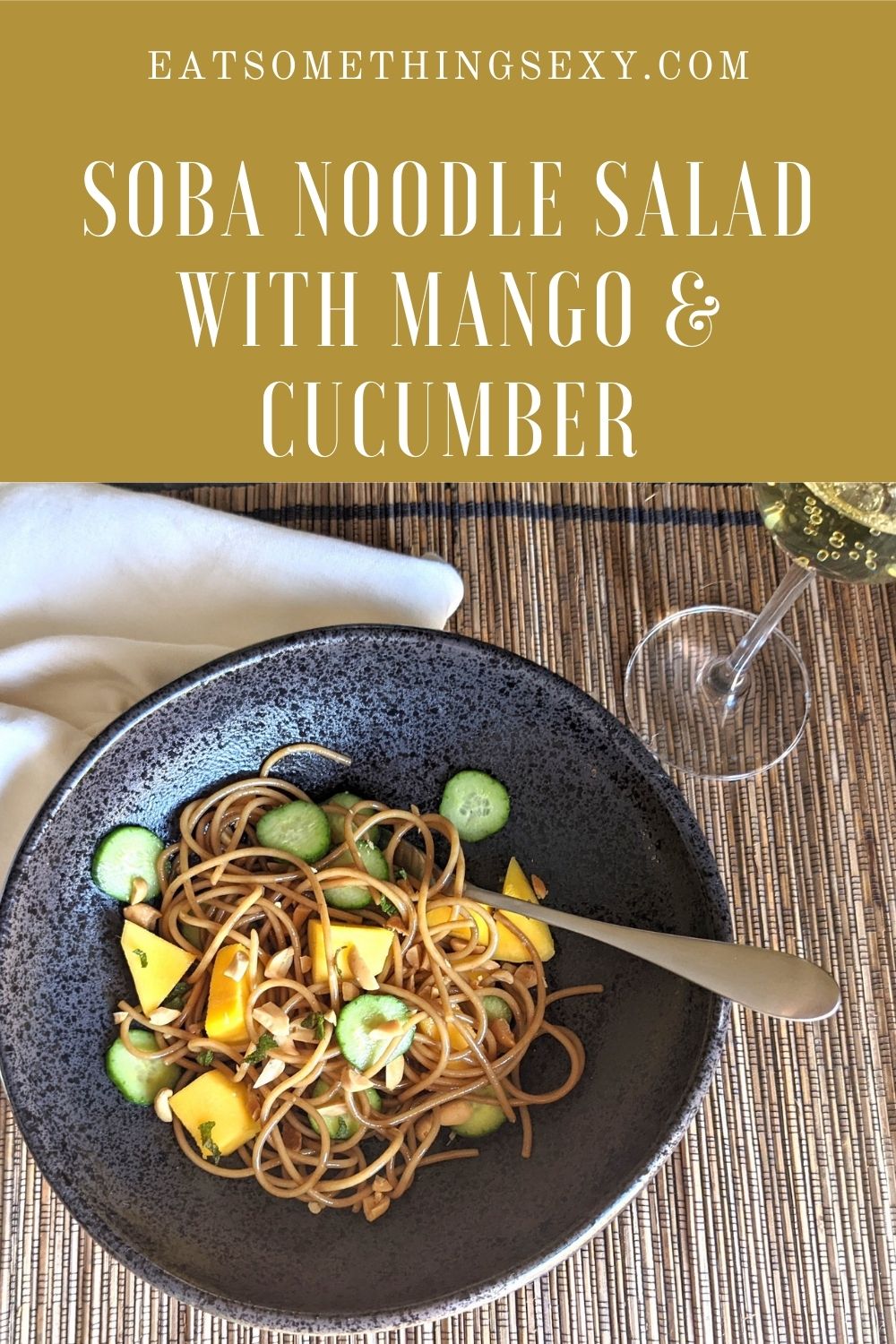 Latest posts by Amy Reiley
(see all)
Get on our mailing list
Subscribe and get our exclusive list of Six Great Sex-Boosting Snack Foods for FREE! Unsubscribe at any time.