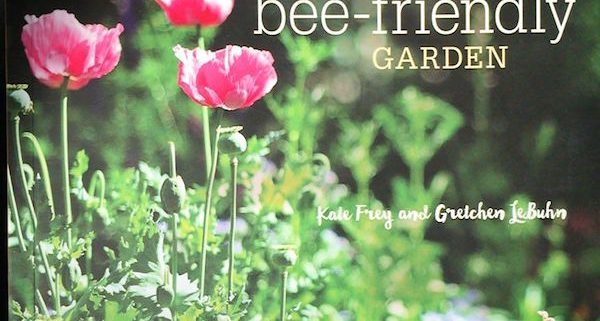 Best Gardening Book for a DIY Bee Friendly Garden
Our articles may contain affiliate links. For more information, view our policies.
Bees have it tough. Some bees have even made it on the endangered species list. But by making a few great native plant choices, you can help support native bee populations. (And don't forget, honey is an aphrodisiac.) That's why we love The Bee Friendly Garden: design an abundant, flower-filled yard that nurtures bees and supports biodiversity by Kate Frey and Gretchen LeBuhn. 
Using this book to discover bee friendly plants
Now is the perfect time to envision your summer garden. And Kate Frey and Gretchen LeBuhn's bee-friendly gardening book can help you plan your outdoor space not just for beauty, but to help support the local environment. (The book offers tips on choosing native plants that are not only good for attracting bees but also to birds and butterflies.)
Why your garden should include plants bees love
Why would you want to plan a garden that will purposely attract bees? There are a number of reasons but the biggest one is the fact that bees are pollinators. If you want to grow a successful vegetable garden, bees are going to help you accomplish this task with ease.
RELATED: Respect for honey bees – why our lives depend on them
Even if you just want a garden full of flowers, you need native bees to collect pollen. As pollinators, bees facilitate the fertilization of flowering plants. And the best way to do that is to plant some bee-friendly flowers.
You can grow pollinator friendly plants all year-round with this guide
You may not have the same passion for bees as the authors. (The book even includes a section on becoming, "a bee activist.") However, whatever your level of comfort with bees, or expertise with gardening for that matter, you will find this book to be a useful gardening manual.
The benefits of identifying and growing bee friendly flowers
It offers tips to growing plants bees love year-round. This includes how to grow nectar-rich plants to support the local bee population during times of drought. And it gives a how-to on optimizing your soil for the best display of flowers and most bountiful fruit and vegetable harvests in your bee garden. It will also give you the tools to plan a garden that:
Blooms year-round
Is pesticide-free and promotes sustainable ecology
Improves size and quality of any produce you grow
Promotes a safe habitat for other local wildlife like butterflies and beneficial insects
Offers a wide variety of colorful blooms
Now is the perfect time to get this book and grow some honey bee-friendly flowers. And maybe they'll also be butterfly-friendly plants. That's always a great bonus to a beautiful garden.
And if you're interested in growing a garden of flowers to feed your loved ones, check out our guide to growing edible flowers.
How to get this gardening book
Order your copy of The Bee-Friendly Garden from Amazon:

Latest posts by Amy Reiley
(see all)
Get on our mailing list
Don't miss out on a thing! Get news, deals & more!