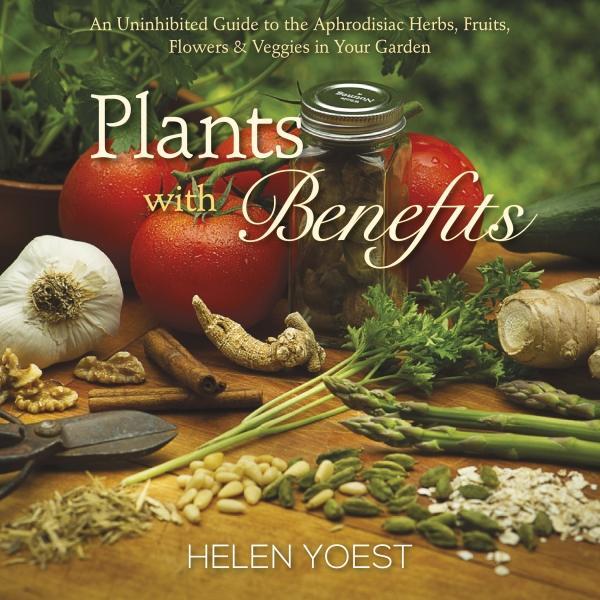 Plants with Benefits–the aphrodisiac guide to gardening
Update 2018: We originally published this article when Helen Yoest's book Plants with Benefits came out in 2014. But even though it's now a few years old, we still think this is the best gardening book for anyone with an interest in aphrodisiacs. And since spring is upon is, there's no better time than the present to brush up on your sexy gardening skills.
Grow the ultimate aphrodisiac garden with Plants with Benefits
This is hands down our new favorite gardening book. Noted garden expert and gardening author Helen Yoest's newest title, Plants with Benefits, takes a dip into our pool of temptation, exploring the aphrodisiac potential of 45 (mostly) common plants. With instructions on growing and harvesting conditions, it's more than another guide to natural aphrodisiacs, it's a gardening manual at it's most provocative and delicious, (the book includes several recipes to inspire an appetite as well as a green thumb).
Get your hands dirty
Yoest's approach to the topic is that of a woman both charmed and bemused. It's as though she's considering the sensual side of her beloved plants for the first time. And we're along for the ride as she makes some unusual discoveries–like the thought that celery might help a man attract women by enhancing the production of the male pheromone androstenone. Plants with Benefits is an incredibly fun read and it's one we think is a must for any aphrodisiac enthusiast with a yearning to dig their hands in the soil. (Dirt can be sexy!)
Buy it now:
And if you're ready to plan your own garden filled with plants with benefits, Gilmore (the hose and sprinkler people) have a rather useful and attractive, interactive planting zone map. It will help you pick the right aphrodisiac plants for your environment. Start planning your sensual garden at https://gilmour.com/planting-zones-hardiness-map
FREE APHRODISIAC NEWSLETTER
Subscribe to our free aphrodisiac newsletter