Lavender Lemon Drop Shooter Recipe
Our articles may contain affiliate links. For more information, view our policies.
This recipe is my twist on a classic lemon drop shooter. A fun drink everyone loves to throwback, a lemon shooter can make a tension easing start to a romantic evening at home. And to make sure the romance sticks, I've added the aphrodisiac of lavender to my lemon drop shoot recipe.
This faintly floral, lightly sweet vodka shot recipe is part of the boozy-themed date night plan I've dubbed "Hitting the Sauce," a guide to cooking with alcohol to create a romantic meal.
RELATED: Hitting the Sauce – secrets to cooking with alcohol
What makes a good lemon drop shooter recipe?
The Lemon Drop is a vodka-based sour. Sours are a family of cocktails made with a base spirit, a sweetener and fresh citrus to give the appropriate sweet and sour flavor.
The history of lemon drop shot recipes
The lemon drop cocktail was invented in the 1970's. As is the case with many cocktails, the origin is a bit murky but some say it was invented in a San Francisco bar by a man named Norman Jay Hobday. This lemon vodka cocktail quickly became one of the most popular drinks of the 1980s and 1990s.
Ingredients in a lemon drop shot recipe
The drink can be made with a citrus-flavored vodka. But many bartenders swear by using home-infused vodka with Meyer lemon.
Some versions include triple sec but that can complicate the recipe of what tends to be easy vodka shots.
Occasionally you will find lemon drop ingredients lists calling for muddled fruits, such as raspberry or blueberry. And with this recipe, I make it a lavender shooter. The possibilities are really only limited by the imagination of the bartender. The one-step, however, that should never be skipped is sugaring the rim of the shot glass.
How to make a lemon drop shot
A lavender lemon shooter is an easy cocktail to make. You have to make and chill the lavender syrup in advance. But once you've made your simple syrup, you can store it in the refrigerator for up to a week. (You can also use any leftovers to make lavender lemonade, one of my favorite non-alcoholic drinks.)
With your lavender lemon syrup waiting, this drink becomes a three-ingredient cocktail. Just put the ingredients in a cocktail shaker and give it a good shake. Then strain into two shot glasses that have been rimmed with sugar.
Check out one of my favorite cocktail shakers on Amazon

Making a date night version of a lemon drop shots recipe
This lavender lemon drop shot starts your evening with an aromatic known for its relaxing properties. Lavender is an aphrodisiac essence with many curative properties.
RELATED: Lavender – scent for romance
The aromatics of the lavender against the bright, sharp flavors of lemon and lemon zest wake up the taste buds. (And perhaps they also stir some feelings of passion.) At the same time, the shot of vodka increases your blood circulation, potentially warming your body from the inside out.
For me, serving lavender lemon drop shooters makes one of the best ways to start date night off on the right note.
Serve this tasty shot recipe in moderation
This lemon drop recipe is my choice for a toast at the beginning of the meal because it primes the taste buds–and the senses–for the adventure to come. As with all alcoholic beverages, moderation is key, particularly where the games of love are concerned.
The recipe makes two lemon shooters, one for each lover, which is just the right amount to prime your mind and body for the meal–and possible bedroom dessert–to come.
Discover more of my recipes for Hitting the Sauce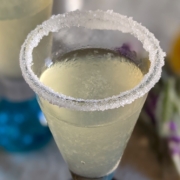 Lavender Lemon Drop Shooter
Print Recipe
This cocktail from Diane Brown is perfect as the starting point to a romantic, adventurous meal. 
Ingredients
1/4

cup

water

1/2

cup

sugar

1

tbsp

dried lavender

1

tbsp

fresh lemon zest

1/2

cup

sugar

1 1/4

oz

vodka

3/4

oz

fresh lemon juice

sugar to rim shot glass
Instructions
In a small saucepan, bring water to a boil. Add sugar, lavender and zest, and dissolve sugar into the water. Cool completely, and strain into a squeeze bottle. Chill and store for up to 7 days.

Pour vodka, lemon juice and 1 tablespoon of lavender syrup into a shaker with ice. Shake well and strain into two sugar-rimmed shot glasses.
Diane Brown is author of The Seduction Cookbook: Culinary Creations For Lovers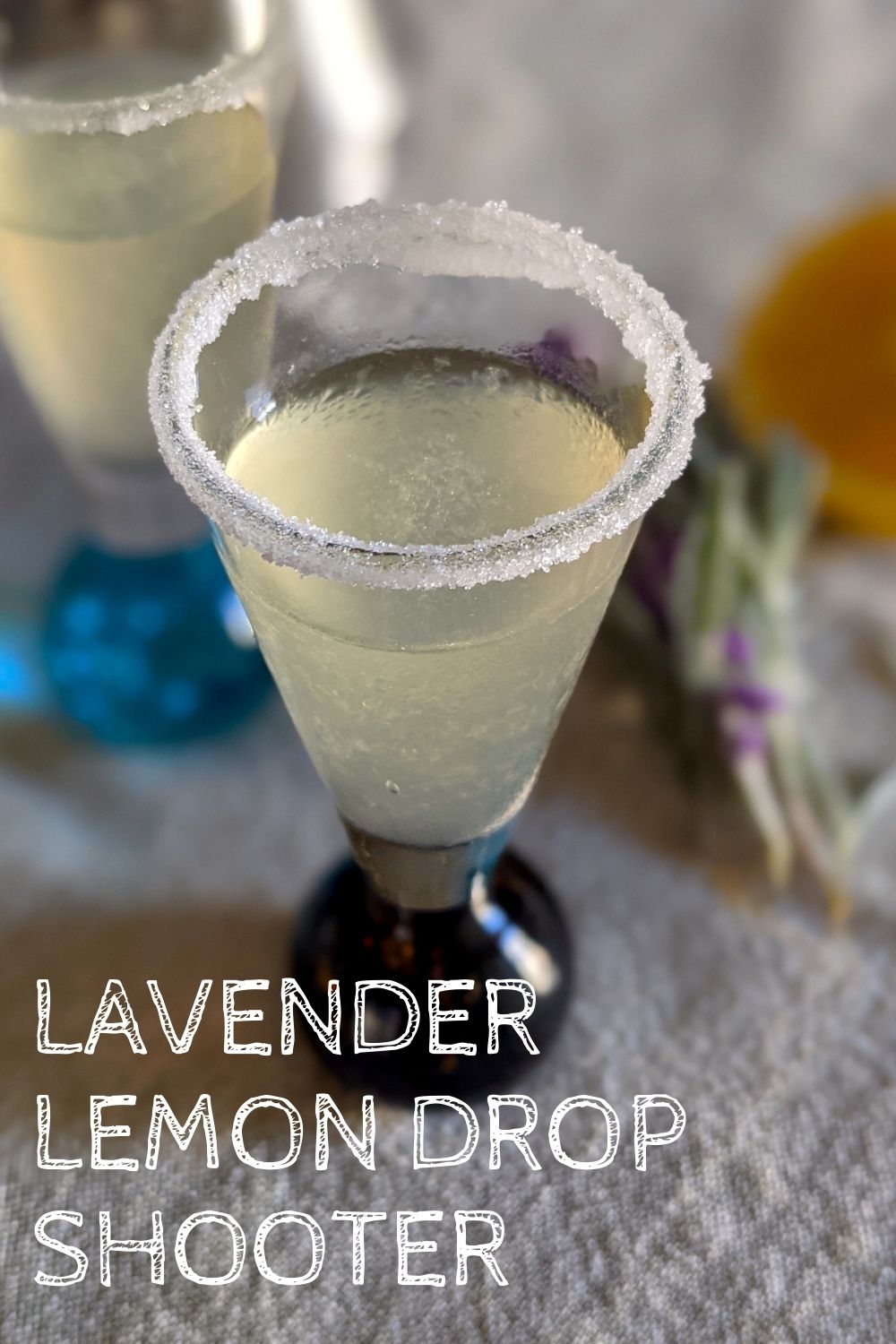 This article was written in 2009 and most recently updated in May 2021. 
Latest posts by Diane Brown
(see all)
Get on our mailing list
Don't miss out on a thing! Get news, deals & more!