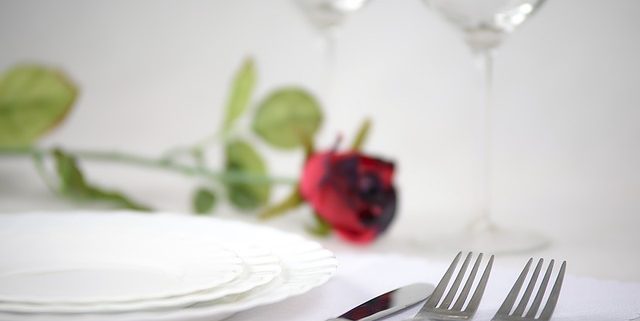 How to Use Food As a Love Language
Our articles may contain affiliate links. For more information, view our policies.
Is there such a thing as a food love language? You may have heard of the five love languages, (as they were first presented in the New York Times bestselling book by Dr. Gary Chapman.) They're used to categorize the way in which people give and receive love. Better understanding your partner's love language is believed to be among the best ways to help nurture and grow a relationship.
Of course, food isn't one of these "official" love languages but we wondered if our readers viewed food as a love language. So we decided to investigate further the idea that food could be used to help relationships bloom and grow in the same way the traditional love languages might.
Study results: Americans link food with romantic gestures
Between 2010 and 2012, we spent over two years surveying our readers (both women and men) to find out how (and if) food fits into their love language. In total, 858 volunteers took our survey either in person or online. What we learned is that food and romance are linked in some way to us all, most particularly when it comes to giving and receiving gifts. But the results of our love gestures survey can help you discover the best ways to speak to your lover.
RELATED: 50 Ways to Feed Your Lover
The research
The 856 respondents to our romantic gestures survey were all volunteers who reached out to us through an online request on our website or through live cooking classes and guest lectures. The survey was created by our editor-in-chief Amy Reiley, an aphrodisiac foods researcher and cookbook author with a MA in Gastronomy.
Who were our participants?
Every survey participant was over 21 years of age, ranging from early '20s to mid-60s. Women represent 62% of respondents and men made up 38% of our survey respondents. It is also important to note that 47% of respondents are married or in a long-term relationship of more than seven years.
In addition, the participants are a group from varied walks of life and geographic locations with only one key interest linking them, passion for food. Their responses reveal that this is a group concerned with their romantic lives and sexual health. More than two-thirds responded that they actively work to enhance their libidos.
What we learned
What we took away from this experience is that food most definitely has the potential to speak for love. In particular, there are certain foods that are perceived as romantic gestures or gifts of love. But the most surprising thing we took away from this survey is that the act of cooking a meal is truly effective in expressing love.
Please keep in mind that our informal survey represents a small sampling of the American population but the consistency of the results was remarkable. And combine with the findings of Columbia University's Paul Rozin on the link between the sharing of food and romance, we think it's safe to say that for most of us, food is an important part of our romantic experience.
The foods that most often speak the language of love
What are the most romantic foods? We all want to find gifts and gestures that the one we love, (or the one we woo), will find romantic. It is clear that respondents to our aphrodisiac foods survey consider food, in the proper context, to be romantic. 95% of the men and women surveyed have given food as a romantic gift or gesture. Clearly, romantic food gifts speak volumes in games of love.
What are the best foods for love?
Champagne may the ultimate romantic food
Judging by the food lovers in our survey, wine is also clearly held in high regard as a prelude to romance. 79% of respondents have offered up a bottle of wine as a gift to a potential romantic partner. (64% of respondents specifically cited considering Champagne and sparkling wine as an aphrodisiac.)
RELATED: Champagne Aphrodisiac & Health Benefits
Over 60% of respondents deem oysters sexy. And the good news is that there's research to back up the idea that oysters are good for your sex life. In fact, a 2019 study demonstrated that oyster meat may have nutrition to improve sexual function. An earlier study led by Dr. George Fisher linked amino acids found in bivalves with sexual hormone production. Dr. Fisher was quoted saying that, based on the research, he believed the bivalves to be aphrodisiacs.
Chocolate speaks the language of love
It has long been said that the mind is the most powerful aphrodisiac. But until now there was a distinct lack of research on whether the mind really influences the effectiveness of aphrodisiac foods. However, much research exists on the physiological effects of chocolate as an aphrodisiac. And the results are predominantly poor. Unless you eat a tremendous amount of chocolate in a single sitting, the popular sweet will have little to no effect on libido and arousal.
Yet 69% of our aphrodisiac foods survey respondents regard chocolate as an aphrodisiac. And 65% of respondents have given a box of chocolates as a romantic gift.
Notably, only 61% of respondents regard oysters, which have known beneficial effects to sexual health and performance, as an aphrodisiac. Clearly, chocolate has a powerful hold on our minds and taste buds. And to our respondents, that was more important than a physiological effect.
RELATED: Make someone special a homemade box of chocolate truffles
Cooking may win her heart (or his heart)
Rather than going out to dinner, you may want to consider sticking closer to home. 77% of respondents recommend cooking dinner as a romantic gift. Interestingly, our volunteers resoundingly responded that the meal didn't matter, it was the actual gesture of cooking that won their love.
That being said, if you're going to cook a dinner for your special someone, you might want to plan an aphrodisiac meal. Consider the foods your lover enjoys and layer the meal with their favorite aphrodisiacs. If you need some inspiration, check out my cookbook Romancing the Stove, which has some incredible recipes for memorable romantic meals.
And if you both enjoy cooking, consider turning this chore into a celebration for two and cook something sexy together. Contributing Chef Diane Brown created a mouthwatering menu for a Japanese-inspired sushi dinner you can cook together that is as much fun to make together as it is delicious. And here are a few fun facts on what makes sushi an aphrodisiac that you can read together while you cook.
A thank you to our participants
First of all, we owe a huge thanks to everyone who took the time to fill out our survey. Your answers were thoughtful, honest and appreciated. And they provide greater insight for us all into what food gifts are considered love gestures.
Discover great food and wine gifts you can enjoy together
Survey responses were collected between January 2010 and March 2012. Article was updated with new images in January 2022. 
Latest posts by Amy Reiley
(see all)
Get on our mailing list
Subscribe and get our exclusive list of Six Great Sex-Boosting Snack Foods for FREE! Unsubscribe at any time - privacy policy