How To Be Sexier by Choosing the Right Foods
Our articles may contain affiliate links. For more information, view our policies.
Who doesn't want to look and feel their best? Well, you've heard the saying, "You are what you eat." Well, diet may have a much bigger impact on how you measure up on the sexy scale than you think.
Changing the way you eat is key to feeling sexy
In this article, I'm sharing with you tips on how diet modification can be a key in how to be sexier. Best of all, this won't take months. In fact, you may start to feel subtle but inspiring changes by the hour.
You don't have to go on a completely restrictive eating plan to be a sexier man or woman. But if you're wondering how to get a sexier body, you need to take a hard look at not only what you're putting in your body but when. With this plan, you can be sexier. And it won't hurt a bit!
How to feel sexier by eating sexy
Here's the key to jumpstarting your inner sexy with this plan. (And we want you to become sexier from the inside out. Sexiness isn't just about how to look good. It's about feeling sensual and confident and letting that radiate outward.) Certain foods can not only boost libido but improve energy, mood and the health of skin, hair and nails. They can even slow signs of aging! That's right, a smart diet can make you feel and look more attractive. The right choice of foods can, in fact, help make you sexier by the hour.
Now that you know you deserve to feel sexy and you can do this, let's get down to the eating plan that's going to get you on the road to feeling sexier. Of course, after you try the eating plan as it is written below, you probably aren't going to want to repeat it every single day. The idea is to hand you some dietary tools for how to feel sexier and let you figure out how to change your habits.
How to tailor this diet plan for men
I should add that the menu listed below was designed for a woman's caloric intake. But this plan can help all people, both women and men, feel sexier and more confident. If the calorie intake is too low and makes you feel unfulfilled, I recommend adding extra protein and non-starchy vegetables to your lunch and dinner eating plan and supplementing between meals with fruits. Fruits not only add extra water and fiber to your diet- both essential ingredients in feeling sexy and enhancing your sex appeal – but many of the most popular fruits contain nutrients essential to skin health and sexual health.
RELATED: Why you should stay away from these four foods that lower sex drive
Learning to make good food choices
By making the right kinds of food choices at the right times of day, you are going to give your inner sexy the chance to be set free. We know that some of these foods might be new to you but that can be part of the fun. After all, trying new things is sexy! And getting a little adventurous with your diet can be a confidence builder.
With added confidence and energy, your sex appeal will grow. And with these sexy foods and pointers on how to insert them into your schedule, you're going to love just how easy it is to get sexy. Once you get into eating for a sexier you, you're going to want to learn more about how you can maintain your sexier image with our 10 Steps to Sexy.
How to be sexier by the hour, the eating plan
Sexy Breakfast Date Shake
The idea of adding milk-soaked dates to a yogurt shake to boost your libido dates back to the Kama Sutra. (It is also rumored to make an excellent hangover cure.) We know that dates, loaded with fiber, can eliminate bloating. But more importantly for their aphrodisiac effects, they contain the essential nutrient magnesium. Combined with the lean protein of yogurt, this shake will have your booty moving – all the way back to the bedroom, hopefully!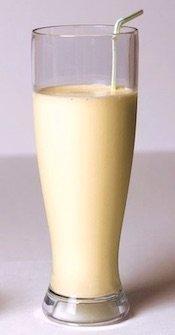 Morning After Date Shake Recipe
5 dried dates soaked in milk (prepped in advance)
1 graham cracker, crushed into crumbs or 1 tbsp graham cracker crumbs
2 pinches cardamom*
1/2 c plain, Greek-style yogurt
1 tsp honey
8 ice cubes
1. Pit and chop dates and soak overnight in the milk.
2. Combine graham cracker crumbs and 1 pinch of cardamom in a shallow dish or plate. Moisten the top of two glasses with milk then dip rims of both glasses in the crumb mixture.
3. Put dates and soaking milk in blender. Add yogurt, honey, 1 pinch cardamom, ice and blend.
4. Carefully pour liquid into the 2 rimmed glasses. Tastes best drunk in bed.
*A tiny amount of cardamom can really dominate this shake. Be careful not to overseason by measuring a pinch as a scant 1/8 teaspoon.
Avoid a mid-morning slump with apples & almond butter
The apple is the original forbidden fruit. It is tempting in its sweetness but not too high in sugar. Apples are also a good source of antioxidants that will help the body look and feel ageless. (Learn more about the aphrodisiac side of apples.) Here, I pair them with the deep, bittersweet flavor of roasted almonds. Why? Because almonds, like all nuts, offer sustaining protein and help promote testosterone production.
Cut 1 scarlet red apple, (red is the sensual color choice but if you prefer green or yellow, that's fine), into quarters or eighths. Spread each slice with a little almond butter and enjoy how it does the body good.
(Celery, with its potential to increase pheromones, makes a good choice if you need a break from apples.)
How to eat sexy at lunch
Salt roasting is a fat-free way to cook shrimp while retaining moisture. It also allows you to introduce an aphrodisiac aromatic like rosemary, which is said to increase circulation and alertness. For this plan, I've chosen to salt-roast shrimp because it contains beneficial omega-3 fatty acids and iodine. (Iodine deficiency is linked with low libido). Here's more information about the aphrodisiac properties of shrimp.
Then add to it the cold crunch of fennel slaw. Not only does fennel add a sensory-stimulating texture but it also offers natural plant estrogens as well as immune-boosting powers.
Salt-Roasted Shrimp
To make one serving of salt-roasted shrimp (double or triple accordingly):
1. Preheat oven to 500 degrees.
2. Spread a cup of salt on the bottom of a baking dish, (a small casserole will work).
3. Heat the pan of salt in the oven for 5 minutes. (This will help ensure quick, even cooking.)
4. Lay a bed of rosemary-3 or 4 sprigs on top of the salt.
5. Arrange 4-5 jumbo shrimp, shells still on, in a single layer on top of the rosemary.
6. Cover with another cup of salt.
7. Bake for 10 minutes, then let the dish rest for 2 minutes before removing shrimp from salt.
Treat yourself to something sweet by making your own chocolate truffles from premium dark chocolate (70% or 80% cacao for the most antioxidant benefit) and fill them with dried figs or blueberries for additional libido-enhancing nutrients like magnesium and iron.
Here's my dark chocolate truffle recipe from my cookbook Romancing the Stove. You'll love the simplicity of this recipe. Make a double batch and box some up to gift to your sweetie!
Energize your mid-afternoon with Basil-Black Pepper Warming Tea
Steep a homemade brew of fresh basil, whole black peppercorns and whole cloves for a caffeine-free, aphrodisiac stimulant.
Just add these three simple ingredients to boiling water and steep for 3-5 minutes. Then strain into your cup to warm your body. (This potent, tongue-tingling brew will also help to get the mind in the mood for some after-work play. After all, each one of the tea's three ingredients has a history as an aphrodisiac!)
Click here to shop for a new teapot to inspire your aphrodisiac tea habit
How to make cocktail hour sexier with Champagne and the right snack
A late afternoon pick-me-up is a great idea. But this tends to be the time of day most of us give in to the temptations of fat, salt and sugar. A simple snack like edamame, to which you add your own salt can give you the energy to get through the rest of the day. The protein in the soybeans can increase dopamine, thereby elevating mood. It also offers plant estrogens and can help ward of PMS. A wonder-bean, soy has also been linked to prostate health.
I recommend pairing it with a glass of Champagne or sparkling wine. This isn't a necessary addition but consider this: Bubbly offers all the health benefits of red wine but hits the bloodstream quicker for an almost instant elevation in mood. Talk about getting sexier by the hour! Why not close out the day on a high?
If you love convenience, try shopping for Champagne with Drizly, my favorite delivery service.
Dinner foods that make you feel sexier
An aphrodisiac dinner should be light and after a long day of looking hot, you need a meal that is simple. Pick up a rotisserie chicken on your way home from work to serve with a bowl of pasta-less pasta. And if you want to skip the meat this late in the day, just add some quality mozzarella to the pasta. After all, cheese is an aphrodisiac! (Learn more about what makes a food aphrodisiac.)
And don't worry if you don't have a spiralizer. You can make zucchini noodles, or Zoodles, with a sharp vegetable peeler. Although I do own a spiralizing attachment for my Kitchenaid stand mixer, I sometimes make my veggie noodles by hand just because I enjoy the meditative quality of this repetitive task.
If you don't have your own favorite raw tomato sauce recipe, here's a raw tomato sauce recipe that I love. Of course, if the season doesn't provide you with the bounty of sweet, sun-kissed tomatoes, you can always use a cooked tomato sauce for this plan.
For dessert, place a scoop of rich, chocolate gelato – for other flavor options, I love this recipe with either vanilla or pistachio as well – into freshly made, steamy, bracingly strong espresso. Espresso offers the aphrodisiac of adrenalin and can elevate mood. Combine with sweet, cold, chocolate gelato it is an energizing, goosebump-worthy prelude to the bedroom samba.
What's Next? Our best tips for how to get a sexier body and mind
Of course, what I've offered here is a single day's menu. What I want you to do is make notes, mental or in diary form, of how each snack and meal makes you feel. Did you find that some protein and fiber at 10am made the morning go by in a better mood? What about stopping for a cup of warming tea mid-afternoon?
Was there a point in the day when you knew your body language was confident and sexy? Review your observations and try to find ways to capitalize on what foods and food breaks made you feel the best. And then check out some of the most healthy recipes on our site for more meal plan inspiration.
Don't miss the sexy diet
Of course, the question of how to get sexier can't be completely answered in a single day. If you like how you feel at the end of your day of eating to feel sexier by the hour, it's time to graduate to our life-changing plan, The 10 Steps to Sexy Diet. This plan goes well beyond food. It's about using your body and brain to become more creative, attentive and confident and to send those signals out to the world that you are sexy and fabulous.
Latest posts by Amy Reiley
(see all)
Get on our mailing list
Subscribe and get our exclusive list of Six Great Sex-Boosting Snack Foods for FREE! Unsubscribe at any time - privacy policy