Coffee with a Kick – A Hot Coffee Cocktail
Our articles may contain affiliate links. For more information, view our policies.
A potent Death Wish Coffee Cocktail recipe
This caffeinated cocktail recipe comes to us from Death Wish Coffee. We recently featured their potent coffee beans and we just might be addicted to their high octane java. (Death Wish claims their coffee is said to be the strongest in the world.) Here they make a highly caffeinated, hot coffee cocktail that's sinfully strong and delicious.
We wouldn't wish death on any of you but this coffee cocktail is worth the risk. (Don't worry, the only risk is of getting over-caffeinated. See our Death Wish Coffee review for details on how much caffeine their coffee beans actually offer.) We love the idea of a caffeine-spiked cocktail as a wake-up call on a cold winter night.
How do you make a great caffeinated cocktail?
This drink may not seem innovative at a glance. You've probably experimented with Jack and coffee before. In fact, this coffee drink recipe uses three of the most common spirits to mix with coffee. In fact,  But this drink is not only inventive, it offers vibrancy and potency.
A high caffeine drink made with three different spirits
The combination of flavors, spirits and caffeine in this coffee drink strikes just the right balance of richness, sweetness and that bitter bite of great coffee. It's potent not only for the caffeine but also the sheer amount of liquor in one serving.
The drink calls for Irish Cream, Amaretto and homemade, spiced whiskey. To say this hot cocktail is a warming drink would be an understatement!
How to make spiced Jack Daniels
You have to plan in advance if you want to make this Death Wish Coffee cocktail because the Jack Daniels, or whatever whiskey you choose, has to be infused with a combination of cinnamon and clove in advance.
Simply add 2 cinnamon sticks and four cloves to a bottle of Jack Daniels or your favorite whiskey. Infuse the whiskey for two days or for as long as you want. Strain out the spices then be sure to mark the bottle so that you recognize it as your bottle of cinnamon and clove-spiced whiskey. Feel free to experiment with it in other cocktails, too. This spicy whiskey is similar to spiced rum but with an edge.
How to garnish your hot coffee cocktail
Topped your spiked coffee with a dollop of whipped cream and a pinch of aphrodisiac cinnamon, it's wintertime comfort drinks at their finest – not to mention sexiest. So be sure to remember this recipe for your next date night at home!
Did you know that coffee is an aphrodisiac?
And I'm not kidding about that date night plan. In fact, there would probably be a higher percentage of great dates if they all started with coffee. That's because coffee is an aphrodisiac. We've featured it many times before, highlighting some of its most intriguing attributes.
But what you should know when it comes to coffee and cocktail hour, java helps elevate mood as well as gives the body a surge of energy to get through the rest of the day or perhaps a night to remember. And with this caffeinated cocktail's sexy combination of spirits and the aphrodisiac of coffee, we think Death Wish Coffee may have struck a note that is both dangerous and sensual – now that's a party in our book!
TRY NEXT: Check out this twist on an espresso martini, another one of our favorite coffee cocktail recipes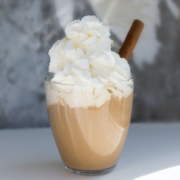 Coffee with a Kick
Print Recipe
This is the kind of cocktail made for coffee lovers. A strong and flavorful combination of booze and brew, it will knock your socks off (literally).
Ingredients
Prep in advance:
1

750 ml

bottle Jack Daniels, or your favorite whiskey

2

cinnamon sticks

4

whole cloves
For the cocktail:
6

oz

brewed Death Wish Coffee

1

oz

spiced Jack Daniels, or your favorite whiskey

2

oz

Bailey's Irish Cream

1/2

oz

Amaretto

Whipped cream with cinnamon to taste
Instructions
Steep the bottle of Jack Daniels with the cinnamon sticks and cloves for 2 days.
To prepare the cocktail:
Add the spiced Jack Daniels (made in advance), Bailey's and Amaretto to your cup of hot, freshly brewed coffee.

Top with whipped cream and cinnamon to taste.
Pin this caffeinated cocktail recipe:
Latest posts by Amy Reiley
(see all)
Get on our mailing list
Subscribe and get our exclusive list of Six Great Sex-Boosting Snack Foods for FREE! Unsubscribe at any time - privacy policy