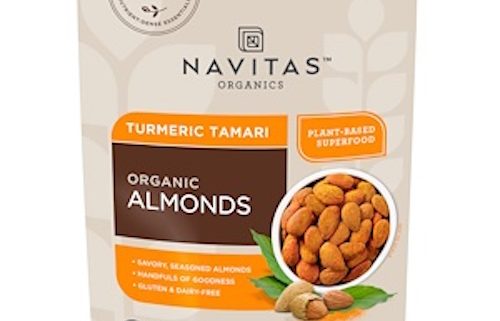 Navitas Organics adds turmeric to their superfood lineup
Navitas Organics is one of those companies you can't help but love. They're a tree-hugging, health-loving, philanthropic organization. And the company's built around the idea of packaging clean foods that give you energy. They were among the first to introduce packaged products featuring acai, goji, maca and maqui berry to the American public. We've long been fans of their packaged nuts and seeds. They, of course, feature the amazing aphrodisiac of organic nuts.  But they're seasoned with some of creative (and rather tasty) flavor combinations. Among our favorites are Cacao Hemp Almonds and Chia Rosemary Pumpkin Seeds. But now, Navitas has caught the turmeric wave and introduced Turmeric Tamari Almonds.
A big bag of Superfoods
Billed as a big bag of Superfood, Navitas Organics Turmeric Tamari Almonds combine organic, roasted almonds with a seasoning of three simple ingredients, tamari (wheat-free soy sauce), turmeric and sea salt. And yes, if you like savory snacks, it is finger-licking good.
The company claims that, in addition to giving the body the right kind of protein for sustained energy, these seasoned almonds offer the body immune system support. They also point out that the turmeric in the seasoning brings it's antioxidant benefits to the snack. (The antioxidants in turmeric is proven to support both heart health as well as sexual health.)
Now, we question whether the amount of turmeric in a serving of Navitas Turmeric Tamari Almonds is enough to actually benefit sexual health. Probably not, we'd guess. But this snack is definitely packed with aphrodisiac potential. Because the Turmeric and Tamari Almonds are made of simple, pure ingredients, you know what you're getting. And what you get is the power of protein and vitamin E from the almonds. (Vitamin E is known as "the sex vitamin" for it's power in supporting sexual health.) And they also have that inexplicable flavor of umami from the tamari. Does it really matter if there's enough turmeric to give you an antioxidant boost? When they taste this good, who really cares?
FREE APHRODISIAC NEWSLETTER
Subscribe to our free aphrodisiac newsletter
https://www.eatsomethingsexy.com/wp-content/uploads/2018/04/turmeric-and-tamari-almonds-get-a-big-thumbs-up-from-us.jpg
500
500
Amy Reiley
https://www.eatsomethingsexy.com/wp-content/uploads/2017/01/Amy-Reileys.png
Amy Reiley
2018-04-16 12:00:22
2018-09-27 16:35:15
Turmeric and Tamari Almonds Get a Big Thumbs Up From Us