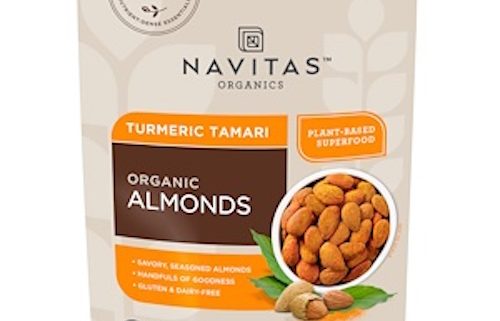 These Turmeric and Tamari Almonds are Sexual Health Foods
Our articles may contain affiliate links. For more information, view our policies.
We first reviewed this healthy snack two years ago, when it made its debut. But because of the current need for optimizing health and wellness, this snack has relevance to you and your health. So we're bringing this review of Navitas' Organic Turmeric and Tamari Almonds to remind you of great snacking.
A convenience food packed with sex-boosting nutrients
Now more than ever, it's important to focus on healthy eating. Not only will a snack like these roasted almonds benefit your sexual health, but they'll also feed your body the kind of nutrition it needs for overall health. And, of course, it's important to have your own grab-and-go snacks handy, since we all need to reduce our non-essential errands, like stopping into a store when hunger strikes. So I'm sharing this review of one of my favorite nutritious snacks. It might be healthy but it's the flavor that has us ordering these almonds by the case.
My Turmeric Tamari Almonds review
Billed as a big bag of superfood, Navitas Organics Turmeric Tamari Almonds combine organic, roasted almonds with a seasoning of three simple ingredients, tamari (wheat-free soy sauce), turmeric and sea salt. And yes, if you like savory snacks, it is finger-licking good.
The company claims that, in addition to giving the body the right kind of protein for sustained energy, these seasoned, organic almonds offer the body immune system support. They also point out that the turmeric in the seasoning brings antioxidant benefits to the snack. (The antioxidants in turmeric is proven to support both heart health as well as sexual health.)
And since we're talking about turmeric, did you know this golden spice has nutrients specific to supporting sexual health? Find out more about turmeric in our dictionary of aphrodisiac foods. I will say I have to wonder whether the amount of turmeric in a serving of Navitas Turmeric Tamari Almonds is enough to actually benefit sexual health. Probably not, but I can't prove that it doesn't.
But this snack is definitely packed with aphrodisiac potential. These Turmeric and Tamari Almonds are made of simple, pure ingredients. So you know what you're getting. And what you get is a lot of powerful nutrition. Did you know that the benefits of almonds for men include sex-boosting nutrition?
And then there's the flavor. These seasoned almonds have bold, salty tamari flavor. But they also have that inexplicable flavor of umami. They taste so good, you'll forget that you're eating a health food.
About Navitas Organics
Navitas Organics is one of those companies you can't help but love. They're a tree-hugging, health-loving, philanthropic organization. The company is built around the idea of packaging clean foods that give you energy. They were among the first to introduce packaged products featuring acai, goji, maca and maqui berry to the American public.
I'm a committed fan of their packaged nuts and seeds. They, of course, feature the amazing aphrodisiac of organic nuts. But they're seasoned with some of creative (and rather tasty) flavor combinations. Among our favorites are Cacao Hemp Almonds and Chia Rosemary Pumpkin Seeds. What I'm really trying to say is that I pretty much love all of Navitas Organics' pre-packed nuts and seeds. But if you haven't tried any of the products yet, I'd start with the tamari almonds!
Click the image below to order them from Amazon:

Latest posts by Amy Reiley
(see all)
Get on our mailing list
Subscribe and get our exclusive list of Six Great Sex-Boosting Snack Foods for FREE! Unsubscribe at any time - privacy policy