Easy Summer Fruit Lassi Recipe with Fig, Tulsi & Honey
Our articles may contain affiliate links. For more information, view our policies.
This easy fruit lassi recipe comes to us from Nandita Godbole's A Dozen Ways To Celebrate: Twelve Decadent Indian Feasts For The Culinary Indulgent. We love Nandita's philosophy that food should be experienced, not just consumed. Her Fig & Tulsi Lassi offers an experience that hints both at the flavors of summer and something sensually exotic.
What is a lassi?
But to best appreciate Nandita's signature summer drink, you must first get to know the basics of the lassi. Lassi, pronounced la-see, is a traditional Indian drink, typically made with a base of tangy yogurt and milk, ice or water. It is designed to help refresh the body on a hot summer day. (However, lassi is delicious any time of year.) The basic yogurt drink is layered with fruits, spices and or herbs, depending on the mood and the intention of the cook.
A lassi's flavors can range from something as simple as sweet mango to a more complex drink like this one layered with fresh fruit, herbs, natural sugar and almonds. Think of it like an Indian fruit smoothie, flavored with a creative array of natural ingredients.
TRY NEXT: Our favorite green smoothie
Ingredients in this traditional fruit lassi
Although Nandita's recipe is quite simple, it contains a complex array of ingredients. In addition to the fruit, this yogurt lassi recipe includes the freshness of basil and a garnish that offers sweetness and crunch.
For the drink
Plain Greek yogurt – This version uses a combination of yogurt and water for the liquid. We recommend using full-fat Greek yogurt. You can use low fat if that's all you happen to have but it doesn't offer the same satisfying texture as you get from full fat.
Black Mission figs – Black Mission is an extremely popular variety of figs with almost black skin and mild, sweet flavor.
Water – It's important to use ice cold water to ensure a refreshing yogurt drink.
Sugar – The amount of sugar required will depend on the ripeness of your figs. When extremely ripe figs are used, less sugar is needed. So be sure to taste as you work.
Fresh tulsi – Tulsi is a type of basil widely planted on the Indian subcontinent. You might know it as holy basil. If you can't find tulsi, you can substitute with mint. But do not substitute with Italian basil.
For the garnish
Sliced almonds – Be sure to use unsalted almonds.
Honey – Drizzled as a garnish, honey will add surprising sweetness to the drink. If you don't want the additional sweet flavor, you can skip this ingredient.
Soaked sweet basil seeds – If you don't have sweet basil seeds, you can skip this garnish. However, they add great crunch to this refreshing drink.
Why this lassi recipe is a sexy food
In fact, this lassi recipe is an elixir packed with aphrodisiac ingredients. It includes some of our favorites, like the sweet nectar of honey. But it also includes fig, one of the most notorious fruits of seduction. (Learn more about the aphrodisiac powers of figs.)
But that's not all! Tulsi is also historically considered an aphrodisiac. When used in this recipe, it adds a fresh, faintly herbal flavor to what is otherwise a sweet drink. This lassi recipe makes a drink to be savored and shared with someone you love.
For more of Nandita's insights on Indian food, spices and wellness, check out CurryCravings.com.
And if you love this recipe, be sure to try her Saffron Chai.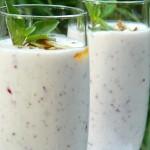 Fig & Tulsi Lassi with Honey and Almonds
Print Recipe
This easy, summer lassi recipe features layers of sweet fruit and savory flavors.
Ingredients
3

cups

plain, full-fat Greek yogurt

8

Black Mission figs

stems trimmed

1

cup

cold water

2-4

tbsp

cane sugar

15

leaves

fresh holy basil or fresh mint (do not substitute with fresh

Italian basil)

1/4

cup

sliced almonds

for garnish

3

tbsp

honey

for garnish

1

tbsp

tsp sweet basil seeds

for garnish, optional, soaked in water
Instructions
Combine the yogurt and figs to a smooth puree in a blender.

While the motor is still running, slowly pour in the cold water, ¼ cup at a time until fully combined.

Add 2 tablespoons sugar. Blend and taste for sweetness. The natural sweetness of the figs and yogurt will determine if you need more sugar. (Add up to 2 additional tablespoons if needed.)

Once the desired sweetness is achieved, add the holy basil leaves and give it one last blend.

Check again for sweetness and adjust if needed. All the ingredients should be well combined now. (The holy basil leaves can also be reserved until just before serving as part of the garnish.)

Pour the lassi into tall drinking glasses or champagne flutes to show off the color; garnish with sliced almonds, drizzle honey on top and sprinkle some sweet basil seeds (optional).

Enjoy chilled.
Notes
Note that the almonds, honey and sweet basil seeds are optional garnishes. But they add incredible texture to this smooth, creamy drink. 
Pin Nandita's homemade lassi recipe:
Latest posts by Amy Reiley
(see all)
Get on our mailing list
Subscribe and get our exclusive list of Six Great Sex-Boosting Snack Foods for FREE! Unsubscribe at any time - privacy policy