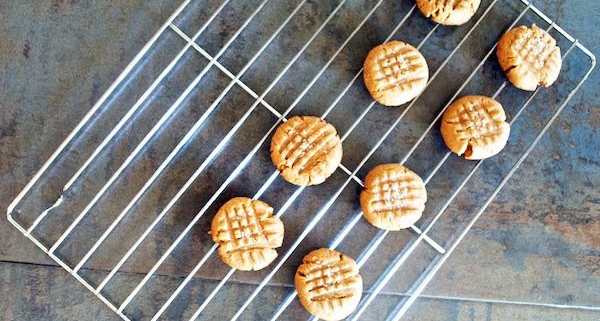 Super Easy Flourless Peanut Butter Cookies Recipe
Our articles may contain affiliate links. For more information, view our policies.
My favorite 5-ingredient cookie recipe
Nothing beats the comforting flavor of a soft, peanut butter cookie still warm from the oven. This recipe for Flourless Salted Peanut Cookies is one I've used since I was a kid. But when I wanted to add it to the aphrodisiac dessert book I co-wrote with Delahna Flagg, Eat Cake Naked,
I needed to update the recipe to fit with the book's theme of desserts with less sugar and more adult flavor. So I switched out the Skippy for all-natural peanut butter with no added sugar. And peanuts are on Delahna's and my list of the Best Foods for a Woman's Libido. So this makes it work as an aphrodisiac as well!
I really love the resulting recipe. It's the new "classic" in my house. It has great depth of peanut flavor. But to give these Salted Peanut Cookies an even more "adult" flavor profile, and to add some texture, I sprinkled the just-baked cookies with large granules of sea salt. With each bite, the tongue is surprised by the sharp spike of salt followed by the smooth, mellow sweetness of the roasted peanut cookie.
Salted Peanut Cookies are naturally gluten-free
Incidentally, these Salted Peanut Cookies are naturally gluten-free. I've always made my peanut butter cookies without flour, long before it was the fashion. I find a flourless cookie has a softer, more pliant texture–something I find incredibly comforting in a cookie.
How to make a peanut-free variation with almond butter
For those who live in a no-peanut zone, you can make these cookies with all-natural almond butter made from roasted almonds. The flavor of the final cookie is slightly different but still a pleasure. (Almonds have both more sweetness and more bitterness than peanuts.)
I've never tried the recipe with sunflower butter. Its texture is somewhat different from the nut butters so I'm not sure how it will work but it is an experiment I intend to try one day. Let me know how it goes if you choose to take on the challenge yourself.
Flourless Salted Peanut Cookies
Print Recipe
This cookie is so simple, so addictive that we bet you'll want to toss any peanut butter cookie recipe you've used before. The pinch of sea salt at the end may be too much for some. If you don't want the extra salt, just skip it. It doesn't diminish the sweet peanut goodness of the cookies if you do. But you will miss the sensation of the crunch and the surprise note of salt that makes the mouth water for more deliciousness.
Ingredients
1

cup

all-natural

salted peanut butter at room temperature*

1

lg egg

lightly beaten

1/2

cup

granulated sugar

1/2

cup

lightly packed brown sugar

sea salt
Instructions
Preheat oven to 350 degrees.

Adjust your oven racks so that one is about a third of the way from the top and a second rack is one third of the way from the bottom.

Line two baking sheets with parchment paper. (This step isn't necessary but it cuts down on clean up later so you have time for more important things.)

In a medium mixing bowl, combine the peanut butter, egg, sugar and brown sugar. Mix until you have a smooth dough.

Roll dough into 1-inch balls and place on cookie sheets about 1 inch apart. Using the tines of a fork, flatten each ball with a crosshatch pattern.

Bake until golden around the edges, approximately 10 minutes. Be sure to switch racks after 5 minutes to ensure even baking.

Sprinkle the top of each cookie with a pinch of sea salt then remove from tray and transfer to a cooling rack.
Notes
*Normally, we recommend using saltless products for baking and adding the salt yourself. The trouble with salted peanut butter, or butter for that matter, is you don't know exactly how much salt the product already has. But we've tried it with both salted and unsalted peanut butters and it doesn't make a real difference. If you prefer to use unsalted peanut butter, add 1/4 teaspoon salt to the ingredients before mixing.
Pin this gf peanut butter cookie recipe: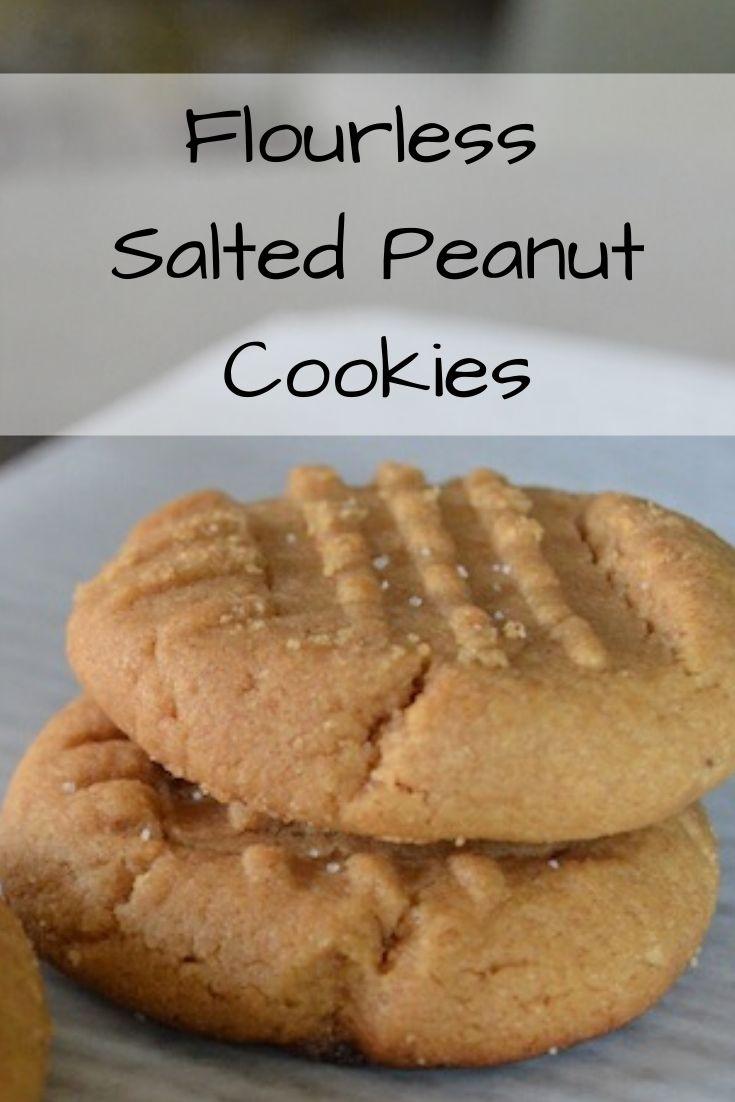 Love the recipe? Get the cookbook!
FREE APHRODISIAC NEWSLETTER
Subscribe to our free aphrodisiac newsletter