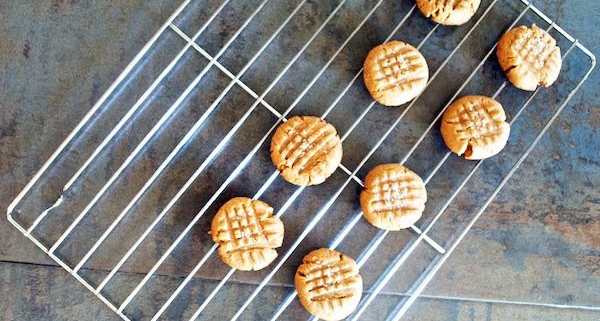 The Best Soft and Chewy Peanut Butter Cookies Recipe (flourless)
Our articles may contain affiliate links. For more information, view our policies.
Nothing beats the comforting flavor of a soft peanut cookie still warm from the oven. This recipe for soft and chewy peanut butter cookies is one I've used since I was a kid. But I've updated it with a sophisticated flavor for adults. Best of all, these cookies can be made in 20 minutes, start to finish.
What makes this salted peanut cookies recipe special?
I wanted to give this cookie a craving-worthy, grown-up flavor. So the first thing I did was replace the classic, kids' sweetened peanut butter with all-natural peanut butter made with no added sugar, just peanuts and salt. Incidentally, did you know that peanuts make my list of the Best Foods for a Woman's Libido? Yes, that means peanut butter is an aphrodisiac. Crazy but true! (I even put this recipe in my dessert cookbook, Eat Cake Naked.)
To give these Salted Peanut Cookies an even more "adult" flavor profile, and to add some texture, I sprinkled the just-baked cookies with large granules of sea salt. With each bite, the tongue is surprised by the sharp spike of salt followed by the smooth, mellow sweetness of the roasted peanut cookie. It's so good!
Incidentally, these Salted Peanut Cookies are naturally gluten-free. I've always made my peanut butter cookies without flour, long before it was the fashion. I find a flourless cookie has a softer, more pliant texture – something I find incredibly comforting in a cookie.
My soft peanut butter cookie ingredients
This recipe calls for just five ingredients. It couldn't be easier. Here's what you need:
All-natural salted, smooth peanut butter – You want to skip the Skippy and buy a peanut butter made from just peanuts and salt. (You can also make your own.). For a variation, try using crunchy peanut butter.
Egg – Be sure to use a large egg so you have the right volume of liquid in the cookies.
Granulated sugar – Also known as white sugar
Brown sugar – Be sure to lightly pack the brown sugar but don't compact it too much or your cookies will be overly sweet.
Sea salt flakes – You want to use sea salt with some texture, not finely ground, because it's going to add a little crunch to the cookies.
How to make a soft and chewy peanut butter cookie
This simple and magical combination of ingredients is a perfect combination to make soft, never crunchy, cookies. The instructions below are very straightforward, so as long as you get the ingredients right, great cookies are pretty much guaranteed.
Key tips
A few quick tips to help ensure delicious, soft chewy peanut butter cookies include:
Make sure to beat the egg before you add it to the other ingredients.
To make sure your cookies are all an even size, use a cookie scoop to divide the dough evenly onto the trays.
Line the baking sheets with parchment paper for easy cleanup.
Take your time making the hash marks. Although pressing down the cookies with a fork serves the purpose of flattening them for baking, it's also what gives the cookies their pretty appeal.
Check cookies for doneness about a minute before the baking time is over. Some ovens run hotter than others and these cookies go from golden to burned very quickly.
Store cooled cookies in an airtight container on the counter for up to two weeks. Cookies can be frozen for up to three months.
Serving suggestions
These cookies are a holiday season staple in my house. Who doesn't love a peanut butter Christmas cookie? They're also great for potlucks and despite the fact that they have a less sweet flavor than your average peanut butter cookie, peanut butter lovers of all ages can't get enough. I've even served them at kids' birthday parties and they disappear in a flash wherever I take them.
But my favorite way to serve these salty peanut cookies is to get a small bakery box and pack up a batch. Tie the box with a wide, satin ribbon and hand it to your one and only as a very sweet gift of love. They're great for sharing in bed. Just watch out for the crumbs!
How to make a peanut-free variation with almond butter
For those who live in a no-peanut zone, you can make these cookies with all-natural almond butter made from roasted almonds. The flavor of the final cookie is slightly different but still a pleasure. (Almonds have both more sweetness and more bitterness than peanuts.)
I've never tried the recipe with sunflower butter. Its texture is somewhat different from the nut butters so I'm not sure how it will work but it is an experiment I intend to try one day. Let me know how it goes if you choose to take on the challenge yourself.
Salted Soft and Chewy Peanut Butter Cookies
Print Recipe
This cookie is so simple, so addictive that we bet you'll want to toss any peanut butter cookie recipe you've used before. The pinch of sea salt at the end may be too much for some. If you don't want the extra salt, just skip it. It doesn't diminish the sweet peanut goodness of the cookies if you do. But you will miss the sensation of the crunch and the surprise note of salt that makes the mouth water for more deliciousness.
Ingredients
1

cup

all-natural salted peanut butter

at room temperature*

1

large

egg

lightly beaten

1/2

cup

granulated sugar

1/2

cup

brown sugar

lightly packed

sea salt flakes

for topping cookies**
Instructions
Preheat oven to 350 degrees.

Adjust your oven racks so that one is about a third of the way from the top and a second rack is one third of the way from the bottom.

Line two baking sheets with parchment paper. (This step isn't necessary but it cuts down on clean up later so you have time for more important things.)

In a medium mixing bowl, combine the peanut butter, egg, sugar and brown sugar. Mix until you have a smooth dough.

Roll dough into 1-inch balls and place on cookie sheets about 1 inch apart. Using the tines of a fork, flatten each ball with a crosshatch pattern.

Bake until golden around the edges, approximately 9-10 minutes. Be sure to switch racks after 5 minutes to ensure even baking.

Sprinkle the top of each cookie with a pinch of sea salt then remove from tray and transfer to a cooling rack.
Notes
*Normally, I recommend using saltless products for baking and adding the salt yourself. The trouble with salted peanut butter, or butter for that matter, is you don't know exactly how much salt the product already has. But I've tried it with both salted and unsalted peanut butters and it doesn't make a real difference. If you prefer to use unsalted peanut butter, add 1/4 teaspoon salt to the ingredients before mixing. Use crunchy peanut butter if you like extra crunchy cookies. 

**You don't want to use finely ground salt for topping the cookies but something with a little bit of texture. I like using these sea salt flakes. 

Store cookies in an airtight container on the counter. Cookies can be frozen for up to three months. 
A note on the provided nutrition information
The nutrition information provided has been estimated by an online nutrition calculator and is not a substitute for a professional nutritionist's advice.
Nutrition
Calories:
101
kcal
|
Carbohydrates:
11
g
|
Protein:
3
g
|
Fat:
6
g
|
Saturated Fat:
1
g
|
Polyunsaturated Fat:
1
g
|
Monounsaturated Fat:
3
g
|
Trans Fat:
0.001
g
|
Cholesterol:
8
mg
|
Sodium:
50
mg
|
Potassium:
70
mg
|
Fiber:
1
g
|
Sugar:
10
g
|
Vitamin A:
11
IU
|
Calcium:
10
mg
|
Iron:
0.3
mg
Love the recipe? Get the cookbook!
Pin this gf peanut butter cookie recipe: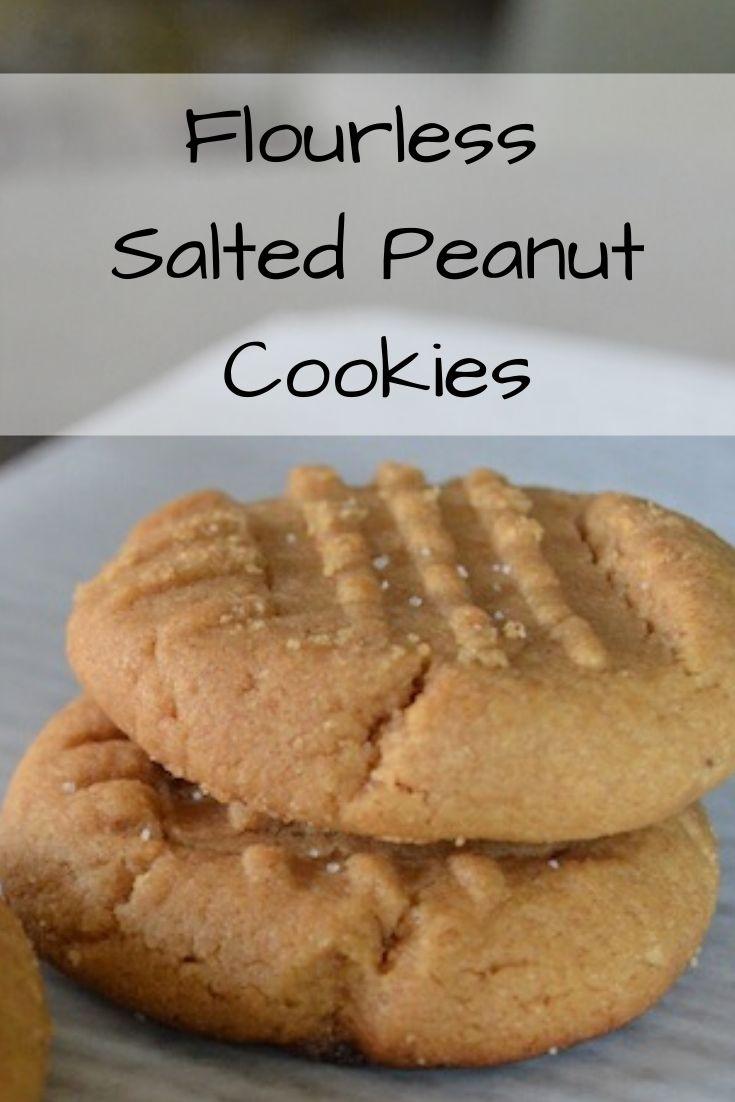 This recipe was first published on our site in 2019 and most recently updated in December 2022. 
Latest posts by Amy Reiley
(see all)
Get on our mailing list
Subscribe and get our exclusive list of Six Great Sex-Boosting Snack Foods for FREE! Unsubscribe at any time - privacy policy