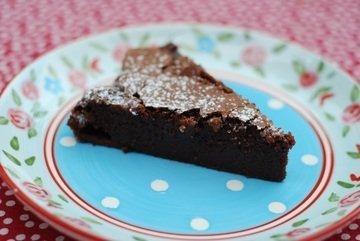 Gluten Free Chocolate Cake Recipe from Scharffen Berger Chocolate
Our articles may contain affiliate links. For more information, view our policies.
Looking for a great, gluten free chocolate cake recipe? This is it! This flourless chocolate cake recipe is our pick for a decadent Easter or Passover dessert. Of course, it's also our number one dessert pick any time we're craving the earthy richness of dark chocolate. And best of all, this Sharffen Berger chocolate cake recipe is naturally wheat and gluten free.
A cake made with Sharffen Berger bittersweet chocolate
The recipe comes from the Scharffen Berger cookbook Essence of Chocolate: Recipes for Baking and Cooking with Fine Chocolate
. It incorporates Scharffen Berger's excellent baking chocolate, Scharffen Berger 70% Bittersweet into a decadent, gf chocolate cake. (Note that the cake uses Sharffen Berger baking chocolate instead of cocoa powder.)
RELATED: The Best Chocolate Baking Bars
About Sharffen Berger Chocolates
If you're not familiar with Scharffen Berger, this American chocolate company has produced world-class chocolate since 1997. The name may also be familiar to you as a sparkling wine producer. And, yes, there is a connection.
This Sharffen Berger recipe for flourless chocolate almond cake is wheat free and gluten free
In place of flour, this bittersweet chocolate cake recipe uses ground almonds, almond meal, to make a dense, pleasantly-textured cake. (Although you can't exactly call gluten free flourless chocolate cake healthy, the almonds do add some nutrition and fiber where white flour would add none.)
Why this gluten free chocolate cake recipe calls for espresso
To intensify the deep, chocolatey flavor, the cake calls for espresso or extra strong brewed coffee. I wouldn't call it a flourless espresso chocolate cake because the chocolate flavor definitely dominates. The coffee's presence is known in the complex, earthiness it brings to the cake.
A low-stress, easy cake recipe great for entertaining
We love the richness such a dark chocolate brings to this decadent, flourless chocolate cake. It really is one of the best chocolate cake recipes for gluten free baking. And, although the total time to make this cake start to finish is almost 2 hours, only about 15 minutes of that time is active. The rest is cooking and resting, leaving you free for other pursuits while the house fills with the mouthwatering aroma of melting chocolate.
It is also a romantic chocolate cake
This ground almond chocolate cake is a go to in my house for entertaining because it is a beautiful make-ahead dessert with complex flavor. And it is a wonderful dessert option for Passover because the cake contains no leavening agents like baking powder. But this gluten free cake recipe can also serve as a sweet ending to a romantic meal. That's because this Sharffen Berger chocolate cake recipe is layered with some of the world's finest aphrodisiac ingredients.
What makes flourless chocolate cake an aphrodisiac?
To start with, there is the chocolate. An ingredient proven to have a psychological link to romantic love. It is also an ingredient used by Josephine to seduce Napoleon and by Casanova to  lure women into the lothario's sphere. Here are a few reasons we think chocolate is such a successful food of seduction.
RELATED: Why Dark Chocolate is Good for Women
More aphrodisiac ingredients to love
But don't forget about the almonds, coffee and eggs. All three of the ingredients that make this gluten free cake recipe's backbone are historically aphrodisiac – and for good reason. In fact, almonds make my list of the 10 Best Foods for Men's Sexual Health. Coffee not only offers a boost of energy but it is recognized as a mood booster. And eggs, an international symbol of fertility offer protein along with a surprising number of nutrients to benefit sexual health.
But don't think you need to save this cake for your lover. It is a cake everyone enjoys and one that is so right for so many occasions.
TO TRY: Get more chocolate dessert recipes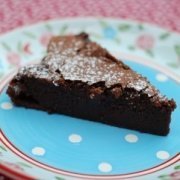 Scharffen Berger Flourless Chocolate Cake with Almonds
Print Recipe
This flourless chocolate cake recipe combines the richness of premium dark chocolate, espresso and almonds. 
Ingredients
6

oz

SCHARFFEN BERGER 70% Cacao Bittersweet Chocolate

1/4

cup

espresso or double strength coffee

10

tbsp

butter

3/4

cup

plus 2 tbsp sugar

6

large eggs

separated

1/4

tsp

salt

2

cups

almonds

toasted and finely ground

Confectioners sugar for sprinkling

optional

Whipped cream

optional
Instructions
Preheat oven to 375 degrees F.

Lightly grease and flour the pan and line the bottom with parchment paper.

In the top of a double boiler or in a bowl placed over a pan of simmering water, melt the chocolate and coffee, stirring frequently. Set aside to cool slightly.

With a hand held mixer, or heavy-duty mixer with the paddle attachment, beat the butter and 3/4 cup of the sugar until ivory colored. Add the egg yolks, two at a time. Continue to beat until the mixture is light and airy. Fold in the chocolate.

In a clean dry bowl using clean dry beaters, whip the egg whites with the salt until soft peaks form when the beaters are lifted. Gradually beat in the remaining two tablespoons sugar until the egg whites are stiff but not dry. Fold the ground almonds into the whites.

Fold the chocolate mixture into the egg white mixture.

Scrape the batter into the prepared pan and spread it evenly.

Place the pan in the oven and immediately turn the heat down to 350 degrees F. Bake 15 minutes.

Turn the oven down to 325 degrees F. Bake an additional 45 minutes.

10. Turn the oven down to 300 degrees and bake 15 to 20 minutes. Turn the oven off and leave in the oven, with the door ajar, for another 30 minutes.

11. Cool on a rack.

To serve: Remove the sides of the pan and transfer to a serving platter. Sprinkle with confectioners' sugar. Serve slices with whipped cream, if desired.
If you love this recipe, you should check out the whole book. Essence of Chocolate, Scharffen Berger's chocolate baking book, is available from Amazon:
Pin this recipe for the best flourless chocolate cake:
FREE APHRODISIAC NEWSLETTER
Subscribe to our free aphrodisiac newsletter