Almond and Cardamom Cookies (Nankhatai)
We are thrilled to add these Almond and Cardamom Cookies to our series on Cookies with a Pinch of Sugar and Spice.
This recipe from cookbook author and spice expert Rinku Bhattacharya features one of our favorite aphrodisiac spices: Cardamom. Aromatic, with a heat similar to ginger, cardamom has been used as an aphrodisiac not only in India but throughout ancient Greece, Rome and Arabia. In these simple, egg-less shortbread cookies, also known as Nankhaties, it is offset by the sweetness of almond. (It's worth noting that almond is also an aphrodisiac of historic repute!) For more ideas on cooking with exotic spices, check out Rinku's blog Spice Chronicles.
Check out more of our Cookies with a Pinch of Sugar and Spice.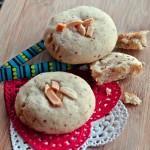 Almond and Cardamom Cookies (Nankhaties)
This lovely recipe for Nankhaties showcases the unique spice of cardamom.
Seasonal:
Christmas, Holiday season, Valentine's Day
Ingredients
Ingredients

15

green cardamom pods

3/4

cup

butter

11/2 sticks, softened plus butter for greasing the sheet

3/4

cup

brown sugar

1 1/2

cups

flour

3/4

cup

almond meal

Slivered or chopped almonds to garnish
Instructions
Peel the cardamom pods and grind the seeds in a mortar and pestle (it is important to use fresh cardamom seeds for this recipe).

Pre-heat the oven to 325 degrees

In a mixing bowl place the butter and sugar and cream until soft and fluffy with a wooden spoon or electric mixer.

Gradually add in the flour and the crushed cardamoms with the almond meal.

Grease the cookie sheet and shape the dough into 1-11/2 inch round and flatten and place on the tray 1-11/2 inches apart.

Add some slivered almonds in the center and bake the cookies for about 10-12 minutes. These are delicate and can burn easily, so turn off the oven when the edges are just slightly brown.

Let them rest in the oven for 3 to 4 minutes and then take them out and let them cool.

Remove when cool and enjoy.
FREE APHRODISIAC NEWSLETTER
Subscribe to our free aphrodisiac newsletter