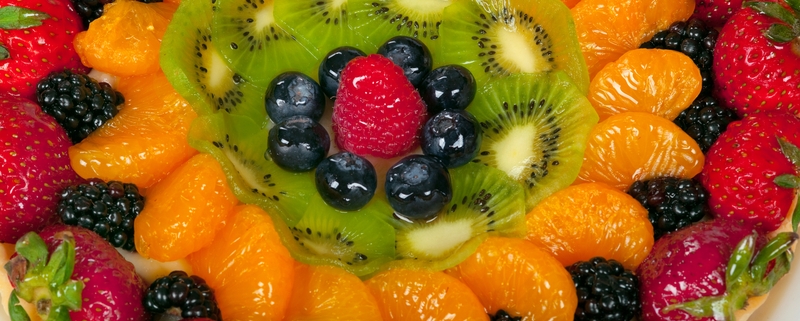 The Best French Fruit Tart Recipe
Our articles may contain affiliate links. For more information, view our policies.
This French fruit tart recipe is the ultimate French pastry shop dish. It's the sort of dessert you envision sharing with your lover at an outdoor cafe, your hair tousled and cheeks flushed from the activity that brought on your appetite.
How do you make a French fruit tart?
Many home cooks shy away from baking this technique-driven dessert. But one of our favorite pastry chefs, Leah Kuo, breaks down classic, French techniques with her simple fruit tart recipe. And the way she organizes the instructions in such simple steps makes it achievable even for a novice baker.
You start by making a classic tart shell – don't worry. this is easier than it sounds. Next you make a pastry cream and make and cool the glaze. Lastly, you gather your fruits and assemble this professional-looking pastry. It's really as simple as that to make this beautiful dessert recipe.
And this French pastry is a wonderful dessert to take to dinner as a hostess gift. Or take one along to the home of a potential lover when they offer to make you dinner. Your addition of a sexy tart is sure to push things in the right direction.
RELATED: 5 Aphrodisiac Foods to Serve on Date Night
How do you choose the fruit for your homemade tart?
Leah makes her suggestions of fruits to use atop your tart but the final selection is really up to you. Use what is in season and looks good at the store. Seasonal fruits are generally the most fragrant and flavorful.
To make the classic, overlapping fruit pattern, start at the center and gently work your way outward, changing fruits with each new circle.
Special equipment needed to make this fruit tart
This tart recipe does call for one special piece of equipment, a tart pan with a removable bottom.
These fluted pans allow a home cook to look like a professional baker. They're the secret to getting a tart out of the pan for presentation without having to chisel. Curious about tart pans? Cooks Illustrated did a test of several tart pans in this detailed tart pan article.
Can you make this fruit tart with pastry cream in advance?
A classic fruit tart is a dessert best served on the same day as it is baked. This is one of those desserts that absolutely cannot be made the day before you're planning to serve it.
However, there are a few steps that can be prepared ahead of time to help reduce stress.
When to make your pastry tart shell
if it makes the task more manageable, you can make the pastry crust a few (3-4) hours in advance. And this way you'll know that pastry crust is completely cooled before you start to assemble your tart.
Making crème pâtissière in advance
You can also make the vanilla pastry cream up to a day in advance.
French pastry cream, also called crème pâtissière, is basically a thick and creamy egg custard, in this case flavored with a hint of aphrodisiac vanilla bean. It is not only used as the filling in fruit tarts but it is also the cream piped into eclairs and other French pastries.
This makes pastry cream a great recipe to master and use again and again. If you are going to make your pastry cream in advance, store this egg mixture overnight in the refrigerator in a tightly sealed container.
The best time to assemble your fruit tart
One key to making the best fruit tart you must keep in mind is that once you add the cream filling to your tart shell, then the fruit and the glaze, this dessert is ready to serve. And it should be served within hours of assembly for the best crisp crust and freshest, brightest fruit flavors.
TO TRY: Chocolate Ganache Tart with a Pretzel Crust
Serve this French fruit tart recipe as part of a romantic meal
This classic fruit tart is an excellent recipe for a couple to make together as a weekend baking project. And it's a "wow" sort of dish perfect for wooing someone at the end of a romantic meal.
I love the combination Leah puts together of fresh fruits with somehow both light and rich pastry cream and the distinctive tang of an apricot glaze. This truly is the best fruit tart recipe.
Of course, if you want to make this tart recipe for a casual brunch or a buffet, you can make mini French fruit tarts in individual tart pans.
Shop for stylish tart pans online with Sur La Table
Pairing your fresh fruit tart with wine
If you really want to take this French dessert recipe to the next level, plan a wine pairing to serve with your freshly baked tart. I like to serve this French pastry with a glass of late harvest Riesling or other dessert wine that echoes the apricot note from the glaze.
RELATED: If you love this recipe, be sure to check out Leah's recipe for Raspberry Semifreddo!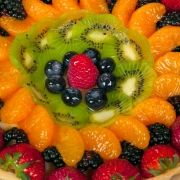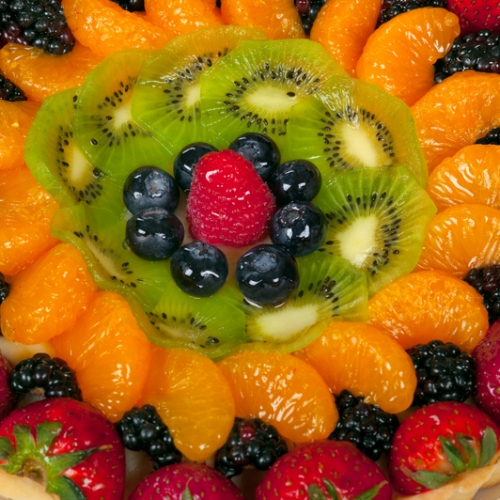 Classic French Fruit Tart with Pastry Cream
Print Recipe
Pastry chef Leah Kuo breaks down the steps of creating a classic, French fruit tart. This is the perfect dessert to "wow" at the end of a dinner party or romantic meal. 
Ingredients
For the pastry:
1 1/4

cups

all-purpose flour

3

tbsp

sugar

1/2

tsp

salt

8

tbsp

unsalted butter

very cold

3 to 4

tbsp

ice water
For the pastry cream:
8

tbsp

sugar

2

cups

whole milk

2

egg yolks

1

egg

4

tbsp

cornstarch

2

tbsp

unsalted butter

cold

1/2

tsp

vanilla
For the glaze:
1/2

cup

apricot jelly

1

tbsp

water
Toppings:
Strawberries, raspberries, blueberries, blackberries, kiwi, sliced peaches and plums, cherries, champagne grapes
Instructions
To make the pastry:
To make the pastry combine flour, sugar and salt and place in the freezer for an hour.

Cut the cold butter into 1/2 inch pieces.

Put flour mixture in the bowl of a food processor, add butter and pulse until butter forms small balls.

Add ice water and process until dough comes together.

Form into a disc, wrap in plastic wrap and refrigerate at least 30 to 45 minutes.

Preheat oven to 375 degrees.

On a floured surface roll dough into 1/8 inch thick circle, large enough to hang slightly over the sides of a 10-inch tart pan with removable bottom.

Cut off excess dough with a sharp knife.

Line shell with aluminum foil, then fill with dried beans or pie weights.

Bake 10 minutes.

Remove beans and foil; prick bottom of the shell with a fork to allow steam to escape.

Bake another 20 minutes until browned.

Cool to room temperature.
For the pastry cream:
To make the pastry cream, scald the milk and 4 tablespoons sugar.

Whisk the egg, yolks, cornstarch and remainder of sugar until pale yellow and reaches the ribbon stage. (When a spoonful of the mixture pours out in a solid ribbon.)

Temper the milk into the eggs. (This means add it slowly while whisking to ensure the hot milk doesn't scramble the eggs.) Once it is tempered, thicken over medium low heat.

Once thickened, remove from heat and add vanilla extract and butter.

Place in a large bowl and cover with piece of plastic wrap laid directly on the surface of the cream to prevent a skin from forming.

Refrigerate until completely cool.
For the glaze:
To make the glaze, melt the jelly and water in a small saucepan until combined and smooth.
To assemble the tart:
Spread pastry cream on the bottom of the shell.

Artistically arrange the fruit over the cream.

Brush glaze over the fruit.

Serve and enjoy!
Pin this mixed fruit tart recipe:
FREE APHRODISIAC NEWSLETTER
Subscribe to our free aphrodisiac newsletter