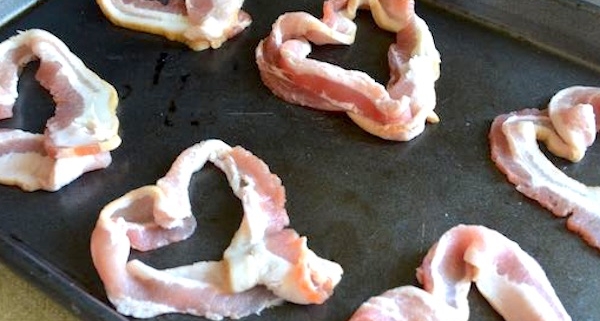 How To Make Heart Shaped Bacon
Our articles may contain affiliate links. For more information, view our policies.
Nothing says "I love you" like a heart on a plate. Ok, there are many things that say, "I love you" in a far less corny fashion. But if your lover is into bacon, the endearing gesture of heart shaped bacon is a gift, a true gift. That's why I've created this simple guide to cooking heart-shaped bacon.
RELATED: The Benefits of Bacon as an Aphrodisiac
What bacon should you use to make a bacon heart?
While you might guess that you want to use the thinnest cut of bacon possible to make this recipe, I find that thinly sliced bacon is hard to work with. Instead, this heart bacon recipe calls for thick cut strips, sliced in half lengthwise. The thickness makes them easy to shape.
The recipe calls for applewood smoked bacon. I think the smoky flavor of a hardwood smoked bacon is sexy but if you have a preference for a different, thick cut bacon, by all means use your favorite.
RELATED: Use these bacon hearts to make my favorite picnic sandwiches
Cooking thick cut bacon in the oven
If you're a pan fry person, you're going to love learning how to cook bacon in the oven. This relatively mess-free method for cooking bacon is not only fast but it can produce perfectly crisp, crunchy strips (or hearts) of bacon.
You do need one (not so) special piece of equipment for this oven baked bacon recipe. Your baking tray must have a lip on all four sides to keep the bacon grease from running off the pan and into the bottom of your oven. If you don't already have a baking sheet like this, you can order one from Amazon. I've provided the link to one I recommend.
Buy a great sheet pan for making bacon hearts
Because we're using thick cut bacon, you'll need to gauge the timing for yourself because it can change, depending on the thickness of your bacon but in general, this quick trick for making bacon hearts only takes about ten minutes.
Serve your bacon with a side of love
Heart-shaped bacon an endearing topper for soft scrambled eggs or as the centerpiece on an open-faced BLT. You can use them any way you would normally use bacon but I think the trick is finding a presentation that showcase your love on the plate.
RELATED: Bacon-Wrapped Pork Tenderloin
Heart Shaped Bacon
Print Recipe
If the way to your lover's heart is through their stomach, then you need this simple technique for turning bacon into hearts. 
Ingredients
6

strips of thick-cut

apple wood smoked bacon
Instructions
Preheat oven to 425 degress.

Cut the strips of uncooked bacon in half lengthwise.

Like a baking sheet, (one with a lip around all four sides), with parchment. (Lining the baking sheet is optional but it does prevent sticking.) Using a baking sheet with an edge is a must because it keeps the grease from running into your oven.

Shape each of the 12 slices into hearts, with the two ends meeting at the point. If you can, tuck one end under the other to try to keep the hearts from falling apart during cooking. (Remember that bacon shrinks as it cooks.)

Cook for 10-12 minutes until the bacon is crisp. (Depending on thickness, the bacon may need to cook longer. Check it frequently until it is crisp and golden.)
Pin this fun brunch recipe:
FREE APHRODISIAC NEWSLETTER
Subscribe to our free aphrodisiac newsletter