Easy Homemade Pineapple Teriyaki Sauce & Marinade Recipe
Our articles may contain affiliate links. For more information, view our policies.
An easy teriyaki sauce recipe with the perfect hint of pineapple
This pineapple teriyaki sauce is a great go-to recipe for barbecues or parties. A make-in-advance recipe packing a flavor punch, it features one of the world's healthiest – not to mention one of the sexiest – ingredients, pineapple.
It's our go-to recipe for teriyaki chicken or beef and it's also an easy and flavorful homemade sauce for stir-fries. You can even use it to add flavor to grilled vegetables and fish.
What is teriyaki sauce?
Teriyaki is a Japanese term for a protein, (such as steak or chicken thighs), that's been marinated in a teriyaki sauce and then grilled, or broiled. The sauce has four main components: soy sauce, sake or mirin, ginger and some sort of sugar. Variations on this quartet are almost infinite.
But the term teriyaki is as much about the cooking as it is about the ingredients. In fact, according to Taste Atlas, the word teriyaki breaks down into two parts. Teri means luster and yaki refers to the cooking method.
For another great Japanese recipe, try this Vegetable Tempura.
To separate the sauce from the cooking method is an American concept. But since Americans can't resist a good sauce, particularly one with sweetness. And in this case, we heartily endorse the Americanization of the sauce, encouraging you to use it for any application you enjoy!
Why use pineapple in teriyaki?
The pineapple provides the sugar needed to give the teriyaki marinade sweetness. And unlike a more straightforward sweetener, such as brown sugar or honey, pineapple adds complexity to the final flavor because of the tang it offers along with sweetness. And because pineapple has acidity, it helps to tenderize the meat as it marinates.
Best of all, pineapple offers considerable sexual benefits. (Did you know that nutrients in pineapple can increase sex drive?) And since we're all about using ingredients that can enhance your romantic life, using pineapple in teriyaki is practically a must.
How to make pineapple teriyaki marinade & sauce
This sauce calls for less than 10 ingredients and can be made in less than 5 minutes. Just assemble your ingredients, including pineapple juice (make sure it is 100% juice), chicken or vegetable juice, soy sauce, mirin, freshly chopped garlic, ground ginger and freshly ground black pepper. You simply mix everything together using a sturdy whisk.
Once it's made, the sauce can be stored in the refrigerator for up to two days. The recipe instructions below include two variations for using it as a marinade or a stir-fry sauce.
How to choose a good soy sauce
Not all soy sauce is the same. Chemical soy sauces are made to replicate the flavors of traditionally fermented soy sauce, but their flavors can be harsh and they often required added coloring.
Stick to natural soy sauces made from a base of fermented soybeans. (If you are on a gluten-free diet, be sure to check your sauce's ingredients. Many soy sauces are made with wheat.)
Serious Eats has some great information on styles of soy sauce and what to look for in a good sauce. And I recommend this organic San J soy sauce.
If you're watching your sodium, look for low sodium soy sauce.
Can you make this an alcohol-free teriyaki?
This recipe calls for one tablespoon of mirin, which is a fermented rice beverage similar to sake, except sweeter.
If you need to make this sauce alcohol-free, you can use rice vinegar as a substitute for mirin. It's a one-to-one substitution. In other words, use the same amount of rice vinegar as you would mirin, which in this case is 1 tablespoon.
The many uses of teriyaki sauce
Because of the addition of acidic pineapple juice, this fruit-based teriyaki sauce is an excellent marinade for beef. We use it with flank steak, shoulder steak and London broil. But as a marinade, this teriyaki also works with chicken, turkey tenderloins or even pork loin.
However, this tangy sauce also works well with oily fish like salmon our trout. Instead of marinating the fish, use a pastry brush to brush the fillets liberally with the marinade before grilling or broiling.
And, if you're ready to go the non-traditional route, try brushing this addictive sauce on eggplant, bell peppers, tofu steaks or even pineapple rings and honeydew melon slices before grilling.
This versatile teriyaki sauce is also great for stir-frying. Just follow the instructions below for the stir-fry variation which calls for cornstarch and no oil.
Looking for more great sauce recipes? Try our fantastic Chimichurri Sauce
Pineapple Teriyaki Sauce & Marinade (for meats, fish or grilled fruit)
Print Recipe
This terrific teriyaki sauce recipe incorporates the tropical flavor of pineapple with classic teriyaki flavor for a marinade or sauce that pairs well with a variety of meats, veggies and even tofu. 
Ingredients
¼

cup

pure pineapple juice*

¼

cup

reduced-sodium chicken broth

use vegetable broth for a vegan version

2

tbsp

reduced-sodium soy sauce

1

tbsp

mirin

or 2 teaspoons sake plus 1 teaspoon sugar

1

garlic clove

pressed

¼

tsp

ground ginger

or 1 teaspoon grated fresh ginger

Freshly ground black pepper

2

oz

canola oil

only if you're making a marinade

2

tsp

cornstarch

Use only if you're making a sauce. Do NOT use in marinade.
Instructions
In a mixing cup, combine the 100% fruit juice, broth, soy sauce, mirin, garlic, and ginger. Add about 8 grinds of black pepper.
To use as a marinade
Pour the Teriyaki Sauce into a 1-gallon resealable plastic freezer bag and add the oil.

Add the desired meat, seal, and marinate at room temperature for 30 minutes.

Discard the marinade after using.
To use as a sauce for stir-frying
Do not use the oil, but mix in the cornstarch.

Add to the wok at the end, cooking just until the sauce thickens to coat the other ingredients, 60-90 seconds.
Notes
*You can substitute with an orange-pineapple pure juice blend. 
This sauce keeps, covered in the refrigerator, for 2 days.
Pin this recipe for a mouthwatering pineapple teriyaki sauce & marinade: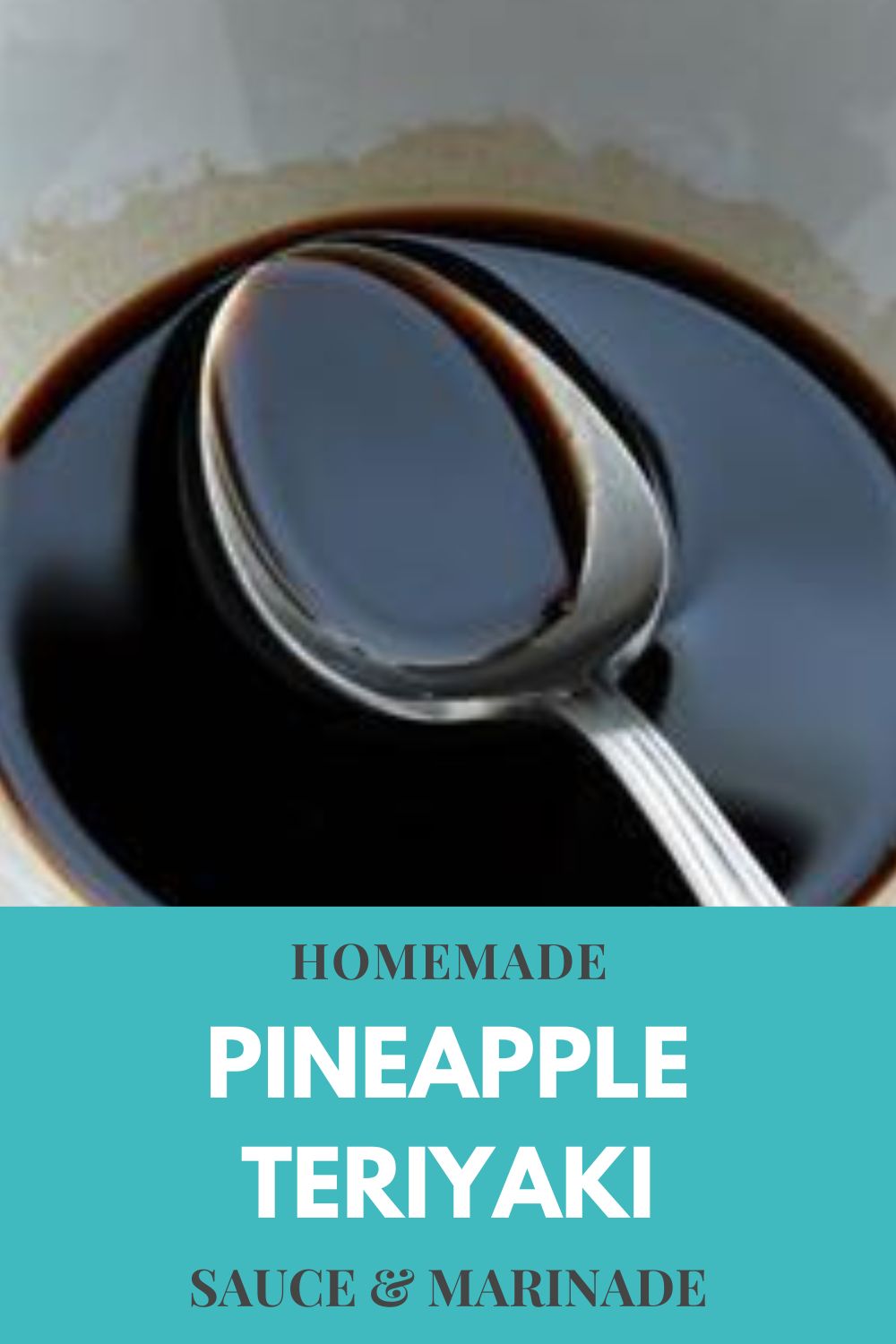 Latest posts by Amy Reiley
(see all)
Get on our mailing list
Subscribe and get our exclusive list of Six Great Sex-Boosting Snack Foods for FREE! Unsubscribe at any time.