Go-To Chimichurri Sauce Recipe
Our articles may contain affiliate links. For more information, view our policies.
Your new "everything" sauce
This Chimichurri sauce recipe is Chef Diane Brown's go-to sauce, marinade and "everything." You might know Diane as our dinner party columnist but she's also the creator of The Family Farm Box, where she transforms deliveries of farm-fresh produce into fast, easy meals that make mouths water.
The history of Chimichurri sauce
Chimichurri is considered a culinary specialty of both Argentina and Uruguay. It is a parsley-based sauce, which explains the vibrant, green color. Some recipes, like Diane's below, call for the addition of fresh cilantro but the cilantro is not essential to an authentic Chimichurri sauce.
Discover how to pair this recipe with a great Argentine Malbec wine
The exact origin of Chimichurri is unclear, although many food scholars point out that this South American sauce closely resembles southern Italy's Salmoriglio, which leads us to believe Chimichurri is European in origin. In fact, the main difference between the two sauces is that Chimichurri sauce is used with meats and Salmoriglio is primarily served with seafood. What this tells us is that Diane's sauce is one that can easily top any dish from a grilled ribeye to poached sole.
The versatility of this sauce
This sauce recipe is one Diane uses year-round because cilantro and parsley are always available. And this recipe is so simple, you can make it in five minutes or less. The secret is using fresh cilantro. The tantalizing herb is what Diane says is the heart of her rendition of Chimichurri sauce.
It's a pick-me-up to give meats and veggies vibrancy. A perfectly balanced blend of parsley and cilantro with hints of garlic and chili, (both aphrodisiacs), it can bring a summer freshness from fall until the spring harvest. Use it as a marinade, sauce, dip or dressing. Diane instructs, "Don't be afraid to make the recipe your own by amping up the chile, changing the vinegar or replacing the vinegar altogether with fresh citrus juice."
Love Diane's South American recipe? Check out her menu for a Brazilian barbecue.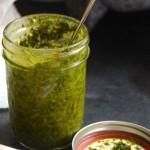 Go-To Chimichurri Sauce
Print Recipe
This super-fast sauce recipe will pump up the flavor of whatever you're serving. Use it on meat and fish dishes, as a dip, a spread in sandwiches or as a dressing. 
Ingredients
1

cup

fresh Italian parsley

packed

1/4

cup

fresh cilantro (sometimes I use mint instead

whatever is in the box or garden), packed

1/2

cup

olive oil

1/3

cup

white balsamic vinegar

2

garlic cloves

peeled

3/4

teaspoon

dried crushed red pepper

1/2

teaspoon

ground cumin

salt and pepper to taste
Instructions
Place all ingredients in a food processor and blend to a smooth consistency.

Store leftover sauce in the refrigerator.
If you enjoy Diane's recipe, get her cookbook!

Pin this recipe: