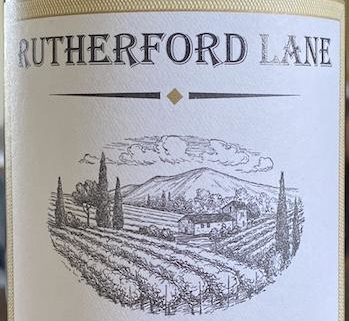 2017 Rutherford Lane Cabernet Sauvignon
Our articles may contain affiliate links. For more information, view our policies.
2017 Rutherford Lane Cabernet Sauvignon, Rutherford, Napa Valley, California
Wine of the Week with Annette Tomei
I did a little wine shelf wandering. My theory is, if you're armed with a bit of knowledge and an adventurous spirit, you'll be rewarded. Rutherford Lane Cabernet Sauvignon is a great example of my theory. It's also a great teaching tool to share the kind of knowledge that makes wine shelf wandering a worthwhile experience.
Like many of you, I'm still limiting my shopping excursions when I can. Since I'm happily hooked on a few Trader Joe's products, that's where I usually find myself. I try to buy wine from local merchants. So, I often limit my TJ's wine purchases to a couple basics. This week, I decided to wander further into the wine aisle to see what I've been missing.
Reading a wine label
In some of my wine classes, I teach how to read wine labels. New World labels are a little easier to explain. There's the brand name (the producer), the vintage, the primary grape and/or the type of blend, and (usually) where it's from. If you familiarize yourself with a few rules of labeling, you'll know a lot more about the wine before you even take it off the shelf.
In this case, the words "Rutherford Lane Cabernet Sauvignon, Rutherford, Napa Valley," are saying a lot. So did the price of $19.99/bottle.
Labeling: What's in a name
The Napa Valley AVA contains sixteen sub-AVAs. Of those, Rutherford is considered to be one of the most prestigious for Cabernet Sauvignon and Bordeaux-style blends.
To use Rutherford, Napa Valley on the label, the grapes must be 100% from that region. Of the 85% required Cabernet Sauvignon, all of it must be from Rutherford. The remaining 15% of the grapes must still be from Napa Valley. In the case of our Rutherford Lane Cabernet Sauvignon, the sub-AVA of Rutherford is on the label, so we have a pretty good idea of what is in the bottle.
What about the wine's vintage?
Some knowledge of the vintage can tell a story of what is in the bottle, what it might taste like, or how it came to be. This one has a story. 2017 was a very challenging vintage in Napa Valley on many levels. This was a year of huge devastating forest fires that destroyed lives, homes, wineries, vineyards, et al. At the very least, it is sure to have some impact on the people and the process. The vintage is considered "hit or miss." If you know this going in, you'll be able to make a clearer decision.
Rutherford Cabernet on a budget?
Cabernet Sauvignon is sometimes known as the king of grapes. Especially in Napa Valley. You're probably already familiar with the grape – that it's native to Bordeaux, has an affinity for blending with Merlot and Cabernet Franc, and the relatively high price it commands.
An average Rutherford Cabernet Sauvignon retails for about $40. The finer wines are at least $100. So, what about our Rutherford Lane Cabernet Sauvignon? $19.99. As your wandering the wine shelves, you could look at it and assume the worst and walk away. Or, you can take the $20 gamble, and hope for the best. That's what I chose to do.
Rutherford dust
The terroir of Rutherford is often referred to as "Rutherford Dust." The term was originally used by the famed Beaulieu Vineyards winemaker André Tchelistcheff in 1936. It describes the aroma of fresh dirt that can often be detected in the nose of Cabernet Sauvignons from Rutherford. Other notable wineries in Rutherford include Caymus, Inglenook, Frogs Leap, and Peju.
My review of 2017 Rutherford Lane Cabernet Sauvignon
Pouring this wine was like pouring ink. The color is deeply saturated black-purple. Among other things, this shows the wine's youth. My recommendation: decant this wine at least an hour before serving it. No need for fancy decanters, you can use a water/ice tea pitcher. If decanting isn't an option, no problem. Give the wine a bit more time in the glass, and swirl!
The initial aromas of the 2017 Rutherford Lane Cabernet Sauvignon are mostly oak-related. Vanilla, caramel, a whiff of smokiness. Behind that, ripe juicy brambleberries and then a hint of dirt and pencil shavings – Rutherford Dust? On the palate, the texture was lush. Tannins were soft but not yet integrated. There's a nice backbone of acidity holding up the rich texture. Flavors of blueberry, blackberry, and black plum. The oaky aromas are forward, followed by eucalyptus and forest floor on the finish.
This is not a complex wine. But it is an enjoyable wine. Certainly worth the $20! I can see buying a few bottles and putting some down a couple of years. Not because they deserve aging, but because a little integration of the oak and the structure would be nice. The aging aspect can be easily accomplished by decanting, as well. (or use a bubbler/aerator if you have one).
Pair the Rutherford Lane Cabernet Sauvignon with classic Napa Cab favorites: a perfectly grilled steak simply seasoned with salt and pepper. Maybe smokey barbecue. While at the grill, why not try Amy Reiley's Coffee-Kissed Buffalo Burgers.
For more recommendations on shopping the Trader Joe's wine department, check out Amy Reiley's Woman on Wine article on that subject.
The More You Know…
Navigating the wine aisles in big stores can get confusing. So many options! Our fist instinct is to grab something familiar, even if it's not a favorite. But that can keep us from new experiences and finding new favorites at better deals than the known brands.
To help you get what you want when you go to a store or restaurant, I'm offering a new series of online classes. These are single-subject Zoom Happy Hour classes for private groups of friends. Great for casual learning while tasting your favorite wines in new ways.
Don't miss out on a great wine recommendation. Check out all the previous Wine of the Week posts.
Latest posts by Annette Tomei
(see all)
Get on our mailing list
Don't miss out on a thing! Get news, deals & more!