We Love Lip Freak Lip Balm (Product Review)
Our articles may contain affiliate links. For more information, view our policies.
When I came upon a couple of hipsters passing out free chapstick called Lip Freak at an event, I hesitated to grab a tube. Do I want hipster lips, I asked myself. But then I leaned in as close as I dared and saw the sexy, scarlet pouts on the ladies behind the Lip Freak table. If those are hipster lips, I need them, I thought.
What is Lip Freak from Dr. Lip Bang's?
Unlike most lip-plumping products, Lip Freak isn't a lipstick or sticky, shiny gloss. This is a faintly tinted (or un-tinted) chapstick packed with ingredients that moisturize, heal and plump up lips with kissable softness.
It also makes the average lip look dew-kissed. And it tints lips with a barely discernible stain. (If you don't want the extra color, you can buy Lip Freak in colorless but flavored options.)
A lip balm that can make lips tingle
The lip treatment is not only good for tickling your kisser, it also transfers its proprietary blend of tingling ingredients to the lips of anyone who is lucky enough to pucker up with you.
But what I like the most about Doctor Lip Bang's Lip Freak is what's inside the tube, not how it makes you feel.
This is an all-natural chapstick
The lip treatment is made from all-natural ingredients. The company, Doctor Lip Bang's approaches lip care from the standpoint that being healthy should be fun. So why not make your lips tingle and shimmer while they get the moisture they need?
But why does it tingle? A proprietary blend of essential oils and moisturizing ingredients creates Lip Freak's signature tingle. It includes the aphrodisiac of cinnamon oil along with all-important vitamin E in a beeswax base. The company insists that the chapstick is not a lip plumper but our kissers beg to differ!
RELATED: Why vitamin E is called the sex vitamin
Not recommended for those with sensitive lips
Several members of our staff swear by the softening and plumping effects. Also be aware that if you have sensitive skin, you may feel a burn from the tingling effect as one of our staff members did. Although only one of the 10 people we know who tried it experienced this burn, those with sensitivities to essential oils might want to be aware.
But for the rest of us? We're loving our tingling, plump, sexy pouts all thanks to Doctor Lip Bang's Lip Freak.
The products in this chapstick line
Lip Freak comes in a variety of flavored but un-tinted options like Sin-o-Mint and Butter Rum Rage. But I prefer the tints, which come in four shades. (I love Sweet Villain.) If you're open to trying lip balm with a kiss of color, this is definitely the way to go.
Where to buy Dr. Lip Bang's lip balm
For more information and to view the variety of stain shades, visit the Doctor Lip Bang's website.
You can order the products directly from the manufacturer. Or you can order from Amazon: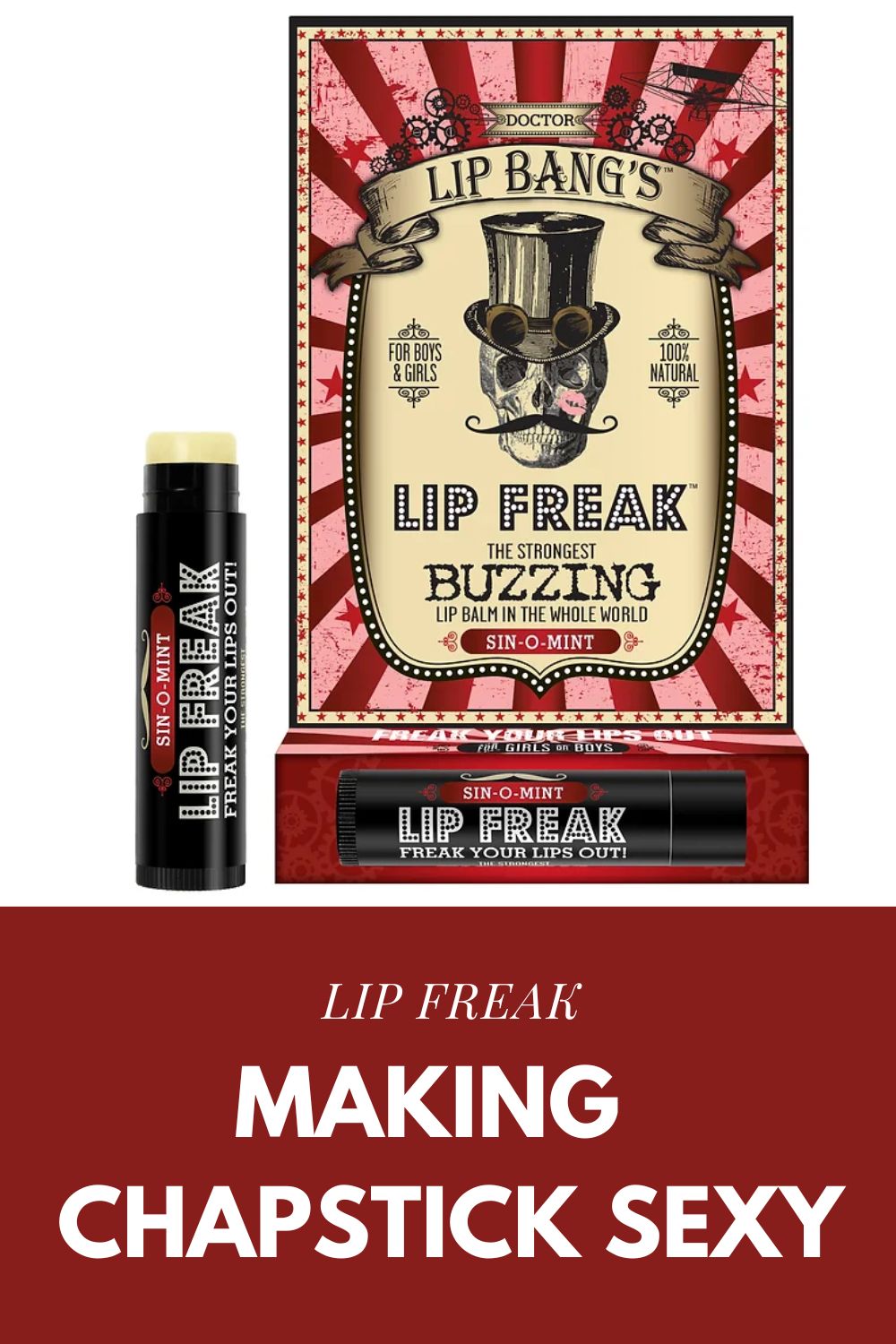 Latest posts by Amy Reiley
(see all)
Get on our mailing list
Subscribe and get our exclusive list of Six Great Sex-Boosting Snack Foods for FREE! Unsubscribe at any time - privacy policy