Moonshine Mule Cocktail Recipe
Our articles may contain affiliate links. For more information, view our policies.
Why you might want to mix your next drink with moonshine
by Kyle Rutten
Alcohol has a long history of assisting lovebirds in overcoming inhibitions. However, one of the ingredients to a healthy sex life is and always will be novelty. It's for this reason that you might consider setting the mood with moonshine cocktails, like this Moonshine Mule.
RELATED: Our review of Ole Smoky Apple Pie Moonshine
How do you make moonshine cocktails?
Moonshine?
Yes!
True, it's an unusual mixer with an illicit history. But that only adds to the mystery.
What most home bartenders don't realize is that moonshine, which is basically un-aged whiskey, can be treated like any other neutral spirit and can me used as a base for cocktails.
Essences can make moonshine mixed drinks inspiring
In addition, distilling suppliers now offer flavor infusions to really take moonshine cocktails to the next level. For example, I frequently work with Mile Hi Distilling, which offers essences in such aphrodisiac infusions as apricot, coconut, chocolate almond and coffee.
But you don't even need to use special essences to make a moonshine cocktail. You can blend moonshine with your favorite base, from grapefruit juice to Coke. Another great combination is moonshine and ginger ale. And in this case, I use moonshine and ginger beer.
To make a Moonshine Mule
This moonshine cocktail is simply a variation on the Moscow Mule using my preferred spirit. Legend has it that the Moscow Mule was invented by a Russian woman looking to sell copper cups. She blended vodka with ginger beer, a combination ideal for the chilling properties of her copper cup and the popular drink was born.
My modernization uses moonshine in place of vodka. And I'd argue that my choice of spirit is even better suited to this drink than the original. The key ingredients are really the fresh ginger, (a noted aphrodisiac), and fresh lime as well as a ginger beer with a good "bite," like Bundaberg. (The Spruce Eats has an excellent list of the best ginger beers for a Moscow Mule. It's worth checking out!)
And if you don't have the appropriate copper cups, you can still make this cocktail. Just use your favorite rocks glass. Or, to play up the moonshine element, use mason jars.
Don't miss the recipe for my moonshine martini, the Spicy-Shine-Tini.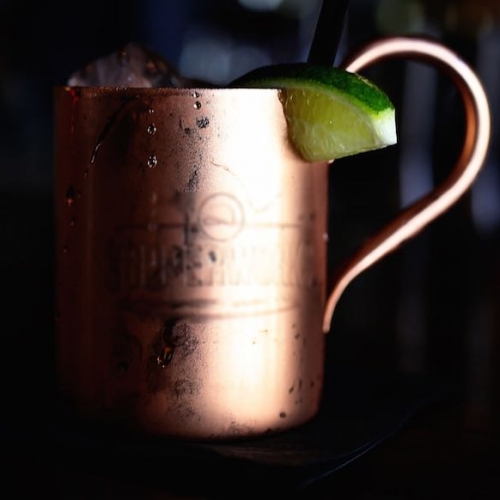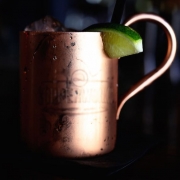 Moonshine Mule
Print Recipe
Similar to capsaicin, ginger has been long-heralded as a natural aphrodisiac. This rendition of the beloved Moscow Mule will undoubtedly kick things off for you and your special someone.
Ingredients
1

knob fresh ginger

peeled and roughly sliced

2

oz

moonshine

fresh ice

4

oz

ginger beer

lime for garnish
Instructions
In a copper mug, muddle the fresh ginger.

Next add the moonshine, ice and fill the remainder of the mug with ginger beer, approximately 4 oz.

Garnish with a lime.
Notes
Note: Be careful with these guys, they go down easy and sneak up on you. Perfect for a spring or summer evening.
Kyle Rutten is a moonshine enthusiast who regularly creates content for Mile Hi Distilling. He enjoys writing about and discussing moonshine's rich American history as well as experimenting with different flavors and recipes for moonshine cocktails.
This recipe was originally published in 2018 and most recently updated in May 2021. 
Get on our mailing list
Subscribe and get our exclusive list of Six Great Sex-Boosting Snack Foods for FREE! Unsubscribe at any time - privacy policy