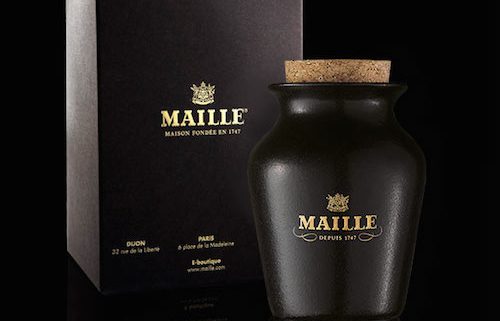 We're mad for Maille. The French company is the king of Dijon as far as we're concerned. But their Chablis and Black Truffle Mustard just takes things to a whole new level.
The mustard, presented in a black stoneware jar, features a pungent Chablis wine-infused Dijon mustard. That would be enough on its own, it really would. But Maille went for full-blown decadence by adding flecks of black winter truffle. The flavor is intense. Now you might think that the tang of mustard would overpower the black truffle. But no. From the moment you lift off the cork stopper, the aromas of truffle alert your senses that this is no ordinary mustard. It will upgrade your turkey or ham sandwich into something so chic. Maille recommends adding it to mashed potatoes or risotto but we say, just eat it with a spoon!
True, at $43 a pot, it might be the most expensive mustard you ever purchase. But trust us when we tell you, the experience of black truffle mustard is worth every penny!
For more information or to purchase, visit the Maille website.
FREE APHRODISIAC NEWSLETTER
Subscribe to our free aphrodisiac newsletter
https://www.eatsomethingsexy.com/wp-content/uploads/2016/11/Chablis_black_truffle_mustard.jpg
475
500
admin
https://www.eatsomethingsexy.com/wp-content/uploads/2017/01/Amy-Reileys.png
admin
2016-11-23 07:00:28
2016-11-22 14:12:52
Black Truffle Mustard--the best mustard you'll ever taste