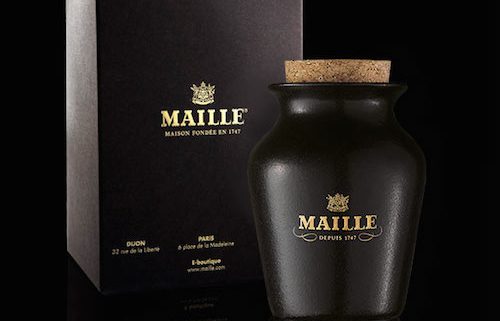 Maille Black Truffle Mustard is Amazing (Product Review)
Our articles may contain affiliate links. For more information, view our policies.
Can a mustard be life-changing? I might not go so far as to say this mustard changed my life but…Yes, yes I think it has. When Maille asked me if I would like to try their black truffle mustard, I scoffed at the price but, of course, I said I would be happy to give it a taste test.
Now, in our office, we're mad for Maille already. The French condiment company is the king of Dijon as far as we're concerned. So I was predisposed to like this mustard. But did I expect the flavor to be transformative? No, I was in now way prepared for the magic of Maille Chablis and Black Truffle Mustard.
What is Maille Black Truffle Mustard?
The mustard, presented in a black stoneware jar, features a pungent Chablis wine-infused Dijon mustard. The flavor profile of a lovely, Chablis-laced mustard would be enough on its own to make my taste buds dance, it really would. But Maille went for full-blown decadence by adding flecks of black winter truffle.
RELATED: Learn how truffle pigs hunt truffles
The taste
The flavor is intense. That's really the best word to describe it. It is an intense tasting experience of all the best things Burgundy has to offer. It's like ingesting all of Burgundy in a single, perfect bite. (And don't forget, mustard has a long history as an aphrodisiac.)
Now you might think that the tang of mustard would overpower the black truffle. But no. From the moment you lift off the cork stopper, the aromas of truffle alert your senses that this is no ordinary mustard. It will upgrade your turkey or ham sandwich into something so chic. Maille recommends adding it to mashed potatoes or risotto but I say, just eat it with a spoon!
Why this black truffle mustard is worth the price
True, at $43 a pot, it might be the most expensive condiment you will ever purchase. I know it sounds crazy. But trust me when I tell you, the experience of black truffle mustard is worth every penny!
For more information or to purchase, visit the Maille website.
Latest posts by Amy Reiley
(see all)
Get on our mailing list
Subscribe and get our exclusive list of Six Great Sex-Boosting Snack Foods for FREE! Unsubscribe at any time.