Massaged Kale Salad with Cranberries and Persimmons
Our articles may contain affiliate links. For more information, view our policies.
Kale might be one of the most overused foods of the decade. But it is used in everything from quiche to stuffing for good reason. Kale is one of the most nutritious foods in the produce aisle. Finding fresh and appealing uses for it is the trick. This kale salad with cranberries and persimmons is my way of transforming kale into a festive, Holiday season food.
This rubbed kale salad recipe really has it all. There's the eye appeal of the vibrant reds and greens of the season. A platform for showcasing one of the most interesting fruits of fall (persimmon). And it packs nearly twice the nutritional punch of your average salad, thanks to the three highly nutritious, not to mention aphrodisiac, main ingredients.
TRY NEXT: Stuffed Turkey Breast with Mushrooms & Kale
Is kale really a superfood?
Kale is a leafy green vegetable related to broccoli and Brussels sprouts. There are many varieties of kale but of the three most common, Tuscan kale, also known as dinosaur or lacinato kale, is known for having the sweetest, mildest flavor. In my opinion, all of the best kale salad recipes, including this one, call for Tuscan kale.
Kale has a few more calories than most other leafy greens. But along with the extra calories come added nutrients. In fact, kale is one of the most nutrient-dense foods on the planet. This dark, leafy green is a source of calcium, protein, manganese, fiber, potassium, vitamin C and vitamin K. It is also one of the finest sources of vitamin A (derived from beta-carotene). It is also low in fat and cholesterol and may be one of the best foods for supporting a weight loss plan.
Several of the nutrients in kale are vital to women's reproductive health and sexual health, which is why we named it one of the 10 Best Foods for Women. But kale also has benefits to skin health, heart health (thanks to its flavonoids) and it may even help prevent cancer.
What does it mean to massage kale?
Kale is not one of the easiest to eat vegetables straight out of the package. Its leaves are far tougher than most greens. This is why most recipes call for massaging kale. But what does it mean to massage kale and why do we do it?
When a recipe calls for massaging kale, it means that you should first rip the fresh kale leaves from the stems then rub them with olive oil for a few minutes until the leaves soften and their color becomes bright and vibrant. (This recipe calls for chopped kale leaves and the kale should be chopped before the massage. If a recipe doesn't specify, you can just remove the leaves from the kale stems before massaging.)
By massaging, the cells of the kale leaf break down, making the texture soft as lettuce yet with a firmness that gives the salad substance. It takes a little extra time to massage your kale but your lover will appreciate that you're practicing your massage skills.
RELATED: Citrus-Massaged Kale with Oyster Mushrooms & Scrambled Eggs
But as far as I'm concerned, even with massaging, a bowl of fresh kale on its own is a very boring green. So to give my salad balance, I've added the sharp tang of chewy dried cranberries. As I mentioned in my introduction, cranberries are aphrodisiac! In addition, the fresh persimmon gives this kale cranberry salad a taste of autumn. And the Pecorino cheese and walnuts round out the flavors and textures. (Note that you can omit the cheese and use brown rice syrup in place of honey to make a vegan kale salad.)
Some notes on using persimmons
If you're not familiar with buying persimmons, let me help you take the mystery out of these squat, orange fruits. I prefer Fuyus among the types commonly sold in the United States. Their mild flesh is great raw or cooked. The Fuyu can be enjoyed less ripe, when the fruit is more firm and easy to chop. But they're also great when they're fully ripe and the flesh takes on a custard-like consistency.
For this recipe, you'll want firm-ripe Fuyu persimmons. You'll know the right stage by the feel as well as flavor. This means they're firm but not rock hard. This is the stage where they're easiest to cut, too.
What does persimmon taste like?
Persimmons have one of the hardest to describe flavors of all fruits. Some say they taste a bit like honey, and that's true. But I find that a firm-ripe Fuyu has a flavor that combines brown sugar and vanilla. Their slightly yielding texture and faint sweetness make a beautiful counterpoint to the mildly bitter note of massaged kale.
TO TRY: Cranberry Persimmon Fruit Salsa
What is the benefit of persimmon fruit?
I mentioned earlier that all three of the starring ingredients in this recipe are both aphrodisiac and nutritious. Persimmons are a good source of fiber, vitamin C, vitamin A and vitamin B6. They are also a source of key minerals including manganese, potassium and copper. Lightly sweet and low in calories, they make a tasty and filling snack for anyone watching their weight.
When should you serve this kale salad with cranberries and persimmons?
This salad is pretty, yet lightly flavored enough to serve with Thanksgiving dinner and not overshadow the turkey and stuffing. Also, the acidity of the balsamic vinegar and Dijon mustard salad dressing should make a nice balance to the heavier parts of the meal like mashed potatoes and gravy.
RELATED: Best Wines to Pair with Thanksgiving Dinner
This is also a stunning side dish to serve with Christmas dinner or as a starter to any dinner party during the Holiday season. It's a nice dish to serve at a savory brunch as well. And if you want a light, vegetarian dinner, serve this salad on its own with a slice of crusty, whole grain bread. But my favorite way to serve this easy kale salad is as the starter to a romantic dinner for two. Offering a trifecta of aphrodisiac ingredients, this simple and faintly sweet salad will give your body much of what it needs for a night of passion.
Check out all of my favorite salad recipes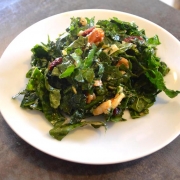 Massaged Kale Salad with Cranberries and Persimmons
Print Recipe
This tasty salad recipe combines the nutrition of massaged, Tuscan kale (also known as dinosaur kale) with the sweet and tangy flavors of fresh persimmons and dried cranberries.
Ingredients
For the dressing:
4

tbsp

balsamic

1

tbsp

Dijon*

1

tbsp

rice wine vinegar

1

tbsp

olive oil

1

tbsp

honey*
For the salad:
2

bunches Tuscan kale

1/4

c

dried cranberries

1 1/2

oz

Pecorino*

shredded

1

firm-ripe Fuyu persimmon

sliced thin

2

tbsp

toasted walnut pieces
Instructions
To make the dressing:
Whisk together all the ingredients and set aside. (Be sure to give the dressing a good shake before using.)
To make the salad:
Strip the kale leaves from the stem then chiffonade the leaves. Reserve the stems for other uses such as making smoothies, soup stocks or a kale stem slaw.

Rub your hands with enough olive oil to coat, as though you are about to massage a person Massage the kale leaves with your hands until the leaves change color to a bright, vibrant green, (about 3-4 minutes).

In a large salad bowl, combine the kale, cranberries, Pecorino, persimmon and walnuts. Toss with the dressing and allow the salad to rest for about 5 minutes.

Toss again just before serving.
Notes
*To make a vegan kale and cranberry salad, omit the Pecorino and replace the honey with brown rice syrup. Strict vegans will also want to double-check that their Dijon mustard is vegan.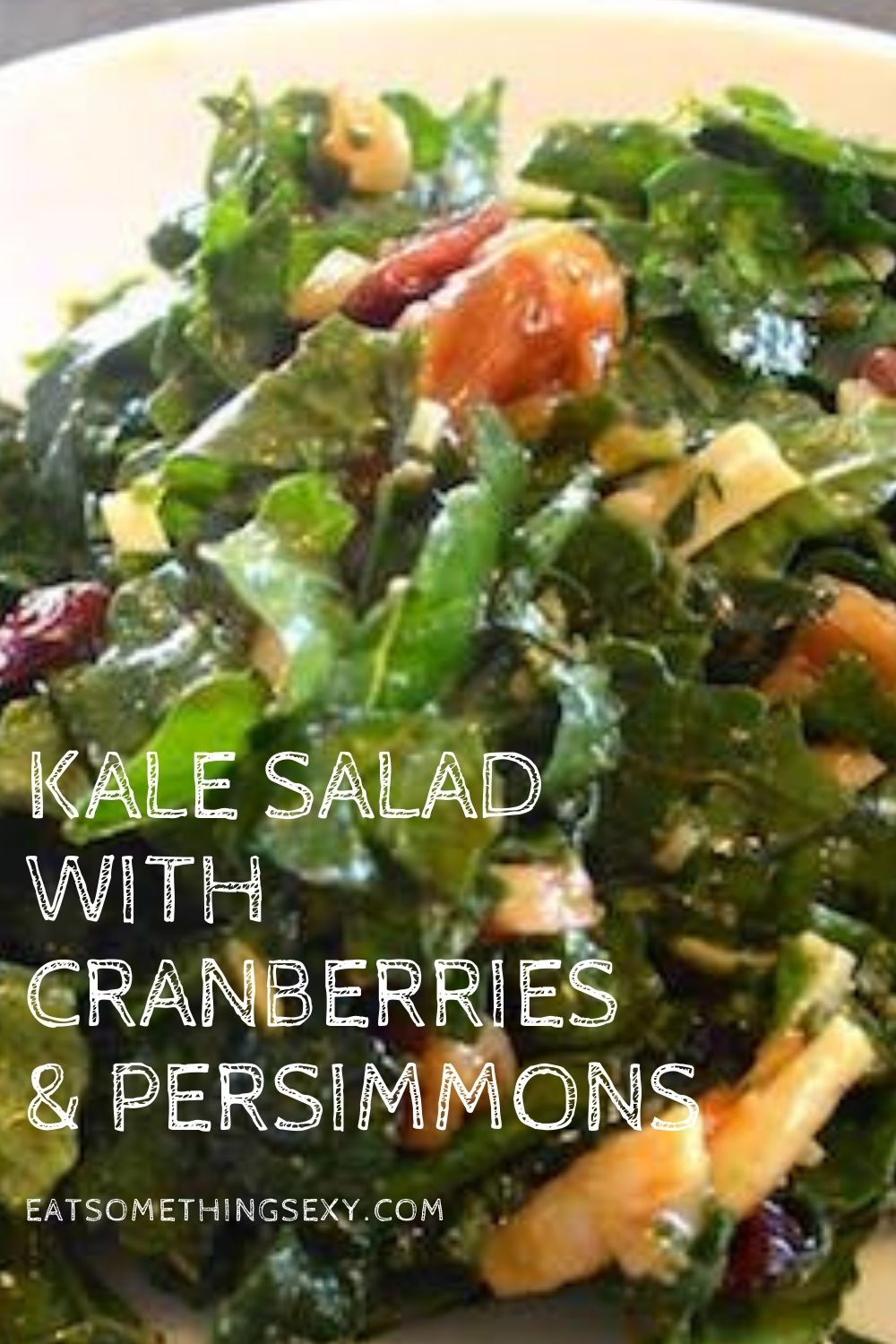 Latest posts by Amy Reiley
(see all)
Get on our mailing list
Subscribe and get our exclusive list of Six Great Sex-Boosting Snack Foods for FREE! Unsubscribe at any time.