Our articles may contain affiliate links. For more information, view our policies.
We're as tired of a bowl of weeds as the next guy. If we have to see another bowl of ruffle-y leafed kale we might cry. But we can't dismiss the fact that kale is one of the most nutritious foods for the money you could hope to find. And its great for your sex life. So instead of dismissing kale, we've given it a light makeover with a day at the spa, or at least a massage. That's why we're bringing you our version of a massaged kale salad with cranberries and persimmons.
RELATED: Why kale is one of the 10 best foods for women's sexual health. 
What happens when you massage kale?
By massaging, the cells of the kale leaf break down, making the texture soft as lettuce yet with a firmness that gives the salad substance. (Here's a more in depth explanation from Refinery 29.) It takes a little extra time to massage your kale but your lover will appreciate that you're practicing your massage skills.
But as far as I'm concerned, massage or no massage, a bowl of kale on its own is still a pile of weeds. So to give my salad balance, I've added the sharp tang of chewy dried cranberries. By the way, did you know that cranberries are aphrodisiac? In addition, a little persimmon gives the salad a taste of autumn.
TO TRY: Healthy Farro Salad with Fruits & Fresh Herbs
Some notes on using persimmons
If you're not familiar with buying persimmons, let me help you take the mystery out of these squat, orange fruits. I prefer Fuyus among the types commonly sold in the United States. Their mild flesh is great raw or cooked. The fuyu can be enjoyed less ripe, when the fruit is more firm and easy to chop. But they're also great when they're fully ripe and the flesh takes on a custard-like consistency.
For this recipe, you'll want them firm ripe. You'll know the right stage by the feel as well as flavor. This means they're firm but not rock hard. They'll be easy to cut and the flavor will offer a light sweetness with hints of vanilla. Their slightly yielding texture and faint sweetness make a beautiful counterpoint to the bitterness of massaged kale.
Check out all of our favorite salad recipes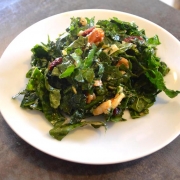 Massaged Kale Salad with Cranberries and Persimmons
Print Recipe
This salad shows just how good kale can be when it's massaged. Massaging tenderizes the kale and gets it ready to absorb the flavors of the tangy, vinegar-based dressing. 
Ingredients
For the dressing:
4

tbsp

balsamic

1

tbsp

Dijon

1

tbsp

rice wine vinegar

1

tbsp

olive oil

1

tbsp

honey
For the salad:
2

bunches dinosaur kale

1/4

c

dried cranberries

1 1/2

oz

Pecorino

shredded

1

ripe persimmon

sliced thin

2

tbsp

toasted walnut pieces
Instructions
To make the dressing:
Whisk together all the ingredients and set aside. (Be sure to give the dressing a good shake before using.)
To make the salad:
Strip the kale leaves from the stem then chiffonade the leaves. Reserve the stems for other uses such as making smoothies, soup stocks or a kale stem slaw.

Massage the kale leaves with your hands until the leaves change color to a bright, vibrant green, (about 4-5 minutes).

In a large salad bowl, combine the kale, cranberries, Pecorino, persimmon and walnuts. Toss with the dressing and allow the salad to rest for about 5 minutes.

Toss again just before serving.
FREE APHRODISIAC NEWSLETTER
Subscribe to our free aphrodisiac newsletter