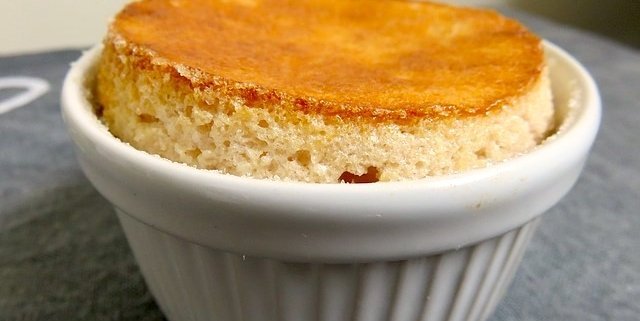 Lemon "Minute" Soufflé Recipe – an elegant dessert
This soufflé recipe makes it easy
Chef Annette Tomei shares this soufflé recipe with us. It was inspired by her work as a chef instructor at the French Culinary Institute. Don't know much about soufflé? Learn more about the history of this fluffy, French dish. We love it because it shows just how quick it can be to whip up a soufflé. (Soufflé is sexy!)
What makes soufflé so sexy?
Lemon isn't traditionally considered an aphrodisiac, however it does make our list of the 10 Best Foods for Women. In addition to the citrus, soufflé makes a perfect ending to a romantic meal because it's one of the lightest desserts. Lower in sugar than most classic sweets, it's also loaded with protein from the eggs. (And don't forget, eggs are also aphrodisiac.)
Why fresh lemon is best
Comments Annette, "Fresh squeezed and zested lemon is best. Lemons are particularly sexy to me in winter when things are dark and dull (here in New York)… the color, the smell totally captivated and gives me a burst of energy and thoughts of bright, warm, smooth, light, fluffiness."
Equipment needed for making soufflés
You will need some slightly specialized equipment to make individual soufflés. This, and most recipes will call for individual ramekins, like the one in the photo. These are generally a 1 1/4 cup size. I like making my soufflés in ramekins. However you can use any small, oven-safe dishes. (See the notes in the recipe below.)
To make the French meringue, a stand mixer is recommended. It's possible to beat the egg whites to soft peaks with handheld, electric beaters or by hand, but the technique is most easily mastered with a stand mixer. Be sure that your bowl is completely clean and dry before adding the egg whites.
How do you  know when a soufflé is done?
To allow a soufflé to rise properly, try to avoid opening the oven until they're done cooking. The soufflé recipe suggests a cooking time of 20 minutes but they may cook in about 15, depending on the oven. Once they've risen and start to brown on the top, you can check them for doneness.
To check for doneness, give one of the dishes a sharp nudge. If the top is golden brown and the middle stays firm when nudged, it's time to take the soufflés from the oven. If you're concerned about making a mistake, take one soufflé dish from the oven and use a spoon to pry the soufflé open. The middle should look fluffy, not soupy. Of course, this means you've sacrificed one of your soufflés, but you'll still have fun eating it.
This dessert cannot be made in advance
If you're looking for a dessert to make in advance, do not make a soufflé. Although this soufflé recipe simplifies the process, it's still a finicky dessert. The egg white will lose volume if left to sit, which means you'll never achieve the right height. And you always want to serve whipped, egg-based confection immediately. Although it isn't true that a loud noise or jostling will make a soufflé fall, but the dessert will start to shrink after about 5 minutes out of the oven. So to maximize the creamy, fluffy  texture, serve immediately.

Lemon "Minute" Soufflé
Chef Annette Tomei's recipe makes creating a light, etherial, citrus soufflé at home surprisingly easy.
Seasonal:
Christmas, Easter, Father's Day, Mother's Day, New Year's Eve, Valentine's Day
Ingredients
4

egg yolks

1/2

cup

granulated sugar

2

Tbsp

lemon juice

grated zest of 1 medium lemon

5

egg whites
Instructions
Using an electric mixer, beat the egg yolks and half of the sugar until it is thoroughly incorporated and appears pale.

Add the juice and zest to the yolk mixture.

Use your mixer to make a French meringue with the egg whites and the other half of the sugar by beating together until light and fluffy and soft peaks form; do not overbeat.

Fold the meringue (gently so as not to deflate the meringue) into the lemon and egg yolk mixture.

Butter the inside of 4 ramekins or other small, oven-safe baking dishes (we've used sturdy mugs in a pinch) then coat buttered surface with sugar.

Bake at 400°F until risen but still soft in the center.

Serve immediately.
Pin this Lemon Soufflé recipe:
Lemon "Minute" Soufflé Recipe - an elegant dessert
Chef Annette Tomei shares this soufflé recipe with us. It was inspired by her work as a chef instructor at the French Culinary Institute. Don't know much about soufflé? Learn more about the history of this fluffy, French dish. We love it because it shows just how quick it can be to whip up a soufflé. (Soufflé is sexy!)
FREE APHRODISIAC NEWSLETTER
Subscribe to our free aphrodisiac newsletter