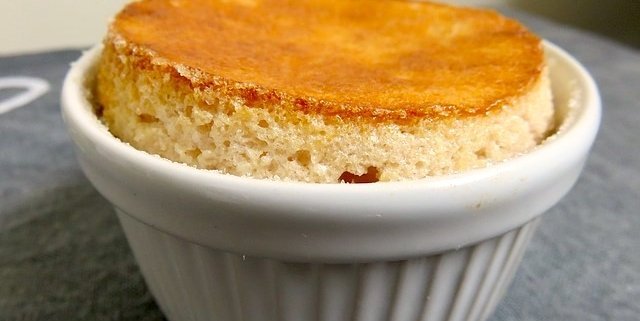 Easy Lemon Soufflé Recipe for Dessert
Our articles may contain affiliate links. For more information, view our policies.
I think you're going to love how surprisingly simple lemon soufflé recipe is to make. It's the kind of dessert recipe I used to teach as a chef instructor at the French Culinary Institute. Soufflé is a dish with a reputation for being tricky to bake. But my students were always thrilled at the ease of making a fluffy light soufflé, once they understood the technique. And that's exactly what I want to share with you here.
What is a soufflé?
If you don't know much about soufflé, you might enjoy a little background on this traditional, French dish. It gets its name from the French word, soufflér, to puff. The dish was invented in the mid 1800s and became an exceedingly popular fine dining dish in America in the early to mid-twentieth century. At some point, as Americans began to increasingly value quick meals, the soufflé, a dish that takes time to rise in the oven, fell out of fashion. (Here's a little additional information on the history of soufflé for you history buffs.)
Today it is my goal to show you not only how deceptively simple it is to make soufflé but to get you addicted to this sensual, slow food dessert. Let's bring soufflé back into fashion!
What do you need to make a soufflé?
You will need some slightly specialized equipment to make individual soufflés. This, and most recipes will call for individual ramekins, like the one in the photo. These are generally a 1 1/4 cup size. I like making my soufflés in ramekins. However, you can use any small, oven-safe dishes. (See the notes in the recipe below.)
Why I recommend using a stand mixer to make this lemon soufflé recipe
To make the French meringue, a stand mixer is recommended. It's possible to beat the egg whites to soft peaks with handheld, electric beaters or by hand, but the technique is most easily mastered with a stand mixer. Be sure that your bowl is completely clean and dry before adding the egg whites and use a rubber spatula to gently fold the ingredients.
Why fresh lemon is best
To make the best possible soufflé, freshly squeezed and zested lemon is best. (You can also try this simple soufflé recipe with Meyer lemons, if those are available.) Lemons are particularly sexy to me in winter when things are dark and dull (here in New York)…the color, the smell totally captivated and gave me a burst of energy and thoughts of bright, warm, smooth, light, fluffiness.
A tip for prepping your soufflé dish
Whatever dishes you choose for baking your soufflé, it's important that you prep them before gently folding the soufflé into the ramekin or mug or whatever you use. Properly preparing your soufflé baking dish helps increase your chances of having a fluffy, fully risen soufflé.
You will want to butter the inside of the dish. Just coat it with a very thin, even layer of butter. Next, coat it with a very thin layer of granulated sugar. The soufflé will actually "climb" the granules of sugar in order to rise. (You can use this tip for baking savory soufflés as well. Just use fine breadcrumbs in place of the sugar for coating the inside of the baking dishes.)
How do you know when soufflés are done?
To allow a soufflé to rise properly, try to avoid opening the oven until they're done cooking. My soufflé dessert recipe suggests a cooking time of 20 minutes but they may cook in about 15, depending on the oven. Once they've risen and start to brown on the top, you can check them for doneness.
To check for doneness, give one of the dishes a sharp nudge. If the top is golden brown and the middle stays firm when nudged, it's time to take the soufflés from the oven. If you're concerned about making a mistake, take one soufflé dish from the oven and use a spoon to pry the soufflé open. The middle should look fluffy, not soupy. Of course, this means you've sacrificed one of your soufflés, but you'll still have fun eating it.
RELATED: For your next baking challenge, try this Lemon Marshmallows recipe.
Can soufflés be made ahead of time?
If you're looking for a dessert to make in advance, do not make a soufflé.
Even though this soufflé recipe simplifies the process of making this lemon and egg white dessert, it's still a finicky dessert. The egg white will lose volume if left to sit, which means you'll never achieve the right height. And you always want to serve whipped, egg-based confection immediately. Although it isn't true that a loud noise or jostling will make a soufflé fall, but the dessert will start to shrink after about 5 minutes out of the oven. So to maximize the creamy, fluffy, sexy texture, serve immediately.
TO TRY: If you love the flavor of lemon, try this simple Limoncello cocktail recipe.
A simple soufflé recipe for two
Lemon isn't traditionally considered an aphrodisiac, however, it does make our list of the 10 Best Foods for Women. In addition to the citrus, soufflé makes a perfect ending to a romantic meal because it's one of the lightest desserts. Lower in sugar than most classic sweets, it's also loaded with protein from the eggs. Of course, there's also the fact that eggs are aphrodisiacs.
Annette's Lemon Soufflé
Print Recipe
Once the technique for this soufflé is mastered, it is an easy dessert and a great choice for finishing a romantic dinner for two.
Ingredients
2

egg yolks

1/4

cup

granulated sugar

1

tbsp

lemon juice

grated zest of 1 small lemon

2

jumbo egg whites
Instructions
Using an electric mixer, beat the egg yolks and half of the sugar until it is thoroughly incorporated and appears pale.

Add the juice and zest to the yolk mixture.

Use your mixer to make a French meringue with the egg whites and the other half of the sugar by beating together until light and fluffy and soft peaks form; do not overbeat.

Fold the meringue (gently so as not to deflate the meringue) into the lemon and egg yolk mixture.

Butter the inside of 2 ramekins or other small, oven-safe baking dishes (we've used sturdy mugs in a pinch) then coat buttered surface with sugar.

Bake at 400°F until risen but still soft in the center, 15-20 minutes.

Serve immediately.
Latest posts by Annette Tomei
(see all)
Get on our mailing list
Subscribe and get our exclusive list of Six Great Sex-Boosting Snack Foods for FREE! Unsubscribe at any time - privacy policy