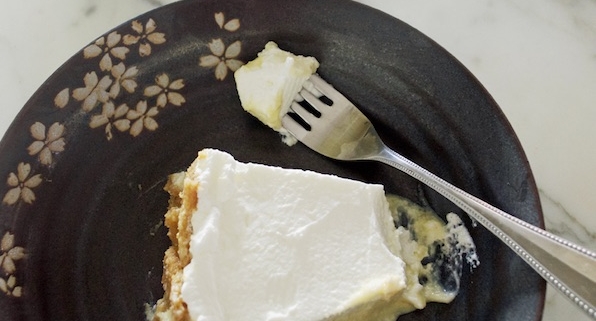 Crazy Sexy Key Lime Pie Recipe
Our articles may contain affiliate links. For more information, view our policies.
Can a key lime pie be an aphrodisiac? Well, YES! I created this pie for the baking cookbook I wrote with Delahna Flagg, Eat Cake Naked: aphrodisiac desserts to heat up your love life. For the book, we targeted certain ingredients we wanted to highlight.
And we also decided we wanted to take some classic desserts and transform them into romantic indulgences by reducing sugar, focusing on good fats and adding layers of texture to make the tongue go wild. With this pie, we definitely succeeded.
Why this is the best key lime pie recipe
My husband thinks this aphrodisiac dessert is the greatest pie ever made…Just try making it once and you'll understand why he's seduced by this recipe.
The inspiration for my key lime pie was a dessert my mother always made "for company." The filling is classic key lime pie except that instead of using just the yolks, my mom whipped the whites and folded them in before baking.
The addition of egg whites not only adds a virtually calorie-free protein boost but it gives the pie a unique, ethereal lightness. (Of course, if you prefer the dense, pudding-like filling of a traditional key lime pie, you can leave out the egg whites. Save them for a morning-after omelet stuffed with brightly colored veggies and perhaps a side of smoky, sexy bacon.)
What do you do if you don't have fresh key limes?
If you can't find fresh key limes, you can substitute with bottled key lime juice. I once made them side-by-side and the difference between the two pies was negligible. Yes, the one made with fresh lime had a more lively, slightly more biting flavor but both versions offered the right sweet-tart balance.
I've also tried making this pie with limequats. The final flavor is slightly different but the pie is definitely still sexy!
What makes this pie so sexy?
Now if you've had Key Lime Pie before and never considered it a gateway to sexual fantasy, you're probably wondering what makes this pie so aphrodisiac.
For starters, there are eggs and limes. These are beautiful, natural ingredients of aphrodisiac repute. In fact, limes and other citrus even make our list of the 10 Best Foods for Women. The custard at the heart of this pie makes it obvious why key lime pie is an aphrodisiac.
The crust, however, proves to be problematic. You can't have key lime pie without a graham cracker crust, right? The problem is that graham crackers were invented to suppress sexual urges.  That is the honest-to-goodness origin of graham crackers. So how do you make a sensual dessert with graham crackers? I had to find a way to change the crust. My solution? I reduced the amount of graham crackers and replaced them with exotic, tropical macadamia nuts. The resulting pie is something sure to stimulate your lover's taste buds and their primal urges.
Key Lime Pie with a Salty Macadamia-Graham Cracker Crust
Print Recipe
An upgraded version of a traditional Key Lime Pie, this pie recipe starts with a pie crust layered with salty, roasted macadamia nuts and tops it with an ethereal version of key lime filling.
Ingredients
For the crust:
9

graham crackers—full bars

not broken into squares (approximately 4 oz)

1/3

cup

dry roasted

salted macadamia nuts

3

tbsp

granulated sugar

1/4

cup

butter

melted
For the pie filling:
3

eggs

separated

1 14-

oz

can sweetened

condensed milk

2/3

cup

key lime juice*
For the topping:
1

cup

heavy whipping cream

cold
Instructions
Preheat your oven to 350 degrees.

Butter the bottom and sides of a standard (not deep-dish) 9-inch pie plate.

Put the graham crackers and macadamia nuts in a food processor and process until you have crumbs. (If you don't have a food processor--or if you have aggression issues you need to work out--first finely chop the macadamia nuts. Break the graham crackers into smaller pieces then zip into a large plastic bag with the chopped nuts and crush with a rolling pin.)

Transfer to a medium mixing bowl and mix in the sugar before pouring in the butter. Stir until the entire mixture is moistened by the butter and crumbly in texture. (You can do this in the food processor if you prefer.)

Press the graham cracker mixture evenly into the bottom and sides of the pie plate, forming a neat edge.

Bake for 8-10 minutes, until the crust is set and has turned slightly darker gold.

Set the crust aside to cool on a wire rack. Keep the oven set to 350 degrees.

While the crust is cooling, whisk the egg whites with an electric mixer until soft peaks have formed. (It is important to ensure that all the eggs are whipped. Try to double-check the bottom of the bowl. If any of the egg isn't whipped, it can cause your crust to go limp once the cake is baked. And limp crust is the culinary equivalent of… well, it's bad.) Set the whites aside.

Using the mixer, beat the egg yolks until fluffy, about 5 minutes at a medium speed. Slowly pour in the condensed milk, beating at a medium speed for an additional 3 minutes.

10. Slowly, with the mixer on the lowest speed, add the lime juice, mixing until combined.

11. Carefully fold in the egg whites by hand. Do not overmix. Then carefully pour the mixture into the cooled pie crust.

12. Bake for 10 minutes or until filling sets.

13. Cool on a wire rack for about 20 minutes and then an additional 15-20 minutes in the refrigerator before serving.

14. While the pie is cooling, whip the cold cream with an electric mixer until stiff peaks form.

15. To serve, smooth a layer of whipped cream over the top of the pie or spoon a generous dollop onto each slice.
Notes
*Fresh key lime juice will make the most vibrant, citrusy cake. But when fresh limes are unavailable, bottled key lime juice is a suitable substitute. It's available from many grocers or on Amazon.com. We've also tried the cake with fresh limequats, which make a brilliantly tart variation.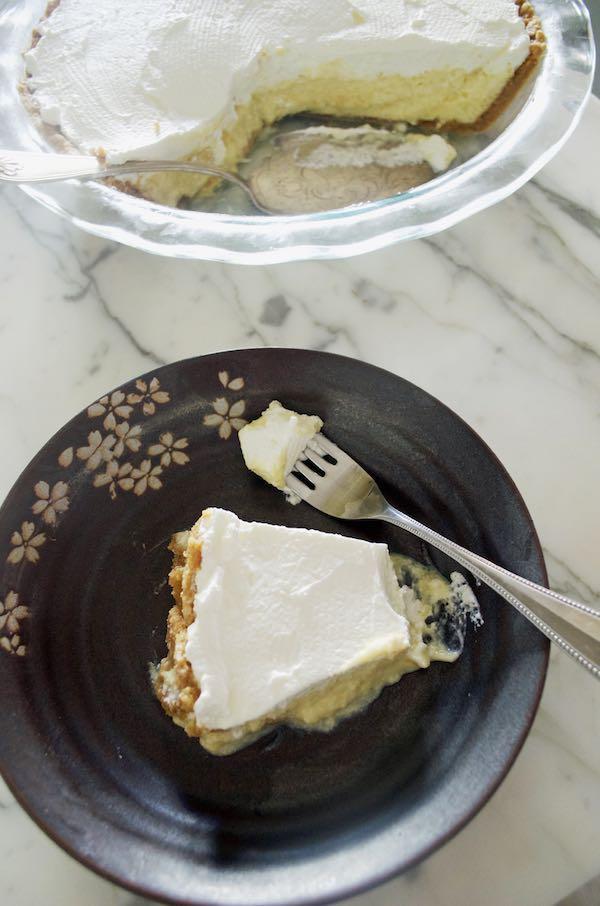 Like the pie recipe? Get the whole cookbook! Download a copy of Eat Cake Naked
from Amazon:
Latest posts by Amy Reiley
(see all)
Get on our mailing list
Subscribe and get our exclusive list of Six Great Sex-Boosting Snack Foods for FREE! Unsubscribe at any time.