72 Hour Libido-Boosting Menu for Women
Our articles may contain affiliate links. For more information, view our policies.
How women can boost libido with this 72 hour eating plan
You can actually eat your way to a better sex life? Yep! Well, partner not included… But our libido-boosting menu for women is packed with delicious foods that are great for promoting sexual hormone production, boosting energy and feeling your best.
To help make sure you're inspired, we've highlighted the ingredients from our list of the 10 best foods for a woman's libido. Click on these ingredients to discover more about how the right food choices can impact your sex life for the better.
Libido-Boosting Menu for Women Day 1
Breakfast:
Strawberry, chopped peanut and yogurt parfait
1 tbsp peanuts
6 oz plain Greek yogurt
½ c sliced strawberries
optional: granola and/or other berries you love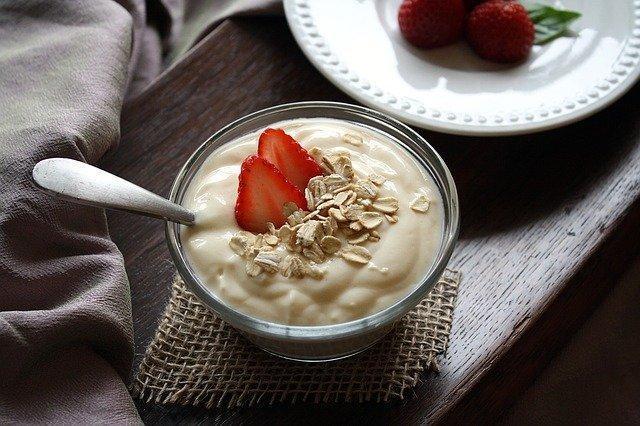 Lunch:
Salmon, citrus & kale salad
2 oz wild salmon
2 c kale
½ c citrus fruit segments
2 tsp olive oil
1/4 c wild rice
1 tbsp pine nuts
lemonade spritzer
3 oz lemonade (with real lemon juice & brown sugar or natural sweetener)
3 oz sparkling water
Snack:
Chile-spiked drinking chocolate
pinch chile powder
1 oz grated dark chocolate
2-3 oz whole or 2 % milk
2-3 oz water
Dinner:
vegetable-rich lentil soup
(made with low-sodium stock)
1 ½ oz cheese (your favorite – as long as it is all-natural)
1 serving whole grain crackers
Dessert:
Mixed berries & Vino
½ c mixed berries
5 oz glass of wine
Libido-Boosting Menu for Women Day 2
Breakfast:
Eggs & Buttered toast
1 egg + 2 whites scrambled (w/ assorted veggies-optional)
1 slice whole-grain toast w/ ½ tbsp butter, almond or peanut butter
Lunch:
Tofu Panini
½ sourdough or ciabatta roll
3 oz firm tofu
roasted bell pepper
1 oz provolone cheese
chopped, fresh basil
pinch chile flake
Pressed in a sandwich press, (served hot).
Snack:
Nuts, Chocolate, & Caffeine
¼ c dark chocolate-covered peanuts
cup of coffee or espresso
Dinner:
Seared Scallops with spinach and salsa
3 fresh jumbo scallops (or 5 small scallops)
1 c cooked spinach
as much salsa as you want (no added sugar)
2 small corn or whole wheat tortillas
Dessert:
Chocolate & Vino
2 oz dark chocolate brownie
5 oz glass of wine
Libido-Boosting Menu for Women Day 3
Breakfast:
Strawberry, banana, orange and pecan smoothie
1 ¾ c combine chopped, fresh strawberries, bananas and oranges
1 tbsp pecans
Combine all ingredients in a blender.
Lunch:
Seafood Salad
3 oz mixed seafood (scallops, shrimp, salmon, mussels, crab, etc)
romaine and/or arugula (at least 2 cups or as much as you like)
1 tbsp citrus vinaigrette
Snack:
 Homemade trail mix
combine dried strawberries, mango, coconut, dark chocolate pieces and salted peanuts (¼ c total)
Dinner:
Tofu stir fry
3 oz tofu, cubed
assorted bell peppers
chile pepper
chopped kale
1 small onion, chopped
1 clove garlic, finely chopped
½ tbsp miso
juice of ½- 1 lemon
1 oz (before cooking) buckwheat or whole wheat noodles
Dessert:
Sorbet & Vino
½ c citrus sorbet
5 oz glass of wine
After 72 hours of this libido-boosting diet for women, you should start to feel a change. Of course, if you want to make a true impact on your libido and overall health, be sure to continue to incorporate more of the 10 Best Foods for Women into your diet!
Get on our mailing list
Don't miss out on a thing! Get news, deals & more!