Pan Seared Tilapia Fish Tacos Recipe with Asian Slaw
Our articles may contain affiliate links. For more information, view our policies.
This pan-seared tilapia fish tacos recipe offers everything you could hope for in a weeknight meal. It's packed with big flavors but healthy ingredients and as for the cleanup? It's as easy as it gets! That's why this is one of our favorite fish taco recipes with tilapia of all time.
A one-pan Asian fish taco recipe
This mouthwatering tilapia taco recipe comes from Carla Snyder's One Pan, Whole Family cookbook. I love the concept of making a whole meal in one pan – less clean-up in your kitchen equals more time for nookie. With One Pan, Whole Family, Carla uses the concept to make meals that can feed the brood.
But that doesn't mean they can't also be used to spark a little romance. Recipes like her Asian Style Fish Tacos are rich with ingredients that may please the taste buds of a crowd but they also feed the flames of passion with ingredients like avocado, honey, garlic and, of course, fish.
TRY NEXT: Bacon Baja Fish Tacos with Avocado Cream
How to make the best fish tacos with tilapia
What makes this Asian fish taco recipe so fantastic is two things: bold flavor and no fuss. The fuss-free part is simple. Just follow the recipe as written and let your guests decide how to build their own tacos. Nothing fancy, just fun.
As for the bold flavor part, that's what makes this tilapia tacos recipe one people crave. You start with searing the fish then build flavor with all the toppings. But the first trick to making the best tilapia fish taco is cooking your fish correctly. Here are a few tips on how to cook tilapia for fish tacos.
To pan-sear tilapia
Before you start to cook your fish, it needs to be seasoned. Sprinkle it with salt and black pepper. (Be sure to season both sides.)
Next, make sure your oil is hot before you add the fish to the pan. (Carla says you can use any vegetable oil. I like avocado oil for searing fish but you can also use olive oil with this recipe. Don't forget to use salt and pepper for seasoning.) The other important thing to remember is not to overcrowd the pan. It's better to cook the fish in batches than to add to many fillets to the pan at once.
If the fish starts to curl on the edges, press it down gently with a flexible spatula and hold the spatula there for a few seconds. This will help ensure even cooking.
Lastly, don't overcook your fish! Tilapia and other white fish, like snapper and catfish, cook very, very quickly.
How to check the freshness of your ingredients
To get the most flavor out of your pan-seared fish tacos, make sure you use fresh ingredients. Check that your garlic isn't too old and please do not use garlic powder as a substitution for fresh garlic in this tilapia recipe. The same goes for your sesame oil. (If it's been open for more than six months, check that it's still good before you start cooking.)
In addition, use fresh-picked cilantro and ripe avocados. Avocados are often sold unripe – they ripen off the tree – so you might want to buy the fruits several days in advance to ensure deliciously creamy avocado for your fish tacos.
How to make an unforgettable fish taco sauce
Instead of a liquid sauce that runs out of the taco when you try to pick it up, this recipe for tilapia tacos calls for a quick and easy mayonnaise-based sauce as your taco topping. A delicious combination of mayo and lime juice, the lime mayonnaise is that final touch that really rounds out the bold flavors of this seared fish taco recipe.
To make this (not so) secret sauce, you just combine mayonnaise with fresh lime juice. It is really that easy. Store it in the refrigerator until your tacos are ready to serve.
To make homemade quick pickled onions
After publishing this recipe, Carla realized that these tacos are even better topped with her homemade pickled onions. So she sent me the recipe, in case you want to try adding these sweet and sour onions to your taco topping list:
Combine 3 tablespoons red wine vinegar, 2 tablespoons water, 1 tablespoon sugar and 1/2 teaspoon salt in a large microwave-safe measuring cup or bowl and microwave until the sugar is dissolved and the mixture is hot, about 2 minutes. Immediately add 1 small thinly sliced red onion and push it under the liquid. Let sit for 10 minutes, then use as you'd like.
Store the pickled onions in the refrigerator for up to 1 week.
Why tilapia fish tacos with Asian slaw are date night food
I love this recipe not only because she skips artery-clogging (and libido-killing) frying in favor of sautéing.
And then there's the right balance of taco toppings. And this tilapia fish taco recipe gets it right.
As Carla comments, "I'm really into the toppings on tacos and this warm slaw with Asian flavors is one of my favorites. Rice vinegar, soy, honey and sesame oil and the zippy lime mayo and avocado add richness and depth to what might be my favorite dinner in this cookbook. I've kept it simple here but feel free to add pickled red onions, jalapeño and sliced bell peppers to jazz it up if you have the time."
Make a taco and wine pairing
To make the experience even more romantic, pair your fish tacos with a wine your lover will appreciate, perhaps a bottle of Prosecco. This pairing is one I've frequently enjoyed and I think you and your one and only will, too.
Check out more great seafood recipes
Pan Seared Tilapia Fish Tacos with Asian Slaw
Print Recipe
This easy tilapia fish taco recipe can be made in one pan! No deep frying required. A simple but flavorful recipe, it's a great choice for family dinner or a date night.
Ingredients
2

medium

ripe avocados

1/4

cup

cilantro

2

green onions

1

clove

garlic

2

limes

1-

lb

tilapia

substitute with snapper, catfish or other white fish

1/2

tsp

salt plus more for sprinkling

Freshly ground black pepper

2

Tbsp

unseasoned rice vinegar

2

Tbsp

vegetable oil

1 1/2

Tbsp

soy sauce

1

Tbsp

honey

2

tsp

sesame oil

1/3

cup

mayonnaise

8-

oz

packaged cole slaw mix

8 to 10

corn tortillas

warmed

Chopped, roasted peanuts as an accompaniment

Homemade pickled onions as an accompaniment

See article above for recipe
Instructions
On a large cutting board, peel, pit and slice the avocado and transfer it to a small plate. Chop the cilantro and slice the green onions and transfer them to a medium bowl.

Mince the garlic, halve 1 lime and quarter the other.

Cut the fish into pieces about 4-in long and salt and pepper them.

Combine the vinegar, 1 tablespoon vegetable oil, soy, honey and sesame oil in a small bowl. Set aside.

Combine the mayonnaise and the juice of 1/2 lime in another small bowl. Store in the refrigerator until serving.

Season both sides of the fish with salt and black pepper.

Heat a 12-in [30.5 cm] skillet over medium-high heat and add the remaining 1 tablespoon vegetable oil.

When the oil shimmers, add the seasoned fish to the pan in batches, being careful not to overcrowd the pan. Cook the fish for 3 minutes, turn it over and cook the other side for another 3 minutes.

Transfer the fish to a plate and keep warm while cooking the remaining fish in the same manner.

Add the garlic to the hot pan and saute for 30 seconds or until fragrant.

Add the vinegar mixture to the pan and bring to a boil. Remove the pan from the heat and quickly add the coleslaw mix, stirring to combine it well.

Immediately transfer the warmed slaw to the bowl with the cilantro and green onion, mixing well.

Taste and squeeze in the remaining halved lime and a sprinkle of salt and pepper if it needs it.

Warm the tortillas, covered with microwave-safe wrap in the microwave for 30 seconds to 1 minute.

Serve the slaw, avocado, fish, tortillas, quartered limes, lime mayo and peanuts at the table for the family to assemble their own tacos any way they like them.
Notes
Carla likes beer with tacos and just about any beer you want to drink will be terrific with the fish. Why not try something local you've never tried before? Any IPA will work beautifully.
A note on the provided nutrition information
The nutrition information provided has been estimated by an online nutrition calculator and is not a substitute for a professional nutritionist's advice.
Nutrition
Calories:
637
kcal
|
Carbohydrates:
44
g
|
Protein:
30
g
|
Fat:
41
g
|
Saturated Fat:
7
g
|
Polyunsaturated Fat:
16
g
|
Monounsaturated Fat:
16
g
|
Trans Fat:
0.1
g
|
Cholesterol:
65
mg
|
Sodium:
888
mg
|
Potassium:
1103
mg
|
Fiber:
13
g
|
Sugar:
8
g
|
Vitamin A:
360
IU
|
Vitamin C:
42
mg
|
Calcium:
109
mg
|
Iron:
3
mg
Pin this fast, healthy and tasty fish taco recipe: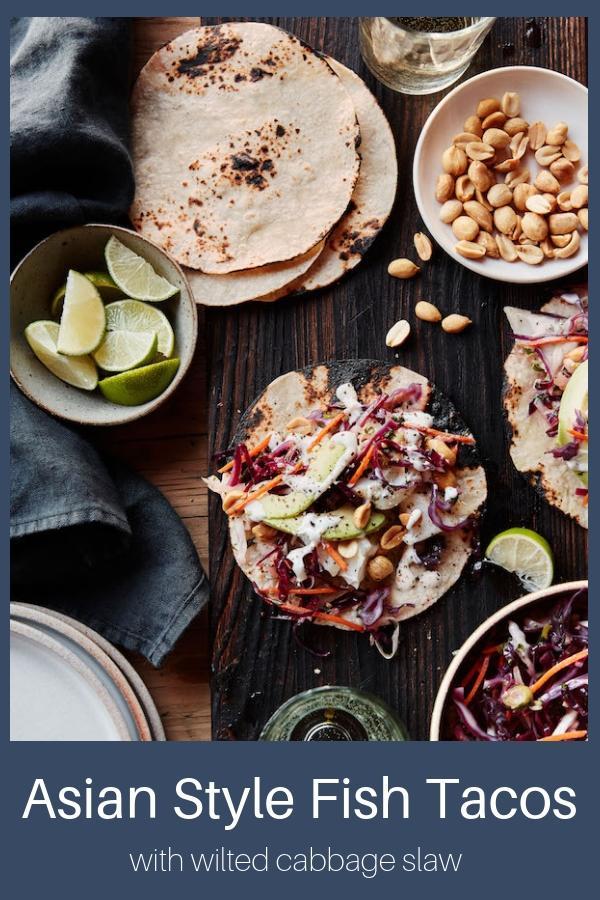 Love the idea of one-pan cooking? Get Carla's book!
Latest posts by Amy Reiley
(see all)
Get on our mailing list
Subscribe and get our exclusive list of Six Great Sex-Boosting Snack Foods for FREE! Unsubscribe at any time.