Vegetarian Linguine Recipe with Green Garlic & Asparagus
Our articles may contain affiliate links. For more information, view our policies.
A simple green garlic recipe with pasta
This simple vegetarian linguine recipe embraces some of the finest aphrodisiacs of spring. It combines pencil-thin asparagus, simply baked–nothing could be easier or more perfect for a vegetarian, springtime supper.
And since asparagus is a noted aphrodisiac, this should be a strong contender for a healthy and stress-free date night recipe. But to give the flavor of this easy linguine recipe depth and a distinctive, springtime flare, I've included the somewhat elusive flavor of green garlic, an incredible alluim with a very short season.
This rarity is part of what makes young garlic so special. Of course, there's the flavor. Green garlic has the flavor of garlic but lighter, more subtle and slightly exotic. This can make cooking with green garlic a challenge. But this light, fresh pasta recipe with asparagus and a simple, citrus sauce showcases that almost elusive flavor of young garlic.
What is green garlic?
Also called spring garlic, green garlic is one of the finest, most fragile ingredients of spring. It's simply young garlic, before it separates into cloves.
Typically, farmers will pull out these skinny garlic plants to thin their garlic crops. This make room for the rest of their garlic plants still in the ground to mature. It's like a springtime bonus for any of us lucky enough to get our hands on these uprooted, baby garlic plants.
As I mentioned above, the flavor of spring garlic is like garlic but not. It is a mild, almost sweet version of garlic or something like a subtly flavored cross between garlic and green onions. But it is, of course, still garlic, with all the health benefits of garlic. And since garlic is on my list of the best aphrodisiacs, this springtime ingredient adds not only to the flavor of this green garlic pasta dish but also to its aphrodisiac potential.
Can you make this recipe without green garlic?
This is one of my favorite spring garlic recipes. But of course, when spring is over, so is the season for fresh green garlic.
That doesn't mean you can't enjoy this pasta and asparagus recipe. It won't have the same, subtle flavor as spring garlic pasta, but you can always use a clove of mature garlic in a pinch for an easy linguine dinner all the year through.
Just make sure to use fresh garlic for this veggie linguine recipe. Please do not use precut, bottled garlic. And mince it finely; that will help keep the flavor mild to more closely mimic the effect of fresh, green garlic.
RELATED: Easy Vegan Carrot Top Pesto
Pasta substitutions for this vegetarian linguine recipe
This green garlic pasta calls for fresh linguine. It doesn't have to be homemade linguine. But I prefer fresh over dried pasta for this vegetarian recipe with green garlic flavor.
What is linguine/linguini
Linguine, also called linguini, is a kind of long pasta noodle. The name basically means "little tongues." And while it looks nothing like a human tongue, it does bear resemblance to a flickering snake tongue. (This I associate with a certain sexiness in my pasta dish.)
Could you swap out the linguini pasta for fresh spaghetti? Absolutely. But then you'd miss out on serving your lover a plate of dancing tongues.
TO TRY: More great pasta recipes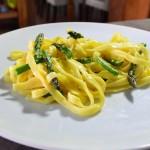 Fresh Linguine with Asparagus and Green Garlic
Print Recipe
This is the perfect recipe for spring. It showcases green garlic and tender, young asparagus. 
Ingredients
1

lb

pencil-thin asparagus

trimmed

9

oz

fresh linguine pasta

1/2

cup

pasta cooking water

reserved

1

tbsp

olive oil

2

stalk green garlic

white and pale green part, finely chopped

1/4

tsp

salt

1

egg yolk

1/3

cup

Parmesan cheese

grated

1/4

tsp

fresh lemon zest

additional salt to taste
Instructions
Preheat oven to 325 degrees.

Arrange asparagus on a baking sheet and cook for 7-9 minutes, until asparagus is just hinting at fork tender. Do not overcook. (You can also steam asparagus in microwave.)

Bring a large pot of water to a boil. Cook pasta according to instructions until just al dente. When pasta has finished cooking drain, reserving 1/2 c of the pasta water for the sauce.

While the pasta is cooking, heat the olive oil over medium heat.

Add the garlic and saute for 30 seconds to 1 minute. If garlic begins to brown, turn down heat.

Add the asparagus and salt and cook for an additional minute, tossing to thoroughly combine, then remove from heat.

In a small bowl, whisk the egg yolk then mix with the Parmesan and 1/3 c of the pasta water.

Return the pasta to the pot and add the egg yolk mixture. Cook over medium heat for about 2 minutes, until sauce is thick and pasta coated. If the sauce gets too thick, add additional pasta water. Toss in the asparagus and season with additional salt to taste.

Top with lemon zest before serving.
Pin this recipe for veggie linguine pasta with green garlic and asparagus: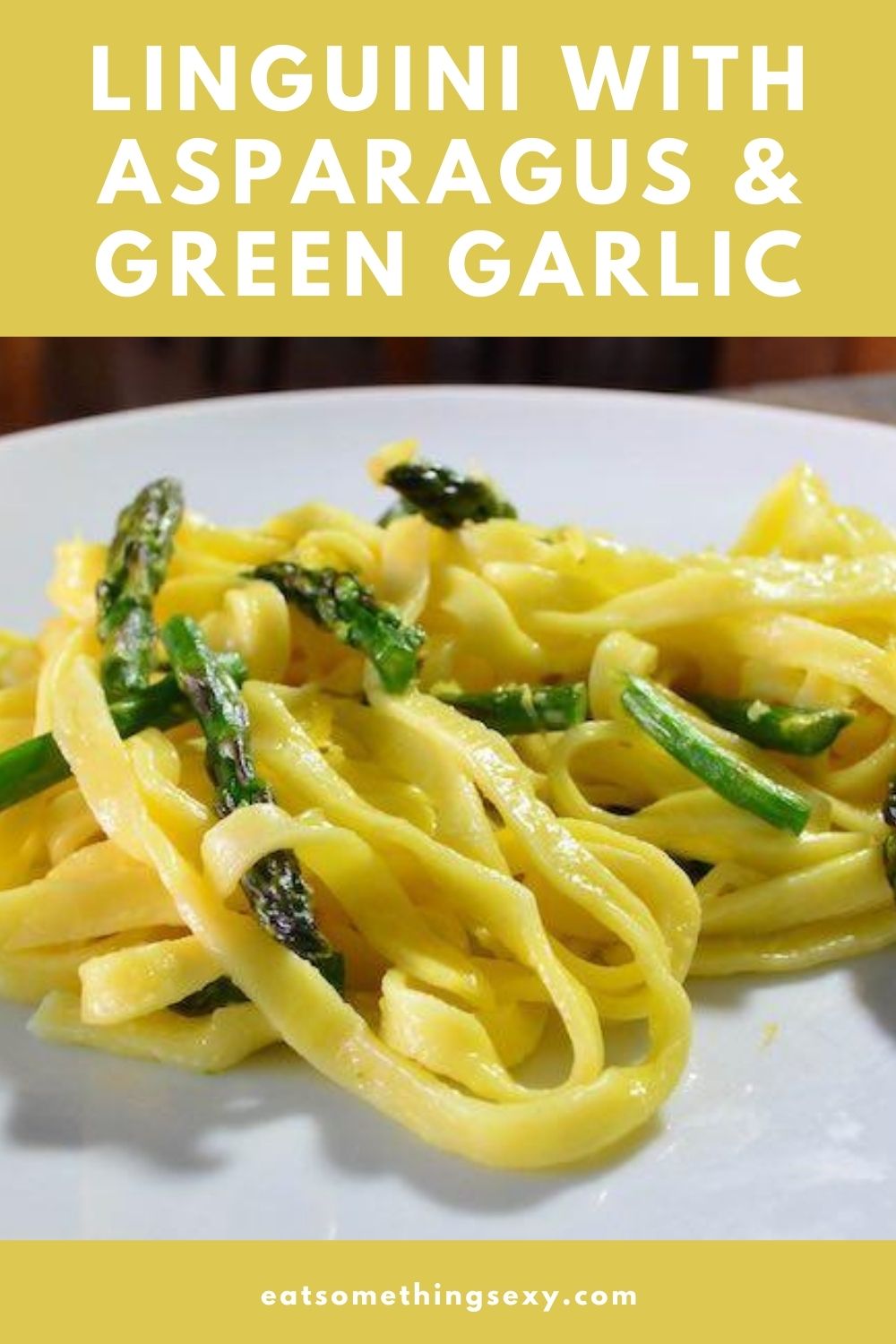 FREE APHRODISIAC NEWSLETTER
Subscribe to our free aphrodisiac newsletter