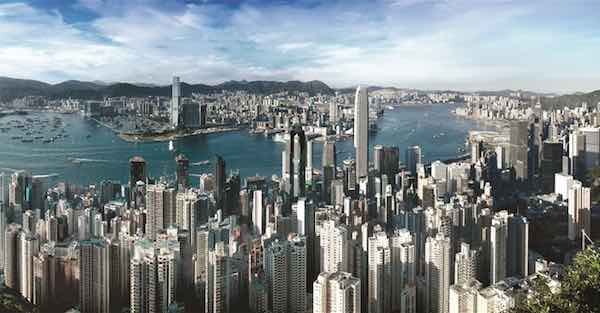 Central Hong Kong – the non-stop metropolis
Cross the Tsing Ma Bridge en route from the Chek Lap Kok International Airport into Central Hong Kong and you'll feel energy buzzing beneath the city's skyline. Hong Kong has been compared to "Manhattan on speed." Experiencing all this non-stop metropolis has to offer and your adrenalin is sure to get pumping.
Stay at the Ritz-Carlton Hong Kong,http://www.ritzcarlton.com/en/Properties/HongKong/Default.htm, quietly tucked away in the financial district known as the "Golden Circle."
The 216-room hotel overlooks Victoria Harbour and has a heated outdoor swimming pool and hot tub. At the hotel's ground floor entrance, veritably hidden from sight, visitors are greeted by the guest relations team for a personalized check in.
Call ahead to have a butler-drawn bath ready. Perfect for alleviating jet lag is The Gentleman's Bath, one of eight on the bath menu. While soaking in vetyver and lemon aromatherapy oils, relax with a fine cigar, glass of cognac and lobster canapés.
Later, order room service, or visit the 24th-floor Club Lounge, available to guests staying on the top three floors of the hotel and accessible only by a special elevator key. Partake in any of the five food presentations provided throughout the day and settle back in a plush lounge chair next to a window overlooking Chater Garden and under the omni-presence of nearby Victoria Peak.
If a more serious meal is in order, visit one of the hotel's six restaurants. Top pick for late night fare – Shanghai Shanghai. Here you can partake in Shanghai dishes over a live jazz performance. Cap off the evening in the Chater Lounge with a Cohiba "Esplendidos" and a glass 30-year-old MacallanÆ single malt scotch whisky.
Pop into The Café in the morning for the breakfast buffet or a traditional Chinese breakfast of rice congee with pork, beef or chicken with assorted dim sum before hitting the sidewalks to explore the city.
FASHION & SHOPPING
Making the most of shopping in Hong Kong could mean having someone else do it for you. The Ritz-Carlton Hotel accommodates with their complimentary Personal Shopper Service. A Personal Shopper can track down what's on your list, or travel with you to haggle over prices and lend expertise for making purchases such as antiques, jade or pearls. For errands outside of the Central and Admiralty areas a minimal hourly fee plus traveling expenses will be charged.
If you prefer scouring shops on your own, a bevy are within walking distance of the hotel. Fans of high fashion should make their way directly to The Landmark, located next to Statue Square. The mall-like structure is filled top to bottom with designer boutiques with the likes of Armani, Gucci, Prada and Louis Vuitton. A few blocks away in the Pedder Building is the multi-level Shanghai Tang. At the back of the store you'll see photographs of myriad celebs who get their goods — everything from exquisitely designed cufflinks to silk pajamas and pillows in eye-popping colors — from this trendy store.
If you haven't found what your heart desires, consider paying a visit to a local tailor. On the ground floor of the Ritz-Carlton, Hong Kong is Jims Tailor that will copy a design of your choosing and have a suit made for you within days for around HK$3000, approximately US$390. For leather goods, head next door to Mayer Shoes at the Mandarin Oriental, Hong Kong Hotel, where you can have the shoes, wallets and briefcases that mimic styles of your favorite designers' custom-made.
If antiques or interior design elements make your shopping list, Hollywood Road is the spot for you. Ceramics, ivory carvings, snuff bottles, Mah Jong tiles and swords can be found in out of the way antique shops. Meander through side streets and get lost, taking in everyday Hong Kong with its herb stores, butchers and vegetable carts. If you get caught in a rainstorm pop into a local drugstore and rent an umbrella, or while away the time in a local pub.
Bargain hunters should visit Stanley Market on the southern coast of Hong Kong. This open-air market offers a bounty of loot with everything from obscenely illustrated neckties to fine linens. For a glimpse at Colonial Hong Kong, spend some time wandering the streets of Stanley in this area that was once a fort during World War II. If you're lucky, you'll happen upon a parade with intricately decorated dragons dancing down the town's byways.
At the junction of Kansu and Battery Streets in Yau Ma Tei, Kowloon is the Jade Market. Outside the entrance groups of men sit embroiled in matches of Chinese Chess. Inside is a world of colorful stalls teeming with multi-colored jade, glass chili peppers for luck, strings of pearls and finely crafted jewelry. Consider bringing an expert to get the best quality jade for the best price. Come early for deals, as many vendors leave by afternoon.
Even if shopping isn't your scene, the Temple Night Market is worth catching. Open nightly from seven to 11, this Kowloon-based market is a wealth of atmosphere, if not bargains. Haggle over knock-offs, sample Chinese street food, have your fortune told and take in street performances. This place is all about ambiance.
SIGHTSEEING

Surrounded by high-rises and woodlands is Aberdeen Harbour. Sampans at the dock will give you a tour of the Harbour, where several floating restaurants make their homes. Also calling Aberdeen home are fishermen and their families. As you wind your way amongst houseboats, a family dog checking out who's on the water that day will likely greet you. Water lovers should also make their way to Repulse Bay where they can hang beachside, or lunch at the highly acclaimed The Verandah.
Head up to Victoria Peak, a mountain that offers prime views of the city and Victoria Harbour. Drive through the area's prestigious neighborhoods on your way to Peak Tower, or take the funicular tram that's been transporting visitors since 1888. Peak Tower is an odd anvil-shaped building that houses numerous shops. You'll want to stay outside and soak in the panorama, though. Grab a cup of joe at the Pacific Coffee Company and stand amongst the clouds overlooking Hong Kong's skyline. You'll see how Hong Kong utilizes the rules of Feng Shui in its architecture. Hike the Peak's trails, then stop on your way out to whip off a quick postcard via the mobile post office making its daily stop.
Visit a local temple to see where practitioners of three major religions – Taoism, Buddhism and Confucianism – come to worship. Throngs of passionate protesters bearing pamphlets of various causes stand outside. Inside a sense of peace prevails as offerings of incense are made and prayers spoken. To have your fortune told, head to a booth where you'll be given a can of sticks. Kneel before the altar and shake the can until a stick erupts. Upon returning your sticks, you'll be given a number and sent to a fortune teller's stall. There you'll hear what your future holds.
Spa fans will find heaven at the Grand Hyatt Hong Kong's Plateau, http://www.hongkong.grand.hyatt.com. Up on the 11th floor, sweeping views of Victoria Harbour await from your balcony. Yes, this is no typical spa where you have to make a locker room your home away from home. The 80,000 square foot residential spa has 12 guestrooms and two suites where visitors can stay overnight and in which they receive a series of spa treatments throughout the day. One to consider, "Rebalance." The package includes treatments such as the Salt and Pepper Scrub and Plateau Massage coupled with cocktails in the courtyard. Once your engine's running, take a dip in Plateau's 50-meter outdoor pool or a take a run around the 400-meter running track.
Other sites that should make your itinerary – the Big Buddha and Po Lin Monastery, the Heritage Museum and Hong Kong's outlying islands such as Lantau Island, Cheung Chau or Lamma Island, famous for its seafood restaurants.
DINING & NIGHTLIFE
Kick off your evening in the Kowloon area of Hong Kong with a unique dining experience, The Peninsula's "Fly & Dine" program, http://hongkong.peninsula.com/. A twin-engine Aerospatiale Squirrel helicopter takes you on a 15-minute flight above the city, along the coastline and outlying islands of Hong Kong. Back at The Peninsula, six dining options are available to guests. Get a taste of several of The Peninsula's dining establishments' menus by partaking in The Peninsula Academy Culinary Journey which starts with cocktails and canapés at The Bar, proceeds to a six-course Chinese dinner at Spring Moon or a three-course dinner in Gaddi's, followed by dessert and coffee in Felix.
Felix is not only a hot spot for dessert, it is also the perfect venue for transitioning to party mode. Located on the 28th floor, the restaurant houses a Wine Bar, American Bar, glass-floored The Balcony Bar and The Crazy Box, a discotheque. Hang at the legendary Long Table, which transforms from dining table to runway for fashion events. Gentlemen, do not miss the men's room – a Hong Kong highlight – where floor to ceiling windows in the urinals offer views of Victoria Harbour.
Another way to make the most of the night is traversing from Central Hong Kong to Kowloon via a Star Ferry, http://www.starferry.com.hk. Famous since their first journey since 1888, these 12 ferries are each named after a specific star. Disembark and head over to the Intercontinental's Lobby Lounge to secure a seat for Hong Kong's nightly Symphony of Lights. Between 8 and 8:18 p.m. watch the stunning display of lights and lasers play across the city's skyscrapers while sipping on a "Nine Dragons" cocktail.
With the night in gear, visit local nightclubs in the Hong Kong's Soho district. Two where you can mingle with models and celebs – Dragon's Eye and Volar. As you hit the dance floor, you'll feel it. You've become a part of that special energy that makes up Hong Kong.
FREE APHRODISIAC NEWSLETTER
Subscribe to our free aphrodisiac newsletter