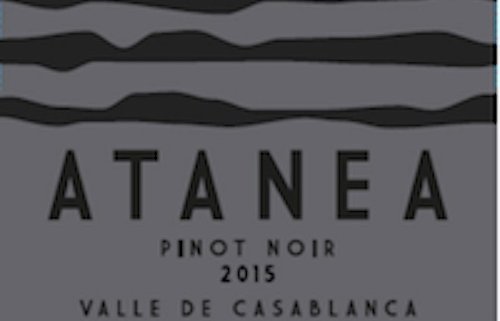 Atanea Pinot Noir: a natural wine from Valle de Casablanca
Our articles may contain affiliate links. For more information, view our policies.
Atanea Pinot Noir is a natural wine. But, what does that mean? Wine is, by definition, fermented fruit juice. We expect freshly pressed fruit to be as natural as it gets. And, the fermentation process is so natural that it will happen without any outside intervention. (If conditions are correct.) However, contemporary viticulture, winemaking, and flavor science have tampered with that natural process quite a bit. Sometimes more than the average consumer may ever know.
According to Master of Wine, Isabelle Legeron, via her website Raw Wine, natural wine is "farmed organically, and made without adding or removing anything in the cellar. No additives or processing aids are used, and 'intervention' in the naturally occurring fermentation process is kept to a minimum. As such neither fining nor (tight) filtration are used. The result is a living wine – wholesome and full of naturally occurring microbiology."
Thanks to enthusiastic wine professionals like Legeron and a number of "maverick" winemakers around the world, wine lovers are becoming more aware of winemaking practices and choosing accordingly.
About this wine
Atanea Pinot Noir comes from a small organic vineyard in the Casablanca Valley in Chile; 80% comes from the coolest part of the region. The remaining 20% comes from a location that is greatly influenced by ocean breezes. These influences create an idyllic environment for the often-fussy grape to thrive. The fruit is hand-picked and sorted twice before pressing. Atanea Pinot Noir is fermented from indigenous yeasts present on the fruit and in the winery. The wine is aged in stainless steel for 10 months before bottling. And, of course, it is unfiltered and unfined.
In the glass, Atanea Pinot Noir is translucent garnet color with pleasant barnyard aromas. Think lanolin and hay, as well as bright red fruits. On the palate, earthy tart cranberry and pomegranate are highlighted with flecks of fresh raspberry and tart cherry. These are balanced with aromas of black tea, spicy black pepper, and foresty notes. The wine is medium bodied with a clean finish.
As far as food pairing goes, I served Atanea Pinot Noir with a springtime farmers' market bounty cooked on the grill. For my feast I made lamb chops with oil-cured black olive pesto, artichokes, baby potatoes with rosemary and roasted garlic. And I would also recommend adding this celery-olive salad, although I didn't have the ingredients on hand. But the wine held its own with the classics and the classically challenging components of my meal. And I genuinely appreciated the minerally earthy berries refreshing the palate at each sip.
The verdict
Everything about this wine speaks to me. I am drawn to it for being natural and organic. And I am a big fan of Chilean Pinots. And, I really appreciate that this well-crafted, delicious, satisfying wine is well within my weekday budget at just under $20/bottle. It's a rare price for a good Pinot Noir. Atanea Pinot Noir – it's a natural!
Check out more of my Wine of the Week reviews.
Ready to try Atanea Pinot Noir? Find a retailer near you on Wine-Searcher.
Latest posts by Annette Tomei
(see all)
Get on our mailing list
Subscribe and get our exclusive list of Six Great Sex-Boosting Snack Foods for FREE! Unsubscribe at any time - privacy policy