Warming Tomatillo and Pork Stew Recipe
Our articles may contain affiliate links. For more information, view our policies.
Comfort food for a romantic dinner
Comfort food may not seem like the sexiest choice for a romantic meal. But this warming pork stew proves that you can have a romantic meal of simple peasant food–and it can be fast and easy, too! Instead of a pork stew meat, I use already prepared carnitas for the meat of this stew to help cut down on the prep time and cleanup. It means that you can have a rich and complexly flavored stew with pork on the table in less than an hour–which leaves the rest of the night free for other pleasures.
If you're wondering whether you can cook this pork stew recipe in a slow cooker, you can. (Check out my favorite slow cooker.) But it isn't necessary to make this a crock pot stew, since you can cook it on the stovetop in less than an hour.
TO TRY: Love stews? Try my Hot Sausage Stew with Red Wine.
What is tomatillo?
What makes this easy pork stew so sexy is not only the layers of spice but the addition of tomatillo. You may not be familiar with cooking with this Mexican fruit. They may remind you of green, unripe tomatoes, (which are also fruit). Their flavor could also be compared with tomato, but a more acidic, slightly vegetal version.
RELATED: Why you should eat a variety of fruits and vegetables. 
Cooking with tomatillo
If you've never used tomatillo before, all you really need to know is to remove the papery husks, then wash the fruit well before using. I think you'll enjoy  discovering how well this slightly tart fruit works in this warming stew recipe. You might even be inspired to try it in other soup recipes.
A tomatillo and pork stew
Of course, tomatillo isn't a traditional aphrodisiac but what it does to the dish is pure sensory magic. The sweet and sour flavors of the tomatillo mingled with the fatty pork and earthy sweetness of the sweet potato–and don't forget the aphrodisiacs of garlic and oregano–brings the taste buds to life, appreciating the unusual and exciting sensation.
Because the pork is so rich, I held back on the meat, adding equal parts vegetable, to give this tomatillo pork stew an energizing balance. Scooped over rice, this stew will warm you from the inside out. Prepare yourself for a burning desire to get naked!
RELATED:  Be sure to check out our whole collection of warming soup recipes.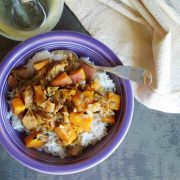 Warming Tomatillo and Pork Stew with Sweet Potatoes and Spice
Print Recipe
This pork stew will warm your body from the inside out with its complex layers flavor and texture. From the sweet and sour flavor of tomatillo to the richness of pork carnitas, it's a satisfying dish that can go from raw ingredients to the table in an hour or less. 
Ingredients
8

oz

tomatillos

husks removed

1

tbsp

cooking oil

such as canola or avocado oil

1

medium yellow onion

chopped

1

cloves

garlic

finely chopped

1/2

tsp

dried oregano

1

tsp

ground cumin

1

tbsp

apple cider vinegar

2

cups

chicken stock

plus more as needed

1

lb

prepared pork carnitas

shredded to bite-sized pieces

1

sweet potato

approx. 12-14 oz, chopped into 1/2-inch pieces (bite size)

salt and freshly ground black pepper

cooked white rice or thick flour tortillas for serving
Instructions
Broil the whole tomatillos on a sheet pan for 10 minutes, flipping once.

Allow the tomatillo to cool for 5 minutes before chopping. Set aside.

Heat the cooking oil over medium-high heat. Add the onions and sauté until they become translucent, about 5-6 minutes.

Add the garlic, cumin and oregano and sauté for an additional minute.

Turn the heat to high and add the cider vinegar to deglaze the pan, scraping any brown bits of onion or garlic from the bottom of the pan.

Pour in the chicken stock and add the tomatillos, pork and sweet potato chunks. Bring to a boil and reduce heat to a simmer, cover and continue to cook for 30-40 minutes, until the potatoes are tender. Season with salt and pepper to taste. 

Serve over warm, white rice or tortillas.
Pin this Tomatillo and Pork Stew recipe:
FREE APHRODISIAC NEWSLETTER
Subscribe to our free aphrodisiac newsletter