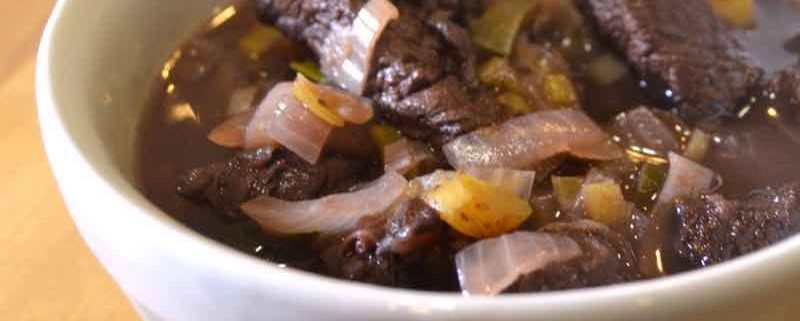 Healthy Bison Bourguignon Recipe
Our articles may contain affiliate links. For more information, view our policies.
Let's be clear about one thing form the start, my Bourguignon recipe is nothing like a classic, French Boeuf Bourguignon. Although this weeknight stew recipe is anything but traditional–bison and celery in Bourguignon (gasp! )–I love it. This Bison Bourguignon recipe is my winter, healthy version of comfort food. And any wine lover will appreciate it. (As will anyone who loves a one-pot meal.)
Cooking bison
My version of Boeuf Bourguignon replaces the boeuf with the aphrodisiac and high-quality protein of wild game, in this case, bison.
Although bison, sometimes called buffalo, can be tricky to cook, I love using it as a substitute in beef recipes. It has far less fat and more protein than beef, which is largely why it's considered aphrodisiac…And then, of course, there's the fact that it has wild in the name…Now, here's the best part to this recipe. Because you're stewing the meat, you don't have to worry about the bison getting tough, which is always a danger when you're grilling or searing.
RELATED: Want to try your hand at grilling bison steaks? We've got a great recipe for you!
A veggie-rich bison stew
In addition to trading in beef for buffalo stew meat, my version of Bourguignon calls for more vegetables that the classic. I love the depth of flavor the leeks and thyme, along with the onions, give the broth. And since they're all aphrodisiacs, I figure a healthy dose is a welcome addition to this weeknight romantic dinner.
I also layer in the aphrodisiacs of carrots and celery so there's no need for a vegetable on the side. The whole, seductive meal cooks in one pot because sometimes simplicity is bliss. Incidentally, not only is wild game historically aphrodisiac but bison even makes my list of the 10 Best Foods for a man's libido.
A note on stock for this bison stew with red wine
This recipe calls for beef stock. (At one cup, my recipe uses a fairly scant amount of stock.) However, if it's important to you to keep the wild game theme going, you can easily make your own bison stock. It would be great as a base for a soup like beef and barley as well as this stew recipe. I don't provide my own bison stock recipe on this site, but you can find a recipe on Honest Bison website.
Bison Bourguignon serving suggestions
Although the recipe makes four servings, I love using this weeknight stew recipe as a dinner for two with leftovers for lunch the next day. But the recipe also works well to satisfy a family of four.
Some tips on cooking with wine
I mentioned that this is a dish for wine lovers. Anyone who cooks regularly with wine understands the acidity and depth of flavor it brings to a dish. Cooking with wine can create incredibly seductive dishes. (If you need some additional tips on using wine in cooking, I recommend this article from Decanter.)
Now, Bourguignon is traditionally made with red Burgundy, or in the U.S., an American sPinot Noir. My easy weeknight stew recipe doesn't insist on the traditional, French wine. After all, there's very little tradition in my dish.
TO TRY: Hot Sausage Stew with Red Wine
But it is important that you use a dry, red wine of a quality you would be willing to drink. It doesn't need to be a $30 bottle of Pinot Noir but it needs to be something you would be willing to drink, such as a $10 Grenache. (Just make sure the wine is still good. Not something that's been open too long or a bottle that's corked.) And please do not use anything labeled, "cooking wine."
Check out all of our soup and stew recipes
Bison Bourguignon
Print Recipe
Comfort food gets a modern (and healthy) twist with the use of bison in place of beef. 
Ingredients
1

tbsp

grape seed oil

1-1 1/4

lb

bison stew meat

salt and black pepper

4

medium carrots

cut into ¼-inch rounds

2

leeks

1

medium onion

roughly chopped

2

celery ribs

cut into ¼-inch slices

1

cup

beef stock

2

cup

Burgundy or other dry red wine

4

sprigs thyme

1

tbsp

buerre manie*
Instructions
Carefully wash the leeks and halve lengthwise. Cut the white of the leek into ¼-inch half rounds. Save the dark green parts to make a delicious vegetable stock.

Heat the grape seed oil in a Dutch oven.

While the oil is heating, season the bison cubes with salt and pepper.

Add the bison to the Dutch oven and brown for 2-3 minutes on one side, then flip to brown on the other side, adding the carrots, leeks, onion and celery.

Continue to brown the meat for an additional 3 minutes.

Pour in the stock and wine and add the whole thyme sprigs.

Bring to a simmer and simmer, covered for 2-2 1/2 hours.

Just before serving, remove the thyme sprigs and gently stir in the buerre manie.

Allow it to simmer for about a minute to thicken before removing from heat and serving.
Pin this Bison Bourguignon recipe:
Latest posts by Amy Reiley
(see all)
Get on our mailing list
Subscribe and get our exclusive list of Six Great Sex-Boosting Snack Foods for FREE! Unsubscribe at any time.