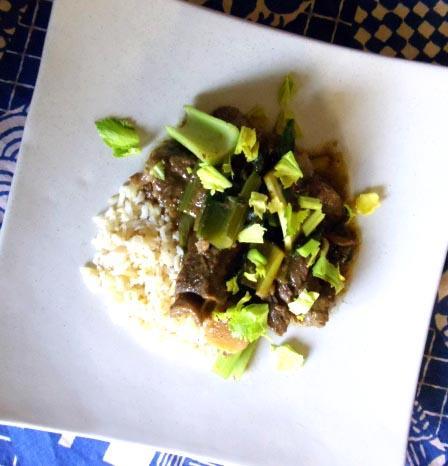 Korean Beef Stew with Soy Braised Bok Choy & Celery
Our articles may contain affiliate links. For more information, view our policies.
This Korean Beef Stew is healthy comfort food
I was thrilled to share this Korean Beef Stew from my website and business, The Family Farm Box because, although I created it as an easy, family meal, it's actually a well-balanced dish loaded with aphrodisiac ingredients.
This stew is my answer to an easy, weeknight meal that satisfies meat lovers but also delivers a healthy dose of vegetables, (as well as some exotic–and aphrodisiac–spices). It definitely works as a family meal but it also can be used for a simple, romantic dinner for two. The versatility of this dish is what I love the most and I'm thrilled that I can share it with you.
Although, unlike my Diva Dish recipes, which I mainly make for two, I made this recipe to serve 6, I think you'll appreciate how much two people will enjoy it. You see, you don't have to eat all 6 servings at one go.
This is one of those recipes that works fantastically as leftovers. Pack it in your lover's lunch with a romantic note. Or serve it for dinner a couple of nights later and let the memories wash over you. This is one of those recipes for which leftovers can become the best part.
TRY NEXT: Asian Peanut Pasta with Chicken
Why is this beef stew aphrodisiac?
As for how, exactly, a simple variation on Korean beef stew can become a prelude to amorous events, well, just look at the ingredients! True, the main ingredient, beef, is not an aphrodisiac but the way it's seasoned? Garlic, Jalapeno and ginger are all notorious aphrodisiacs.
Learn more in our Dictionary of Aphrodisiac Foods. But that's not all. There's also wine and you can even find some evidence of sesame's use as an aphrodisiac. Most surprising of all? Celery! Did you know that celery's scent replicates that of a male pheromone, a scent that attracts the opposite sex? Learn more.
Chef's tip for creating the most flavorful stew
Be sure not to skimp on the sesame oil to finish this Korean Beef Stew. The nutty richness it brings to the dish is a perfect finishing touch.
korean beef stew with soy braised bok choy and celery
Print Recipe
This beef stew recipe offers comfort flavors but it's loaded with good for you veggies.
Ingredients
1

tbsp

vegetable oil

3

lbs

boneless short ribs

cut into 3-inch pieces

salt and freshly ground pepper

2

medium onions

quartered through the core

6

large garlic cloves

coarsely chopped

2

in

large jalapeños—halved

seeded and sliced 1/2thick

1-

in

section of ginger

skin removed and cut into 6 rounds

1/4

cup

soy sauce

plus a splash for braising the vegetables

1/4

cup

organic sugar

1/4

cup

dry white wine

1

quart

beef stock or low-sodium broth

4

baby bok choy bunches

cored and cut into bite-sized pieces

1

leaves

bunch of celery

trimmed, celeryretained, stalks cut into 1-inch sections

1

tbsp

cornstarch

steamed brown rice

toasted sesame oil for serving
Instructions
In an 8-quart Dutch oven, heat the oil. Season the meat with salt and pepper and sear the pieces over moderately high heat until richly browned all over, working in batches. Remove the meat from the Dutch oven and pour out most of the fat, leaving only a tablespoon in the pot. Add the onion, garlic, jalapenos and ginger, and sauté until the vegetables soften. Add the soy sauce, sugar, wine and stock and stir. Bring the liquid to a boil and add the meat back into the pot. Reduce to a simmer and place the lid on the Dutch oven. Cook for 2 hours, until the meat is very tender and pulls apart with a fork. Cool and place in the refrigerator for 24 hours.

Remove the meat from the refrigerator and skim the chilled fat off of the top. Heat over low heat until warmed through. In a large skillet, heat enough vegetable oil to coat the bottom of the pan, then add the celery and bok choy. Sear the vegetables very quickly, about 2 minutes, until they are a vibrant green, then pour a dash of soy sauce over them. Cook until the soy sauce has coated the vegetables, and then add them into the beef stew. Put the cornstarch in a bowl and whisk in a 1/2 cup of cooking liquid, then whisk it into the stew, cover and let simmer for 2 minutes.

Spoon steamed rice into bowls. Ladle the stew over and around the rice. Top with the reserved celery leaves and a drizzle of sesame oil.
Pin this Korean Beef Stew Recipe:
Latest posts by Diane Brown
(see all)
Get on our mailing list
Subscribe and get our exclusive list of Six Great Sex-Boosting Snack Foods for FREE! Unsubscribe at any time - privacy policy