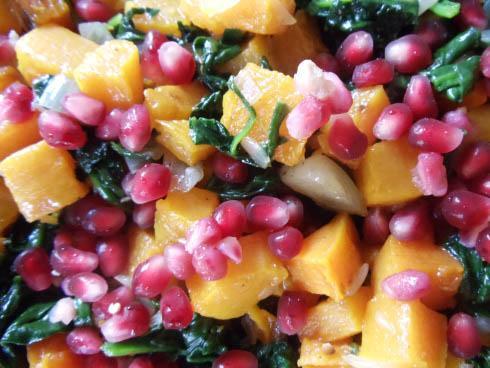 Stuffed Acorn Squash with Spinach, Apple & Pomegranate
A stuffed acorn squash showcases farm-fresh, fall produce
Besides writing our romantic menus column, Diane Brown creates recipes for seasonal produce deliveries at Family Farm Box. And this is one of her most popular farm box recommendations. This recipe for a stuffed acorn squash is filled with her favorite fall produce. And of course, as the author of an aphrodisiac cookbook, Diane's favorite fall produce includes aphrodisiacs like apples and pomegranate. (Scroll to the bottom to learn more about Diane's book.)
I love this dish for it's simplicity. And I love it for it's true, fall flavors. Here, the flavors of the season aren't masked. The creamy, sweet acorn squash and the slight crunch of sweet, Fuji apples play against the slightly bitter, tannic notes of spinach. The garnish of pomegranate not only adds a slash of color but a popping texture and distinctive tang.
Stuffed acorn squash as a main dish or a sensational side
Diane's stuffed acorn squash can be served as a vegan main course. But, because it's a slightly sweet and produce-rich dish, I recommend it as a healthy side to proteins. Think roast turkey or chicken. But it also works with seared white fish, pork chops or a loin of lamb.
Chef's tip
To maximize the flavor of your seasonal, vegetable-based dishes like this stuffed acorn squash, Diane recommends organic produce. Buy it fresh from the farm whenever possible. There is a remarkable difference in flavor when you buy fresh produce. You may think your guests won't notice the difference but this simple step can really make a dish sing. (And let's not forget, it's also good for your community and good for the planet.)
To get more of Diane's tips on cooking with farm-fresh, seasonal ingredients, check out Family Farm Box.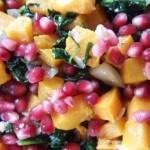 Stuffed Acorn Squash with Spinach, Fuji Apples and Pomegranates
This recipe uses peak-of-season fall produce to make a vegetarian dinner with complex flavors and aphrodisiac ingredients.
Cooking Style:
vegan, Vegetarian
Diet and Health:
gluten-free, Healthy, low fat
Seasonal:
autumn, Halloween, Thanksgiving
Ingredient:
acorn squash, pomegranate
Ingredients
4

acorn squash

cut into quarters, seeds removed

olive oil

salt & pepper

2

shallots

diced

2

large Fuji apples

cores removed, diced

1

cups

bunch spinach

thoroughly washed, about 4packed

1

tsp

grated nutmeg

1/4

cup

pomegranate arils (kernels)
Instructions
Heat oven to 375.

Place acorn squash on a baking sheet and season generously with olive oil, salt and pepper.

Roast in oven for 30 to 40 minutes, until tender to the probing of a fork.

Remove from oven.

While squash is roasting, heat a large skillet and drizzle with olive oil.

Cook shallots, stirring occasionally, until translucent, then add apples and cook until browned and juicy.

Add spinach to the pan and cook until wilted.

Season with salt, pepper and nutmeg.

Distribute the spinach mixture on top of the squash and return to oven until the squash and spinach are heated through.

Sprinkle pomegranate seeds on top and serve.
Pin this recipe for Stuffed Acorn Squash with Spinach, Fuji Apple & Pomegranate:
If you like this recipe, check out Diane's cookbook, The Seduction Cookbook
FREE APHRODISIAC NEWSLETTER
Subscribe to our free aphrodisiac newsletter