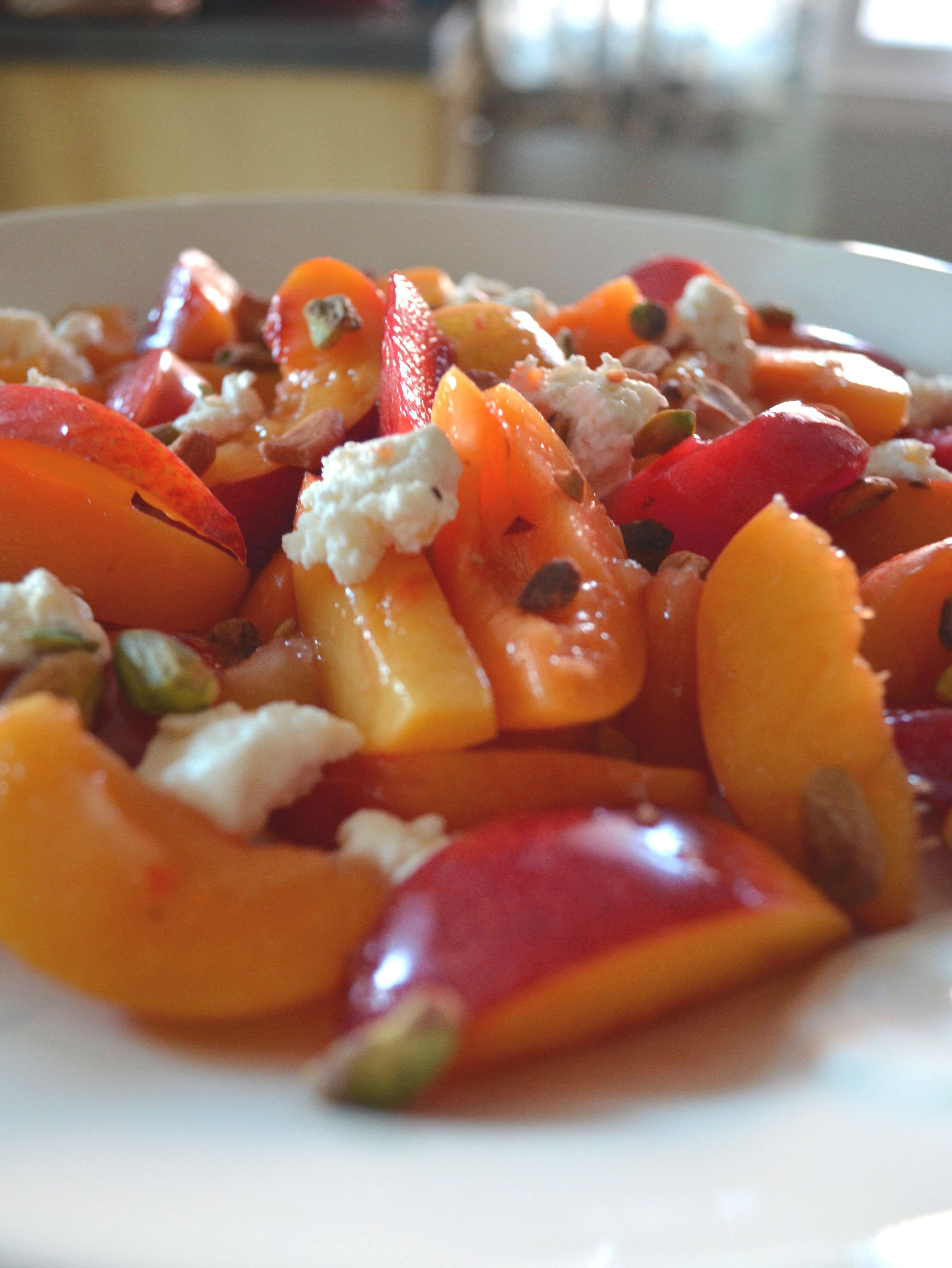 Recipe for Stone Fruit Salad with Pistachios and Chevre
Our articles may contain affiliate links. For more information, view our policies.
A stone fruit salad bursting with color
A festival of color, flavor, texture (and aphrodisiacs), this stone fruit salad recipe celebrates all that is good about summer. Just a hint of fennel in the dressing adds an underlying note of anise. The flavor of fennel is incredibly subtle. However I think this herbal note takes the recipe to a new level of complexity.
Of course, using a hint of fennel in the dressing does require that you have either fennel growing in your yard–and it does grow like a weed–or a stray bulb hanging around waiting to be cooked. But of you don't happen to have a green thumb when it comes to edible bulbs,  don't be afraid to go out and pick up some fennel. Here's a great recipe for using the crunchy flesh once you've used the fronds for this one.
Have you tried fennel?
Now, after that poetic preamble, my next statement might surprise you. If you don't really like fennel, you can skip it. But if you've never actually tried fennel fronds, don't you dare skip this experience! Among other things, fennel is considered to be a potent aphrodisiac. So this stone fruit recipe makes the perfect excuse for you to get to know the flavor of this uniquely romantic vegetable.
Fennel or no fennel, that's up to you. But whatever you do, don't skimp on the pistachios. The crunch of roasted nuts adds a layer of sensuality that should not be missed.
On stone fruit substitutions
One other note, this time on the fruit. It is essential that you use perfectly ripe fruit for this stone fruit salad. And fruit that is in season. If you're reading this recipe after apricot season has passed, it's ok to substitute with additional nectarine or peeled peach. Just don't serve the peaches skin-on. The sensation of the fuzz distracts from the salad's other fine textures, including the crunch of the salty nuts, the silky sensation of the goat's cheese and the burst of sweet juice from the fruits.
Stone Fruit Salad with Pistachios and Chevre
Print Recipe
An easy idea for summer, it's great for entertaining or just enjoying on warm summer night by yourself, in front of the tv. 
Ingredients
2

tsp

grape seed oil

1

tsp

balsamic vinegar

pinch salt

2

ripe apricots

2

ripe yellow nectarines

1

tbsp

fennel fronds

roughly chopped

1

tbsp

salted pistachios

roughly chopped

2

oz

chevre

crumbled
Instructions
Whisk together the oil, balsamic vinegar and salt. Set aside.

Pit and slice the apricots and nectarines into 1/2 –inch slices.

Toss the stone fruits and fennel fronds with the dressing.

Divide the fruit mixture between two plates and top with the crumbled chevre and pistachios.

Serve immediately.
FREE APHRODISIAC NEWSLETTER
Subscribe to our free aphrodisiac newsletter