Do You Drink Vermouth Straight? You Can with this Drink!
Our articles may contain affiliate links. For more information, view our policies.
Maybe you are most familiar with vermouth as the often-maligned but necessary ingredient in a martini, manhattan or negroni – one that you would no sooner pour a solitary glass of than the angostura bitters that are often overlooked as well. Drink vermouth straight? Not you!
Or maybe you are much more in touch with your inner-hipster and have a great collection of obscure hand-crafted vermouths on your well-curated bar cart.
Either way, I'd like to introduce you to my latest nightcap. This sweet vermouth will show you what a pleasure it can to drink vermouth by itself.
What is vermouth?
Vermouth is an aromatized wine that was first created in Italy in the 16th century as a medicine. Aromatized wines are infused with botanicals (herbs, roots, barks, fruit, etc.) that influence taste as well as aroma, often adding a bitter or astringent component. Sugar (in the form or syrup or grape must) is often added, as well as alcohol, qualifying vermouth as a fortified wine as well.
Today, Vermouth is made around the world. But the top brands still come from Italy, but also from France and Spain.
There are also several craft-style producers in the US that are worth looking into. Each producer has their own secret recipe that yields a house style that is replicated continuously. There is little to no regulation of vermouth production, so the reputation for quality is everything.
RELATED: More spirits feature stories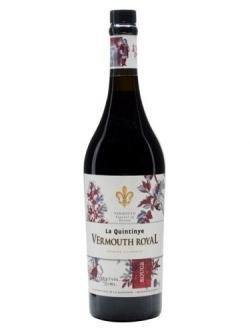 NV La Quintinye Vermouth Royal Rouge, France
La Quintinye is a relatively new producer from southwest France, founded in 2013. It was named after Jean Baptiste de La Quintinye, the royal botanist for Louis XIV at Versailles. One of the things that makes this vermouth unique is that it is made from the grape Pineau des Charentes, the same used in making Cognac. In fact, this vermouth is fortified with 25% Cognac.
The Vermouth Rouge is infused with 28 botanical components that include cardamom, cinnamon, bitter orange, quinine bark, and ginger. The base is a blend of white wines with the red Pineau des Charentes. The color is pale cola.
My vermouth review
Aromas of licorice, baking spices, and cola are most prevalent. On the palate, flavors of dried fruit, dark caramel, and candied bitter orange, with herbal bitterness on the finish. It is more bitter than most red "sweet" vermouths – like Italian amaro rather than vermouth. For me, that is a good thing.
How to drink this sweet vermouth
I've been drinking the red vermouth as an aperitif, as a digestif, and as a low alcohol cocktail on its own with seltzer and cardamom bitters. For those who shy from amaro and other bitter beverages, you may prefer to explore other vermouth options (there are some tasty ones out there).
La Quintinye Royal is available in red, white, and extra dry. At $14-18/750 ml bottle, it's quite worth it – especially since vermouth will keep open in the refrigerator for at least a few weeks, if not longer.
RELATED: Check out my favorite vermouth cocktail recipe
Latest posts by Annette Tomei
(see all)
Get on our mailing list
Subscribe and get our exclusive list of Six Great Sex-Boosting Snack Foods for FREE! Unsubscribe at any time.