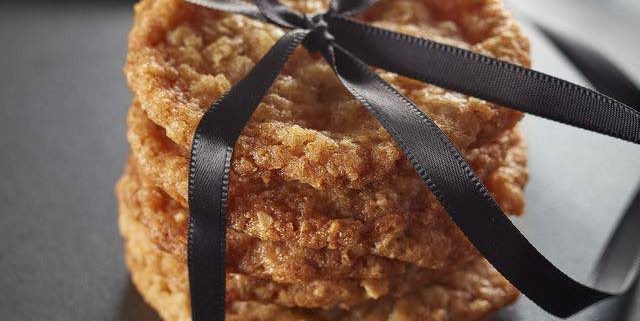 Dutch Crunchy Coconut Cookies Recipe (Biscuits Hollandais à la Noix de Coco)
Our articles may contain affiliate links. For more information, view our policies.
This recipe for Dutch Crunchy Coconut Cookies comes to us from cookbook author Micheline Mongrain-Dontigny. An expert on the cuisine and culinary traditions of Quebec, she translated this recipe from French, especially for our readers. The cookie recipe comes from her book Les Grands Classiques de la Cuisine d'Ici. 
RELATED: Love baking cookies? Check out all of our cookie recipes.
Are Dutch coconut crisp cookies related to Anzac cookies?
I wasn't familiar with this Dutch cookie when Micheline offered us the recipe. I was just enamored with the flavor. But a bite or two in, I realized I've tasted this cookie before, or at least something like it. These cookies are basically the Anzac biscuits I enjoyed when I lived in Australia, only minus the golden syrup.
Could this coconut crisp cookies recipe, given to me by a French Canadian chef as a Dutch recipe be a predecessor to the South Pacific Anzac biscuit recipe?
A Google search will bring at least a dozen theories on the origin of the Anzac, not to mention recipes. The recipes are all very similar to this one except that Micheline's recipe elevates the flavors with the use of brown sugar and egg.
But as for this cookie's origin, I can't find any definite answer. Nor can I find a link to the Dutch.
Australia's ABC News reports that a version of this crunchy rolled oat cookie existed since about 1823. And early versions of these coconut flake cookies do include eggs. But any more than that will have to remain a mystery, at least for now.
Why these crispy coconut cookies might be an aphrodisiac
Besides having an interesting historical link, these cookies have an interesting aphrodisiac link. I wouldn't go so far as to call them healthy coconut cookies, after all, they contain a generous dose of butter and sugar. But in so far as aphrodisiac ingredients go, these cookies bring quite a bit to the table.
I love that the cookies not only contain the tropical goodness of unsweetened coconut (which is an aphrodisiac) but they also have oatmeal which is one of my favorite aphrodisiac ingredients. (It's also on our list of the 10 best foods for men's libido, as is coconut.) It really puts Holiday cheer in a new light, doesn't it!
RELATED: Coconut is one of the 10 Best Foods for Men.
This cookie recipe is a winner both for its ingredients and its simplicity. For more on Micheline, the creator of these brilliantly simple coconut and oatmeal cookies, please visit her blog Cuisiner Avec Micheline.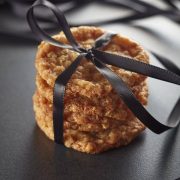 Dutch Crunchy Coconut Cookies
Print Recipe
These cookies offer the flavors of coconut and oatmeal with loads of crunch. 
Ingredients
1 ¼

c

unsalted butter at room temperature

1

c

sugar

1

c

brown sugar

1

large egg

1 ½

c

all purpose flour

1

c

quick cooking oatmeal

½

tsp

baking soda

1

tsp

baking powder

½

tso salt

1

c

dried unsweetened coconut
Instructions
Set oven rack at center position. Preheat oven at 375 F.

In a large bowl, cream butter. Add sugar and brown sugar and beat for 2 minutes. Add egg and beat until well blended.

In another bowl, mix flour, oatmeal, baking soda, baking powder, salt and coconut and stir in first mixture until there is no more trace of flour.

Drop the dough by heaping teaspoonfuls about 2 inches apart onto ungreased cookie sheet. Bake one sheet of 12 cookies at a time for 8 to 10 minutes. Cool 2 minutes, remove cookies from sheet with a thin spatula and cool completely on rack.

Store cookies in a metal box.
Latest posts by Amy Reiley
(see all)
Get on our mailing list
Subscribe and get our exclusive list of Six Great Sex-Boosting Snack Foods for FREE! Unsubscribe at any time.