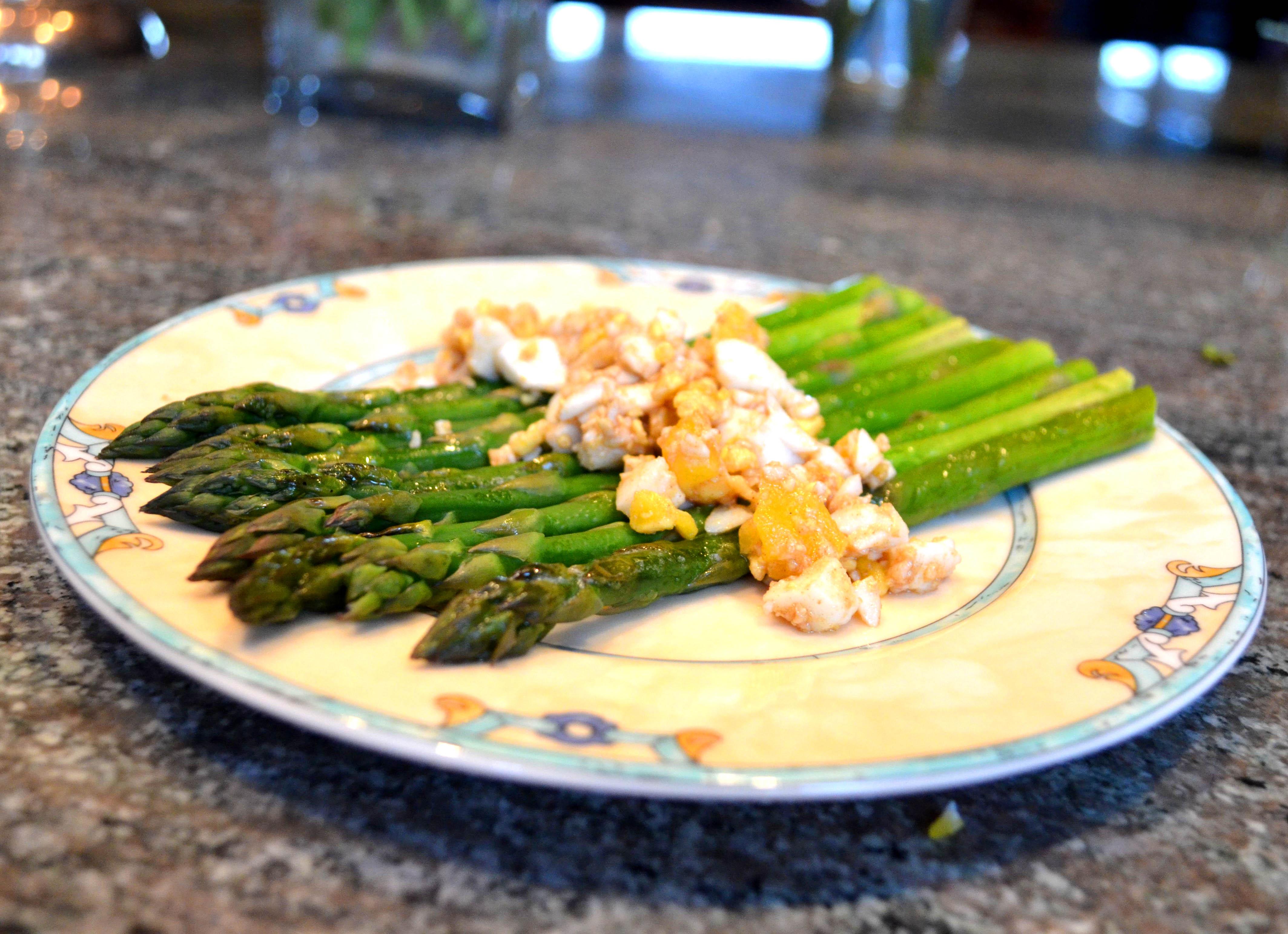 Easy Asparagus and Eggs with Brown Butter
Our articles may contain affiliate links. For more information, view our policies.
A vegetarian hard cooked egg recipe for spring
This simple recipe featuring asparagus and eggs is a guaranteed home run for a spring brunch, breakfast or even dinner. (And it's a great use for leftover hard boiled eggs.) The secret to making this harmonious blend of flavors with chopped, hard cooked eggs with asparagus is the sauce of brown butter.
TO TRY: Spinach & Parmesan Bread Pudding
What is brown butter?
Brown butter is one of those magical ingredients that enhances the taste of any dish, savory or sweet. Its flavor brings a unique, nutty depth that makes everyone want to lick the plate. Brown butter is simply butter that has been cooked to the point that its milk solids get toasted. The technique is a little tricky in that you have to watch it continuously. You only want to take the butter slightly past the melting point. Beware of letting it burn.
Don't be afraid to try it but you might want to have extra butter on hand the first time you make this brown butter sauce. That way, you can just start over if you let the butter get too brown. Making brown butter is a cooking skill worth mastering. It can be used for everything from making brown butter frosting to these brown butter eggs.
Once you've mastered this step in this tasty egg and asparagus recipe, you will not believe what a sprinkling of hard cooked eggs and a bit of brown butter does to beautiful spring asparagus. The combination of oil, nutty butter, creamy egg yolk and herbaceous asparagus is unforgettable.
How to make hard cooked eggs in the oven
The traditional way to make hard cooked eggs is by submerging in water and cooking on the stovetop. (Although we call these eggs hard boiled, the correct name is hard cooked, since the eggs actually cook in the hot water once it's removed from the heat, not in boiling water.) But what if I told you there's an easier way to make hard cooked eggs?
You can produce hard cooked eggs in the oven. You can just put the raw eggs in their shells straight on the oven rack if you like, although I find it easier to transport the eggs in the cups of a muffin tin. Just preheat the oven to 325 degrees, then cook the eggs for 30 minutes. After the eggs have cooked, transfer them to an ice bath as you would with eggs cooked on the stovetop. It's really as simple as that!
If you like your hard boiled eggs with a soft center
For this asparagus with hard boiled eggs recipe, you will need your yolks to be cooked to firm, so you can chop them. However, you can also use this cooking method to make soft center hard cooked eggs. Just cook the eggs in the over for a shorter time, about 20-25 minutes.
Why this is asparagus and eggs recipe is a meal for romance
If you've ever read my list of the 10 Best Foods for Women's Sexual Health, then you know some of the reasons why I love eggs. But eggs aren't just for women. Eggs are international symbols of fertility and have been linked with romantic coupling since the beginning of recorded time.
RELATED: Egg Nutrition – aphrodisiac & health benefits
As for asparagus, my favorite spring vegetable also has links to romantic love – and sex, too, of course. Although the link between asparagus and sex was once thought to be because of the vegetable's phallic form, we now know that asparagus is a gift of nutrition to support sexual health. It delivers several nutrients that support your sex life including vitamin E, vitamin C, selenium, manganese and folate. So whether you serve it as a breakfast in bed or just an easy, Sunday night supper, this eggs and asparagus dish has some serious potential for sparking romance.
TO TRY: Asparagus & Ricotta Toast with Avocado Oil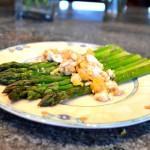 Hard Cooked Eggs in Brown Butter with Roasted Asparagus
Print Recipe
This is a great use for leftover hard cooked (or hard boiled) eggs. A simple, stress-free supper, it will leave you with plenty of time for more amorous pursuits.
Ingredients
2

hard boiled eggs*

12-16

stalks fresh asparagus

depending on thickness

1 1/2

tbsp

unsalted butter

quartered

salt

crusty whole grain bread
Instructions
For the asparagus:
Preheat the oven to 400 degrees F.

Snap the bottoms off the stalks of asparagus. Wash and pat dry.

Lay them in a single layer on a sheet pan and dot with butter. Season with salt. Roast for 10-15 minutes, until tender.
For the eggs:
Peel and roughly chop the eggs.

Make the brown butter: Melt the cubes of butter in a small saute pan over medium heat, stirring continuously. The butter will become foamy then begin to brown. When it turns dark amber and begins to smell nutty, add the eggs.

Turn heat to low and saute the eggs for 1-2 minutes until heated through.
To serve:
Divide the asparagus between 2 plates. (We recommend warming the plates to keep the dish hot.) Top with the eggs and drizzle with any remaining butter. Serve immediately with crusty, whole grain bread.
Notes
*For a no-stress cooking method, try making eggs in the oven instead of hard boiling. Just place the eggs in the cups of a muffin tin and cook in a preheated oven at 325 for 30 minutes. Transfer to an ice bath as you would with eggs cooked in water. 
Pin this recipe for Hard Cooked Eggs in Brown Butter with Roasted Asparagus: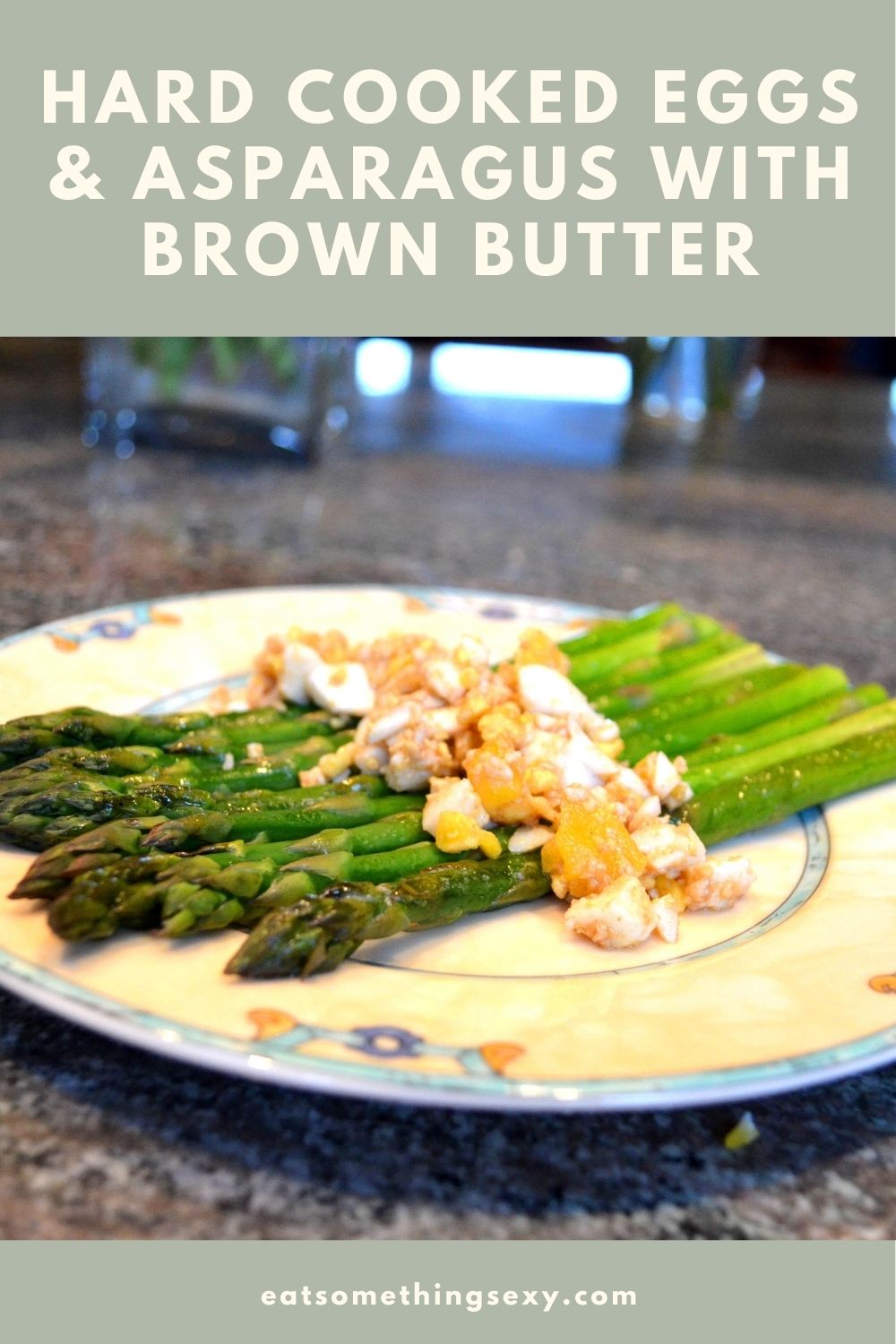 FREE APHRODISIAC NEWSLETTER
Subscribe to our free aphrodisiac newsletter