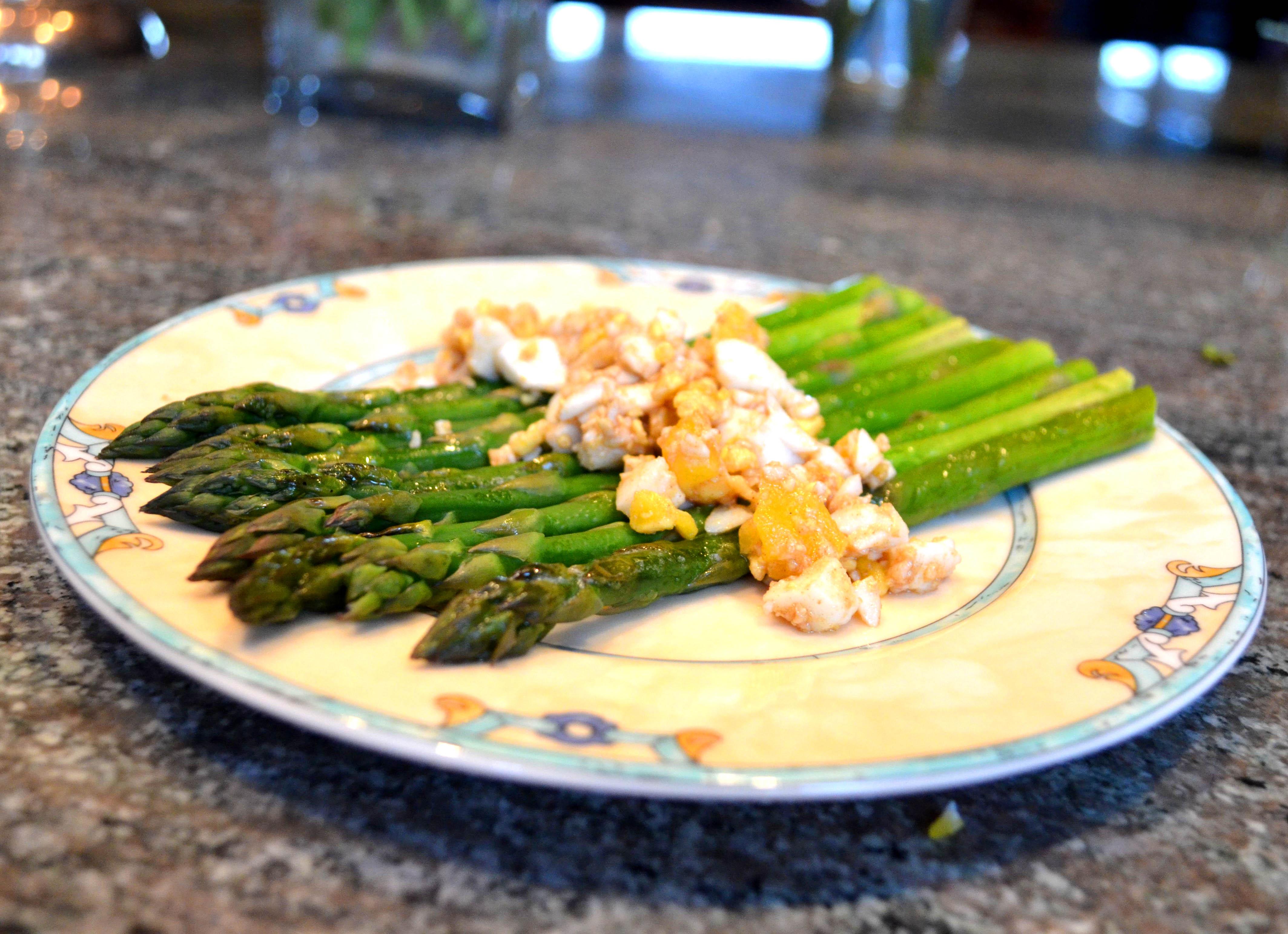 Hard Cooked Eggs in Brown Butter with Roasted Asparagus
An unforgettable spring recipe
This method is one of my all-time favorite spring recipes. It's also one of the best ideas ever for using hard cooked eggs. (It works whether you prefer hard boiling or hard cooking the eggs in the oven.) I can't take credit for the idea of hard boiled eggs with brown butter. My mother came up with it. I simply refined it a little.
If you haven't experimented with brown butter, I think you're going to be surprised at how easy it is to make. And how well it works with eggs!
What is brown butter?
Brown butter is one of those magical ingredients that enhances the taste of any dish, savory or sweet. Its flavor brings a unique, nutty depth that makes everyone want to lick the plate. It is simply butter that has been cooked to the point that its milk solids get toasted. The technique is a little tricky in that you have to watch it continuously. You only want to take the butter slightly past the melting point. Beware of letting it burn. But once you've mastered this step, you will not believe what a sprinkling of hard cooked eggs and a bit of brown butter does to beautiful spring asparagus. The combination of oil, nutty butter, creamy egg yolk and herbaceous asparagus is unforgettable.
Oh, and it's an aphrodisiac
And of course, let's not neglect to mention that this layered, springtime dish brings together the aphrodisiacs of eggs and asparagus. It's easy, fast, vegetarian-friendly and aphrodisiac! This spring recipe is hard to resist for so many reasons.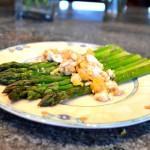 Hard Cooked Eggs in Brown Butter with Roasted Asparagus
This is a great use for leftover hard cooked (or hard boiled) eggs. A simple, stress-free supper, it will leave you with plenty of time for more amorous pursuits.
Keyword:
Hard Cooked Eggs
Cooking Style:
fast, Vegetarian
Diet and Health:
healthy-ish
Ingredient:
asparagus, eggs
Ingredients
2

hard cooked eggs

Find our preferred method of cooking here.

12-16

stalks fresh asparagus

depending on thickness

1 1/2

tbsp

unsalted butter

quartered

salt

crusty whole grain bread
Instructions
For the asparagus:
Preheat the oven to 400 degrees F.

Snap the bottoms off the stalks of asparagus. Wash and pat dry.

Lay them in a single layer on a sheet pan and dot with butter. Season with salt. Roast for 10-15 minutes, until tender.
For the eggs:
Peel and roughly chop the eggs.

Make the brown butter: Melt the cubes of butter in a small saute pan over medium heat, stirring continuously. The butter will become foamy then begin to brown. When it turns dark amber and begins to smell nutty, add the eggs.

Turn heat to low and saute the eggs for 1-2 minutes until heated through.
To serve:
Divide the asparagus between 2 plates. (We recommend warming the plates to keep the dish hot.) Top with the eggs and drizzle with any remaining butter. Serve immediately with crusty, whole grain bread.
Pin this recipe for Hard Cooked Eggs in Brown Butter with Roasted Asparagus:
FREE APHRODISIAC NEWSLETTER
Subscribe to our free aphrodisiac newsletter