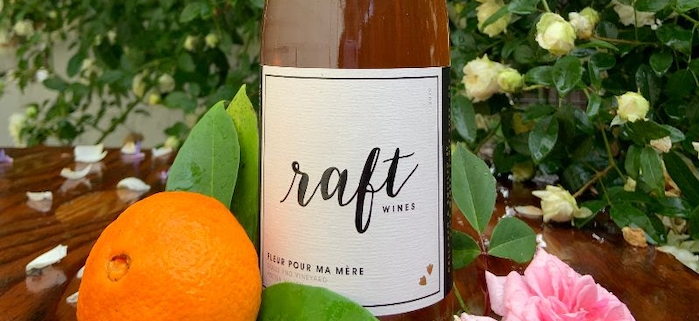 Raft Wines Fleur Pour Ma Mère
Our articles may contain affiliate links. For more information, view our policies.
A community of ducks is called a raft. A raft is also a pleasant place to float away your cares on a warm summer day. But for now, we'll focus on a different raft… this one is a small winery in California that you definitely want to know more about. Welcome to part 3 of 4 – a delicious celebrations of all the moms out there. Introducing Raft Wines' Fleur Pour Ma Mère.
2019 Raft Wines, Fleur Pour Ma Mère, Trail's End Vineyard, Mendocino, CA
Raft Wines was founded in 2016 by Jennifer Reichardt, a fifth-generation duck farmer in Sonoma County, California. Her family's duck business serves restaurateurs and retail shops throughout California and beyond. Family is key to the foundation of both her duck business, and Raft Wines. In that spirit, Reichardt created Fleur Pour Ma Mère – flowers for her mother.
Although the inspiration for this classic rosé may have come from Provence, the 100% Grenache it's made with comes from Trail's End Vineyard in the Potter Valley, just northeast of Lake Mendocino in northern California. For the 2019 vintage, one and a half tons* of sustainably grown grapes were crushed the old-fashioned way–by foot!
The remainder of the process was equally as personal. After three hours of soaking with the skins for color and some tannin extraction (for texture), the fruit was pressed, and the juice was allowed to settle overnight before being transferred by hand to neutral oak barrels for fermentation. After fermentation, the wine was, once again, racked to fresh barrels for a few months of aging before being bottled in March, just in time for rosé season!
My review 
The deep, hazy salmon color of Fleur Pour Ma Mère pairs beautifully with sunset and is a lovely way to celebrate that magical hour. Aromas of mandarin, freshly cut watermelon, and a touch of spice rise from the glass. Mouthwatering watermelon, juicy strawberries, and aromatic wild fennel and lavender on the palate remind me of drinking summer. The winemaker's notes online reference another summer sipping treat, Orange Julius – sounds good to me!
I decided to honor the name of this wine by pouring it at my mother's 75th birthday dinner. We were both thrilled with the choice. Fleur Pour Ma Mère paired beautifully with caviar toasts garnished with crème fraîche, as well as a selection of California cheeses including Humboldt Fog from Cypress Grove. They say "what grows together goes together," the cheese and the grapes for the wine are distant neighbors and happily come together at table.
If you're looking for something a little more substantial (or less extravagant!), I suggest trying Fleur Pour Ma Mère with our Spring Salad with Smoked Trout or Warm Quinoa Salad.
Still need to catch up with the first two parts of this series? Check out the Counoise and the California Viognier. And don't forget to come back next week for the last of the four Raft Wines in this series.
Raft Wines are available for purchase directly through the winery, Raft Wines, or from vinoshipper.
* If you are curious what 1.5 tons of grapes yields, it's about 76 cases of wine.
Being a Raft for Community
The restaurant community – and by extension, the suppliers they work with – are like any strong family, when the going gets tough, they work together to survive and thrive. I first learned of Raft Wines at the beginning of the COVID crisis. The surge of support for small restaurateurs from the extended community was inspiring. Jennifer Reichardt, as @duckdaughterjj, popped into my Instagram feed often.
When I asked Jennifer about Raft Wines' response to the needs of the restaurant industry, she told me this:
"The idea came from Reeve Wines, and their #drinkcali4good project. They challenged local wineries to establish the relationships and just run with it! The original idea from #drinkCali was started during the last round of fires we had in Sonoma County, as a way to remind consumers that [although] you can't visit right now, you can enjoy a California wine from a distance. 
I have been loving the partnership aspect, I think everything is better with collaboration! So, I am considering that after the current crisis, I would love to continue partnering with other charities or organizations that need help."
True to her word, Reichardt is currently focusing her efforts on supporting black (and POC) wine professionals, black winery owners, and helping to share knowledge and resources. Raft Wines continues to live up to its namesake of community, and a safe vessel for floating on sometimes rough waters.
Latest posts by Annette Tomei
(see all)
Get on our mailing list
Don't miss out on a thing! Get news, deals & more!