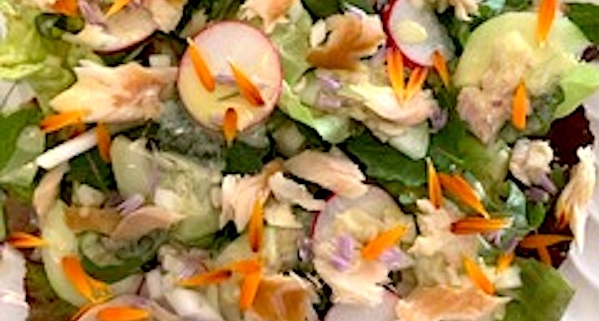 Smoked Trout Salad Recipe with Spring Greens
Our articles may contain affiliate links. For more information, view our policies.
A salad with fresh, tender greens is always a welcome dish in late spring and early summer. But make it a smoked trout salad and you have a whole dinner plan in one delicious dish. This salad is bright, vibrant and tasty, featuring the best seasonal produce and a healthy serving of smoked trout. Spring salads don't get better than this! 
How to make the best smoked trout salad
The best salad with trout starts with the best ingredients. Farm fresh is always best but if you can't make it to a farmer's market, look for organic ingredients, including the fennel, radishes and cucumber at your local supermarket.
Baby greens – There are a few things to look for when shopping for baby greens. Try to buy something that's fairly local, not shipped in from another state. If the greens are pre-packed in a container, check all sides and make sure you can't see any slimy greens. If you have the space and the time, you can actually grow your own greens in your garden.
Edible flowers – These can also be easily grown at home. Just follow our guide to growing edible flowers. (You can also purchase edible petals at farmers' markets or buy organic blooms.)
For the dressing – This smoked fish salad recipe calls for a creamy citrus dressing.

You're going to need fresh Meyer lemon juice, which is smaller and thinner-skinned than a common lemon. It also has a milder, less tart flavor.
The dressing gets its creamy texture from crème fraîche, which is a thick cultured cream similar to sour cream but with a higher fat content.
This dressing recipe also calls for extra virgin olive oil. Extra virgin olive oil is the highest quality olive oil and has a pure, olive flavor.
The last thing you need to make this spring salad dressing recipe is a shallot. Shallots are related to onions but less pungent. They're great for building the savory flavor of onion or garlic without the same punch.
Smoked trout – The most important ingredient in this smoked trout green salad is the smoked fish. Smoked trout is an oily fish that might remind you of smoked salmon.
The difference between smoked salmon and smoked trout
Why would you make this smoked fish salad recipe with smoked trout instead of smoked salmon. What's the difference, you might wonder.
Well, for starters, they're (obviously) two different fish. Both have a pinkish hue–in fact, both could be called salmon in color. And both trout and salmon are considered aphrodisiac foods. However, trout is the paler of the two.
Both smoked salmon and smoked trout can be prepared by either hot or cold smoking. (Here's some additional information on the difference between hot and cold smoking.)
And while it seems that these two fish have enough in common to make swapping one for the other an obvious choice, these two fish are vastly different when it comes to flavor and texture.
Trout is the milder of the two fish. Particularly when it is cold smoked, it has a subtly smokey flavor, a hint of sweetness and barely any hint of "fishy" flavor. This is what makes it compelling to winemakers when they're looking for fish to pair with their Rosés.
Trout is also a little different than salmon in texture. It flakes softly and has an almost buttery quality in the mouth. It offers a plush little pillow of flavor against the crunch of cucumber and the acidic bite of the tangy, Meyer lemon dressing.
Trout health benefits are actually similar to salmon – which you might know as a very healthy fish. (It makes our list of the 10 Best Foods for Men.) Both are oily fish offering high levels of omega-3 fatty acids. But trout is slightly lower in calories and slightly higher in B vitamins than salmon. It's a very healthy fish, suitable for many diets.
Can you substitute salmon in this recipe for the smoked trout? Yes, but…
You can always use salmon in a pinch – just not lox, or even the soft, thin, cold-smoked slices. Look for a thickly cut piece that you can flake. And keep in mind that, although it will still be tasty, the dish will no longer have the delicacy of the original.
Want more spring recipes? Try this pea tendril recipe. 
What wine should you serve with this smoked fish salad?
This recipe was created by the chef at Alexander Valley Vineyards in Sonoma County, California. So as you might expect from recipes developed at a winery, this salad is a wine lover's friend. In fact, the salad was specifically designed to pair with the winery's Rosé of Sangiovese, which our wine writer Barbara Barrielle describes as "sunshine in a bottle."
And although we have to agree that the combination of the Alexander Valley Vineyards wine and this salad recipe with smoked trout sounds better than a gentle summer breeze, we have to say that this recipe is any dry Rosé's best friend, be it a wine from Provence or California or anywhere in between.
Check out more of our favorite salad recipes
Spring Salad with Smoked Trout
Print Recipe
This recipe is quintessential summer with crisp greens, smoky trout and a glass of dry rosé wine.
Ingredients
4

cups

Local baby greens

pea shoots, arugula, baby kale, watercress

1

Fennel bulb

thinly sliced

4

Radishes

thinly sliced

1/2

Cucumber

thinly sliced

8

oz

Smoked trout

about 2 ounces per serving

Edible flower petals for garnish

Dressing:

1/2

cup

crème fraiche

1

tbsp

Meyer lemon juice

1/2

tsp

minced shallot

1/2

cup

extra virgin olive oil

Kosher salt to taste
Instructions
Place the creme fraiche, lemon juice and shallot in the blender, and briefly blend to mix.

With blender running, and olive oil slowly through the top of the machine, processing until smooth and creamy.

Season with salt to taste. (Any leftover dressing can be saved in the refrigerator in an air-tight container for up to 4 days.)

To serve, arrange the washed and thoroughly dried greens on a plate. Then layer with radish, fennel and cucumber. Dot with smoked trout.
Notes
This is a delicious pairing with Alexander Valley Vineyards Dry Rose of Sangiovese.
Pin this spring salad recipe with smoked trout:
Latest posts by Amy Reiley
(see all)
Get on our mailing list
Subscribe and get our exclusive list of Six Great Sex-Boosting Snack Foods for FREE! Unsubscribe at any time.