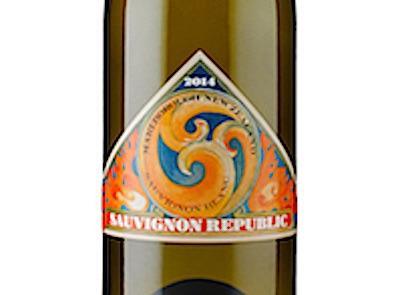 My Favorite Trader Joe's Wine: a NZ Sauvignon Blanc with CA roots
Our articles may contain affiliate links. For more information, view our policies.
2017 Sauvignon Republic, Sauvignon Blanc, Marlborough, New Zealand
Wine of the Week with Annette Tomei
I lived in the Napa Valley in the early 2000s. For me, it was a magical time to meet fascinating people, learn tons, and watch some great storylines develop. And one of those great stories developed into this week's wine. And it happens to be my favorite Trader Joe's wine.
Sauvignon Republic began its life in 2003 as a collaborative experiment founded by four Northern California wine greats: John Ash, Paul Dolan, Tom Meyer, and John Buchsenstein (aka John B). These lovers of Sauvignon Blanc were also great advocates for the concept of terroir in wine. To demonstrate the power of place, they made wines from fruit grown in different regions around the world. The first four were Sauvignon Blanc from Russian River Valley (Sonoma), Potter Valley (Mendocino), Stellenbosch (South Africa), and Marlborough (New Zealand). Each wine demonstrated the concept of terroir in the most clear and understandable way–via distinct differences in taste. The best way possible!
Fast-forward more than a decade over a story whose middle I've lost the trail of (so far). And we have a new story. This one begins in the wine aisle of Trader Joe's (one of my favorite places for wine surprises). While scanning the shelves for inspiration, a distinctly familiar label appeared. It felt like seeing an old friend. The Marlborough New Zealand Sauvignon Republic survived the years, now with a much bigger and (maybe) more appreciative audience. I do believe it's fair to say this is now my favorite Trader Joe's wine.
About this wine
All the aromas and flavors we now expect from a classic New Zealand Sauvignon Blanc are here… passionfruit, guava, and green herbs. To me those green herbs translate to freshly chopped cilantro, to some that translates as a hint of cat pee (my least liked descriptor). This is a medium body wine with a juicy burst of acidity.
Most recently, I enjoyed my favorite Trader Joe's wine with one of the most difficult to pair foods – fresh asparagus. The juicy fruity flavors played a similar role that a squeeze of fresh lemon juice might, and the green herbal flavors played nicely with the tender young asparagus. It was also a perfect dinner companion to homemade gnocchi tossed in another Trader Joe's favorite, Vegan Kale Cashew and Basil Pesto.
The verdict
Around the time Sauvignon Republic was created, I worked at The Culinary Institute of America at Greystone – occasionally with John B. His Sensory Analysis class was one of the most influential on my career. The story of the creation of this winery was an integral part of the narrative. This wine holds a special place in my heart, and at about $8/bottle, it is a regular in my fridge as well.
Latest posts by Annette Tomei
(see all)
Get on our mailing list
Subscribe and get our exclusive list of Six Great Sex-Boosting Snack Foods for FREE! Unsubscribe at any time - privacy policy