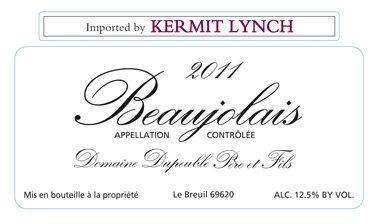 Burgundy on a Budget? Start in Beaujolais
Our articles may contain affiliate links. For more information, view our policies.
2017 Domaine Dupeuble, Beaujolais AC, Burgundy, France
Wine of the Week with Annette Tomei
Beaujolais may be most widely known for its Nouveau. Those juicy fruity young wines appear each November to be enjoyed for a brief, fun time, and then disappear as quickly as they arrived. However, Beaujolais also has a more serious side – one well worth a bit of exploration. This week's wine takes us one step further into the more serious side of Beaujolais. For a deeper dive into the more serious Cru Beaujolais, check out one of Amy's picks for Wine of the Week from last year HERE.
Beaujolais is made from the deep purple colored Gamay Noir grape, a distant relative of Pinot Noir. It has grown in Burgundy for centuries. The grape was once so popular that, in 1395, the duke of Burgundy banished it to the Beaujolais region because it was competing with his beloved, Pinot Noir. As it happened, Gamay actually thrived in the granite, limestone, and clay soil and challenging climate. (For more of the story, click HERE).
About this wine
Domaine Dupeuble has been producing wine almost continuously since 1512. The Dupeuble family took over in 1919. Today, their wines are made by Ghislaine Dupeuble, one of the very few women – and the youngest ever – recipients of the Chevalier de l'Ordre du Mérite Agricole. The prestigious award recognizes her for her contribution to the preservation of France's agricultural resources.
As for this Beaujolais, in the glass you'll find a shimmering sheer ruby red color for the eyes, and purple violets, black plums, and dark red cherries for the nose. This is followed by flavors of juicy plums and tart cranberries on a backdrop of aromas of dark soil. This is a lighter bodied bright wine with tannins are tight on the front of the palate and soften as the wine opens. It is very drinkable now, but will also likely develop well over the coming few years.
Being light and bright means this wine can play well with a variety of foods that many consider the territory of white wines… fish, foul, and salty savories. I enjoyed this Beaujolais with a meal of halibut crusted with a blend of sundried tomatoes, anchovies, capers, and olives with panko, served over garden-fresh chard. You could easily create a vegetarian, even vegan, spin on the flavor profile by dropping the anchovies and substituting more garden vegetables and/or hearty grains for the halibut.
The verdict
I'm all for going off the beaten path with my wine selections, even when that path has a track record of over 500 years! This wine is a great gateway for new adventurers into old world wines, especially the often-intimidating world of Burgundy. At about $15/bottle, the investment is small and the payoff it great.
As I've mentioned before, venturing into new territory is always better when you know and trust the importer… this wine is from one of my all-time favorites, Kermit Lynch. You can find it HERE.
Latest posts by Annette Tomei
(see all)
Get on our mailing list
Don't miss out on a thing! Get news, deals & more!