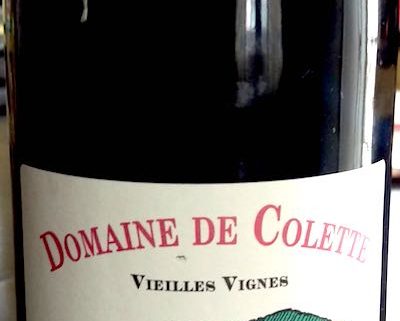 A Cru Beaujolais for a Spring and Summer Day
Our articles may contain affiliate links. For more information, view our policies.
Annette Tomei is on hiatus for a few weeks to make a life-changing career move. I realize that I'm a poor substitute but I'm going to try to fill in with bringing you weekly wine recommendations in the meantime. For my first week, I'm featuring a wine that tugs at my heartstrings. It's a Cru Beaujolais that shares its name with my daughter. And the vintage just happens to be her birth year.
If I'm being honest, that is the one and only reason I bought this wine. But, as a fan of Cru Beaujolais, I had a feeling it would be a wine I would enjoy. Not only do I enjoy it, but Domaine de Colette Regnie is a wine I'm recommending to anyone who enjoys a lighter red wine.
What's the deal with Beaujolais?
Most American consumers aren't familiar with Beaujolais beyond Beaujolais Nouveau. True, this lively, fresh wine, which is traditionally released right after fermentation is a fun drink. (Beaujolais Nouveau is released the third Thursday of November every year, only weeks after the grapes were harvested.) However, it is by no means representative of the lovely, often complex and reasonably ageable wines that come out of the Beaujolais region.
The wines of Beaujolais, including Beaujolais Nouveau, are traditionally made from the Gamay grape. Gamay is a thin-skinned red grape that tends to make wines high in acidity and low in tannins. This means that they're usually ready to drink quite early and tend to make a great pairing with a meal. (It also means that they don't have the 10-20 year aging capability of many Cabernet Sauvignons and other reds but a well-made Beaujolais should last several years in cellar conditions.)
My review of Domaine de Colette Regnie
Domaine de Colette Regnie is a Cru Beaujolais. This means that the grapes come from one of 10 named regions of Beaujolais. Only a wine from one of these 10 regions is allowed to display its origin on the label. (In this case, Regnie.) Of the Cru Beaujolais, Regnie is known for producing the fruitiest of Beaujolais wines. Domaine de Colette's 2015 Regnie is a ruby red wine–truly, the exact color of a great ruby. The vines from which this wine comes are quite old, 40+ years according to the winery's website. And they are grown organically. The result is an intense, fruity wine. With its aromas that smell like a bowl of crushed, fresh berries, and its approachable, neither tannic nor soft mouthfeel, it is the sort of wine that will appeal to just about everyone. Its flavors are generous on the tongue with ripe strawberry and juicy cherry mixed with a hint of white pepper and just a touch of exotic spice.
Beaujolais wines are traditionally made using a fermentation method called carbonic maceration. Unlike traditional fermentation, with carbonic maceration, the whole grapes are fermented in a carbon dioxide-rich environment before they're crushed. The result gives the wines of Beaujolais a slightly different texture than traditionally fermented wines. It can be surprising to those who have never before experienced a Beaujolais. But this unique feature really just adds to the intrigue of Beaujolais and once the palate adjusts to the difference, most drinkers find it to be a part of the wine's charm.
At less than $20/bottle, this Cru Beaujolais is one that should go on your list of summer reds. (Beaujolais are best served cold, which is why I'm recommending it as a go-to for late spring and summer. Some experts recommend serving at a cold cellar temperature but I tend to prefer mine straight from the refrigerator.) It is definitely a wine that you can count on being able to buy and enjoy right away. But if you want to put one away, it should cellar nicely for the next 3-5 years.
Latest posts by Amy Reiley
(see all)
Get on our mailing list
Subscribe and get our exclusive list of Six Great Sex-Boosting Snack Foods for FREE! Unsubscribe at any time - privacy policy