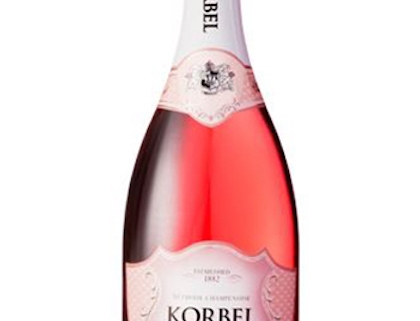 Sweet Rosé Sparkling Wine: an American bubbly with a kiss of sweetness
Our articles may contain affiliate links. For more information, view our policies.
Korbel Sweet Rosé California Champagne
I received this bottle as a sample from Korbel. Because it's a California winery with a reputation for producing sparkling wines of consistent quality at value prices, I am always happy to receive one of their samples with the hope that it will be something I want to write about. But I was leery when I read the label. A California "sweet rosé" sounded suspiciously like a sparkling version of White Zinfandel to me.
About this wine
It turns out, I had nothing to fear. Korbel's Sweet Rosé Sparkling Wine is a perfectly pleasing combination of red and white grapes, blended to create a slightly sweet, effervescent wine. The blend offers comes together in a pleasingly peachy pink to which any girl would feel drawn. Although it does have sweetness, it is a balanced sweetness, backed by a bite of lemon zesty acidity.
The winery did not offer me details on the grapes or percentages in the blend. My guess is that this varies a bit from year to year and since it's a non-vintage wine, not something that can be supplied. I did find winemakers notes that include mention of Syrah, Gamay and Pinot Noir in the blend. Although I can't ever know exactly what's in my glass I can tell you that Korbel's Sweet Rosé sparkling wine is a fresh, fruity drink with notes of strawberry, raspberry, vanilla and red licorice whips.
The verdict
This is not a wine to order if you're trying to impress your boss or woo a potential suitor with your knowledge of great wines. But the bottom line is, I like it. This is a fun wine for picnics, lazy brunch days and late afternoon drinking with friends. It's a perfect bottle of bubbly to go with Chinese takeout or chocolate fondue. It's a wine that doesn't take itself seriously and you shouldn't either.
For more of my wine recommendations, don't miss my Woman on Wine column.
Latest posts by Amy Reiley
(see all)
Get on our mailing list
Don't miss out on a thing! Get news, deals & more!